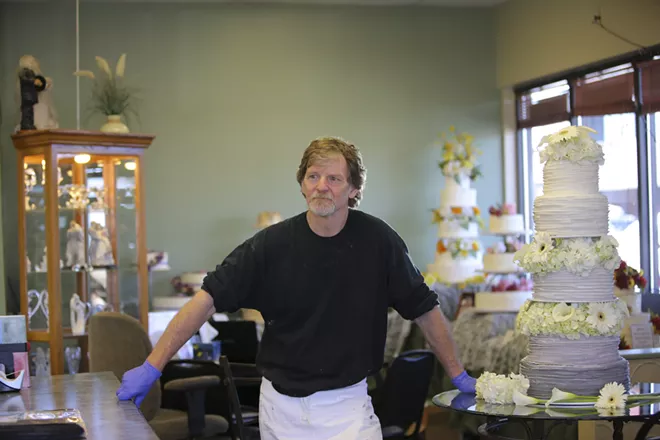 BY ADAM LIPTAK
© 2017 New York Times News Service
WASHINGTON
— The Supreme Court on Monday agreed to hear an appeal from a Colorado baker with religious objections to same-sex marriage who had lost a discrimination case for refusing to create a cake to celebrate such a union.
The case will be a major test of a clash between laws that bar businesses open to the public from discriminating based on sexual orientation and claims of religious freedom. Around the nation, businesses like bakeries,
florists
and photography studios have said, so far with little success, that forcing them to serve gay couples violates their constitutional rights.
The case, Masterpiece Cakeshop v. Colorado Civil Rights Commission, No. 16-111, started in 2012, when the baker, Jack Phillips, an owner of Masterpiece Cakeshop in Lakewood, Colorado, refused to create a cake for the wedding reception of David Mullins and Charlie Craig, who were planning to marry in Massachusetts. The couple filed discrimination charges, and they won before a civil rights commission and in the courts.
Phillips, who calls himself a cake artist, argued that two parts of the First Amendment — its protections for free expression and religious freedom — overrode a Colorado anti-discrimination law and allowed him to refuse to create a custom wedding cake.
In 2015, a Colorado appeals court ruled against Phillips. "Masterpiece does not convey a message supporting same-sex marriages merely by abiding by the law and serving its customers equally," the court said.
In a Supreme Court brief, Phillips' lawyers
said
"he is happy to create other items for gay and lesbian clients." But his faith requires him, they said, "to use his artistic talents to promote only messages that align with his religious beliefs."
"Thus," the brief said, "he declines lucrative business by not creating goods that contain alcohol or cakes celebrating Halloween and other messages his faith prohibits, such as racism, atheism, and any marriage not between one man and one woman."
The brief said Mullins and Craig could have bought a cake from another baker and in fact "easily obtained a free wedding cake with a rainbow design from another bakery."
In response, the couple's lawyer wrote that "it is no answer to say that Mullins and Craig could shop somewhere else for their wedding cake, just as it was no answer in 1966 to say that African-American customers could eat at another restaurant."