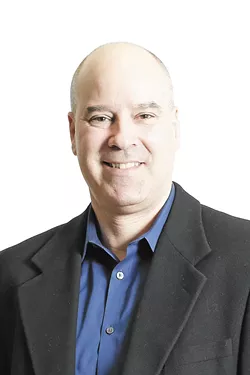 As the new president of WestCoast Entertainment, Justin Kobluk will have a major influence on the touring Broadway productions stopping Spokane. In many ways, he was born for the role. Kobluk's dad, Mike, was the entertainment and visual arts director for Expo '74 before taking charge of Spokane's entertainment venues for nearly three decades. Justin followed in his dad's footsteps after growing up playing music and attending concerts at the old "Boone Street Barn." After decades working on concert tours and venue management, the younger Kobluk came home to work as entertainment director at Northern Quest Resort & Casino before taking over the WCE spot in early 2019.
Patience Is A Virtue
Spokane is not the biggest market in the world, and that means some touring shows are going to take their sweet time making their way to the Inland Northwest. Not that Kobluk's team isn't always working to bring the biggest, best shows to town.
"Hamilton is a perfect example," Kobluk says. "People were screaming for Hamilton for years. Well, Hamilton plays in a half-dozen markets in a year. They sit in one space for a month, maybe two months in some larger cities." Persistence pays off, though — Hamilton will be part of the WCE Broadway 2020-21 season.
Location Helps
While Spokane might not be the biggest market in the country, the city is in a great location that helps draw the big shows to town, whether they're traveling to or from Seattle. "Spokane is a great route," Kobluk says. "It's easy to get to and get out of Spokane."
A Broad Taste of Broadway
While visitors to New York City can take in everything from musical farce to intense drama in the theaters around Times Square, Spokane can only bring about a half-dozen shows to town each season. And because of that, Kobluk and his team try to bring shows that appeal to different types of audiences.
"We have something for everybody," Kobluk says of the 2019-20 season. "We've got kind of the old stuff. We've got the revival [of a show] you might have seen before, but you haven't seen this version. We've got the first-run [shows]. ... So it's hard to choose a favorite."