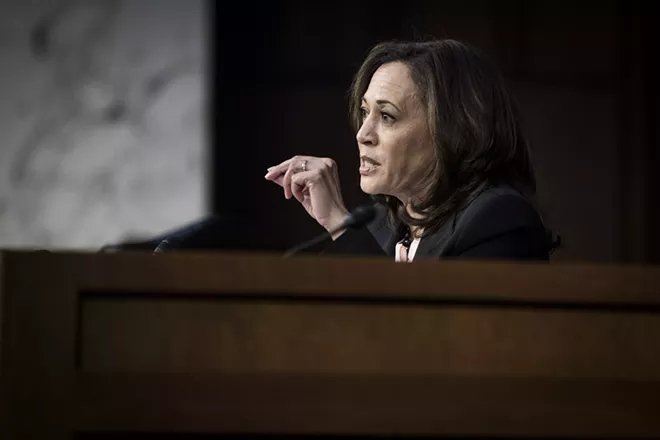 By Astead W. Herndon, Shane Goldmacher and Jonathan Martin
The New York Times Company

S
en. Kamala Harris of California dropped out
of the Democratic presidential race on Tuesday after months of low poll numbers and a series of missteps that crippled her campaign, a deflating comedown for a barrier-breaking candidate who was seeking to become the first black woman to win the presidency.
The decision came after weeks of upheaval among Harris' staff, including layoffs in New Hampshire and at her headquarters in Baltimore, and disarray among her allies. She told supporters in an email on Tuesday that she lacked the money needed to fully finance a competitive campaign.
"My campaign for president simply doesn't have the financial resources we need to continue," Harris wrote.
The announcement is perhaps the most surprising development to date in a fluid Democratic presidential campaign where Harris began in the top tier. Her departure removes a prominent woman of color from a field that began as the most diverse ever in a Democratic primary, and raises the prospect that this month's debate in Los Angeles will feature no candidates who are not white.
Harris opened her campaign on Martin Luther King's birthday with a rousing speech in her hometown, Oakland, California. The speech was a signal of the careful balance her campaign tried to strike throughout the year: leaning on her personal story as a daughter of Indian and Jamaican immigrants while positioning her policy preferences outside the party's moderate and progressive ideological wings.
Harris sought to focus on incremental and deliverable change rather than the type of systemic upheaval popularized by rivals like Sens. Elizabeth Warren of Massachusetts and Bernie Sanders of Vermont.
On a conference call with donors, Harris said she had conferred with her family over the Thanksgiving holiday and stayed up meeting with advisers until 2 a.m. Tuesday, before concluding she had "no path" forward in the race, a person on the call said.
In her announcement Tuesday, Harris reaffirmed her commitment to her campaign's unifying ideals.
"Although I'm no longer running for president," she said, "I will do everything in my power to defeat Donald Trump and fight for the future of our country and the best of who we are."