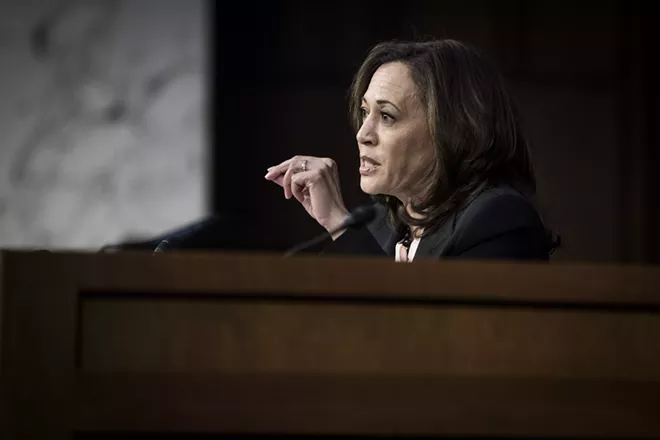 S
en. Kamala Harris
, D-Calif., the barrier-breaking prosecutor who became the second black woman to serve in the Senate, declared her candidacy for president Monday, joining an increasingly crowded and diverse field in what promises to be a wide-open nomination process.
The announcement was bathed in symbolism: Harris chose to enter the race on the Martin Luther King Jr. holiday, an overt nod to the historic nature of her candidacy, and her timing was also meant to evoke Shirley Chisholm, the New York congresswoman who became the first woman to seek the Democratic Party's nomination for president 47 years ago this week.
In addition, Harris will hold her first campaign event Friday in South Carolina, where black voters are the dominant force in the Democratic primary, rather than start off by visiting Iowa and New Hampshire, the two predominantly white states that hold their nomination contests first. She will hold a kickoff rally Sunday in Oakland, California, her hometown.
For the first time, the Democratic presidential race now includes several high-profile women, with Harris joining two other prominent senators who have announced candidacies, Elizabeth Warren of Massachusetts and Kirsten Gillibrand of New York. Rep. Tulsi Gabbard, D-Hawaii, has also said she is running, and more women could enter the race in the coming weeks.
Harris made her announcement on "Good Morning America" and also released a video aimed at supporters and other Democrats.
"The future of our country depends on you, and millions of others, lifting our voices to fight for our American values," Harris said in the video. She also debuted a campaign slogan that played off her background as a prosecutor: "Kamala Harris, for the people."
"Let's do this together: For ourselves, for our children, for our country," she said.
Harris' long-expected entry comes as many Democrats are eager to find new leaders and as the party grasps for a unifying message that can appeal to its increasingly progressive base and more moderate voters who have recoiled from President Donald Trump.
A 54-year-old former California attorney general and San Francisco district attorney, Harris hails from one of the country's most famously liberal cities. She has ties to both the pragmatic and leftist wings of the party: she is rooted in the Bay Area's Democratic establishment but has embraced a more progressive agenda since being elected to the Senate in 2016.