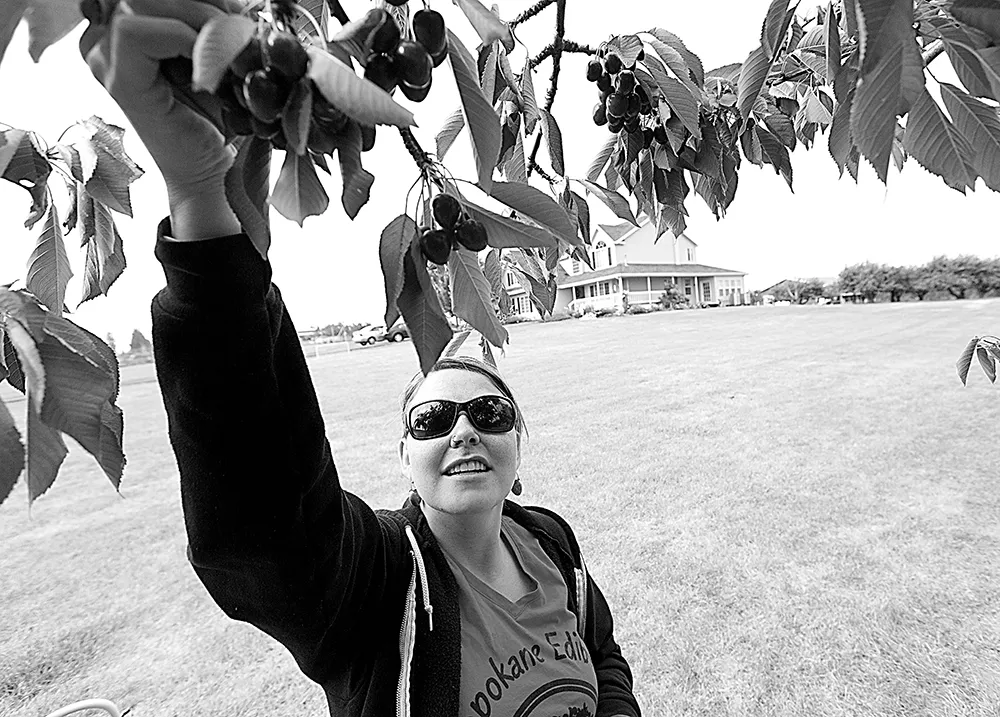 Somewhere between Missoula and Spokane, Kate Burke steps off her bicycle to return phone calls and tap out text messages, because even when on vacation she has work to do. As an avid volunteer, committee chair, activist and advocate, Burke has deeply embedded herself in a wide variety of efforts to reshape the Lilac City for the better.
"We don't have the option to let someone else take care of the problems," she says. "It's cool to be a part of the first steps toward change."
In a larger city like Portland or Seattle, opportunities to get involved or serve on advisory boards can be competitive or exclusive, she says. In Spokane, there's always more work than bodies.
Burke, 25, seems to make up for at least three or four people — serving as director of development and communications at the Lands Council, cofounder of the Spokane Edible Tree Project, chair of the Spokane Bicycle Advisory Board and a board member of Project Hope.
With the election season here, Burke says she also has tried to volunteer for a number of local candidates and causes.
"I'm really busy," she says. "I try to go to a lot of events."
Kat Hall, who works alongside Burke at the Lands Council, says Burke brings an intense energy to her work and a passion for bringing people together for good. Her networking and outreach efforts have helped raise the council's profile in the past two years and build new partnerships.
"She's very active," Hall says. "She doesn't stop. She's always moving. ... She's definitely a go-getter."
Change should be tangible. Last year, Burke helped launch the Spokane Edible Tree Project, modeled after a similar program in Portland, that identifies unused fruit trees or orchards and collects the bounty for distribution through local food banks. Burke works alongside the small "gleaning mob" of volunteers, balancing on ladders and filling boxes with cherries, plums or other fresh produce.
"It's really rewarding," she says. "There's a very limited number of people who are doing things."
Burke also contributes to the Project Hope program that conducts youth outreach and jobs training. Project Hope also focuses on building new connections with food by teaching farming and gardening techniques to children ages 11 to 18. The project helps develop résumé-building skills and connects participants to internship opportunities.
"Kate works tirelessly to create a community where fresh, healthy food is available to all residents," writes Jamie Borgan with Project Hope, "and as a true leader within this community, she does this by modeling qualities of hard work, passion, and participation."
Burke says her work with the Lands Council helps pull together many of her interests in environmental protection and community involvement.
"It's really challenging," she says. "I've never really done anything like this before. ... I've been pretty much working my whole life to lead up to this."
Born and raised in Spokane, Burke serves as a tireless booster. She says she has enjoyed watching the city evolve and improve in recent years. She says more people choose to live here and invest in making it a vibrant community.
"It's moving," she says. "Things are being built."
Burke says she keeps a sort of to-do list for her hometown — things like new programs, venues or events. She has already checked off several items over the past two years.
It's re-energizing every time something gets crossed off the list. It helps keep her motivated. Because then she can replace that item with a new, more ambitious goal.
"Spokane's moving in a really awesome direction," she says. "It can [still] be more amazing than it already is. I love Spokane." ♦
---
Name: Kate Burke
Age: 25
Positions: Director of development and communications at the Lands Council; president of the Spokane Edible Tree Project; chairwoman of the Spokane Bicycle Advisory Board
I give back because: I want Spokane to be an even better city than it is.
I look up to: My parents. [Without them] I couldn't have done any of this. I also look up to our city council right now. They're doing a really good job right now of working together and making things happen.
I wish: that there was more investment in the younger generation in Spokane.