By Sheryl Gay Stolberg and Nicholas Fandos
New York Times News Service
W
ASHINGTON —
Judge Brett M. Kavanaugh and his accuser faced off Thursday in an extraordinary, emotional day of testimony that ricocheted from a woman's tremulous tale of sexual assault to a man's angry, outraged denial, all of which played out for hours before a riveted nation and a riven Senate.
The two very different versions of the truth, playing out in the heated atmosphere of gender, sex and the #MeToo movement, could not be reconciled. The testimony skittered from cringe-worthy sexual details to accusations and denials of drunken debauchery to one juvenile exchange over flatulence.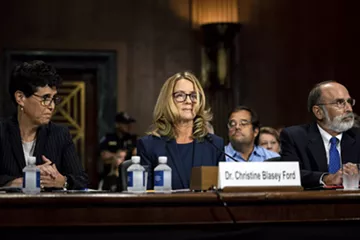 Senators must ultimately take sides — and their decisions in the coming days will determine the ideological balance of the Supreme Court for decades.
With her voice cracking but her composure intact, the accuser, Christine Blasey Ford, told a rapt Senate panel about the terror she felt on a summer day more than 30 years ago, when, she said, a drunken young Kavanaugh pinned her to a bed, tried to rip her clothes off and clapped his hand over her mouth to muffle her cries for help.
Sitting in the same seat a few hours later, Kavanaugh, President Donald Trump's nominee to the Supreme Court, delivered a blistering defense. Speaking through tears at points, he denied he assaulted Blasey — "I am innocent of this charge!" — and denounced a partisan "frenzy" bent on destroying his nomination, his family and his good name.
It was a striking display by a nominee to the high court, and it stood in stark contrast to Blasey, who delivered cautious testimony laced with scientific description of how neurotransmitters code "memories into the hippocampus" to lock trauma-related experience in the brain.
As Blasey testified, Republican senators sat in mute witness, forgoing questioning and giving over their time to an outside lawyer, Rachel Mitchell. She seemed to have little success rattling Blasey or undermining her story.
Democrats applauded Blasey's courage and questioned her gently; when one asked about her strongest memory of the assault, she said it was of Kavanaugh and his friend laughing as they piled on top of her: "The uproarious laughter between the two and having fun at my expense."
Later, Kavanaugh directly addressed the portrait painted by Blasey as a drunken young man who tried to rape her and muffled her screams as she pleaded for help. "I liked beer. I still like beer. But I did not drink beer to the point of blacking out, and I never sexually assaulted anyone," he said.
He bluntly dismissed accusations raised by two other women, Deborah Ramirez and Julie Swetnick, who say that they either experienced or witnessed sexual misconduct by a drunken Kavanaugh in high school or college.