Think local, give local? If you want to see your charitable donations directly affect your own community, look no further. Here's some local nonprofits that could benefit from many kinds of gifts and could even make you feel good, too.
SPOKANIMAL
Every pet deserves a home, and SpokAnimal wants to make that a reality. Through a variety of specialized programs, the organization seeks to find a companion for every furry friend, no matter the situation. Adopting is great, but if you can't talk yourself into that, there's still lots of ways to help out. They're currently in need of cat and dog food of any kind as well as cleaning and office supplies, but gladly accept any donations. SpokAnimal • 710 N. Napa St. • spokanimal.org • 534-8133
DISHMAN HILLS CONSERVANCY
Protecting the environment is important; we should all know that by now. Doing it locally is even more crucial. For over 50 years, Dishman Hills Conservancy has worked with state and county agencies to protect over 2,500 acres in one of the biggest outdoor recreational areas in Spokane. As part of a plan to acquire 1,200 acres by 2022, they plan to buy 137 more on Willow Springs Road. However, land isn't free, and every donation helps. Check out their website for membership, volunteering and donation details. Dishman Hills Conservancy • P. O. Box 8536 • hnaa.wildapricot.org • 598-0003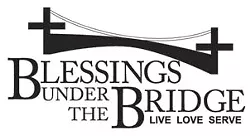 BLESSINGS UNDER THE BRIDGE
What started with 40 brown bags and a case of water has turned into a full-blown ministry that serves over 300 homeless people every Wednesday night at the I-90 overpass. Blessings Under the Bridge serves Spokane's homeless with food, clothing and other resources, and accept donations of all kinds. You can even prepare or serve meals for their weekly feeds, so there's no limit to the ways to contribute. Blessings Under the Bridge • 10212 E. Ninth Ave., Bldg 600, Spokane Valley • butb.org • 869-6697
SPOKANE CENTER FOR INDEPENDENT LIVING
Originally started as a support group, SCIL provides services that make life easier for people with disabilities in the local area of all walks of life and levels of need. This winter, they've expanded to hosting events benefitting needy children and the homeless and are looking for toiletries and apparel as well as monetary donations. Spokane Center for Independent Living • 8817 E. Mission Ave., Spokane Valley • scilwa.org • 326-6355 ♦
To find other worthy nonprofits, check out the Inlander's annual Give Guide at Inlander.com/GiveGuide2019.