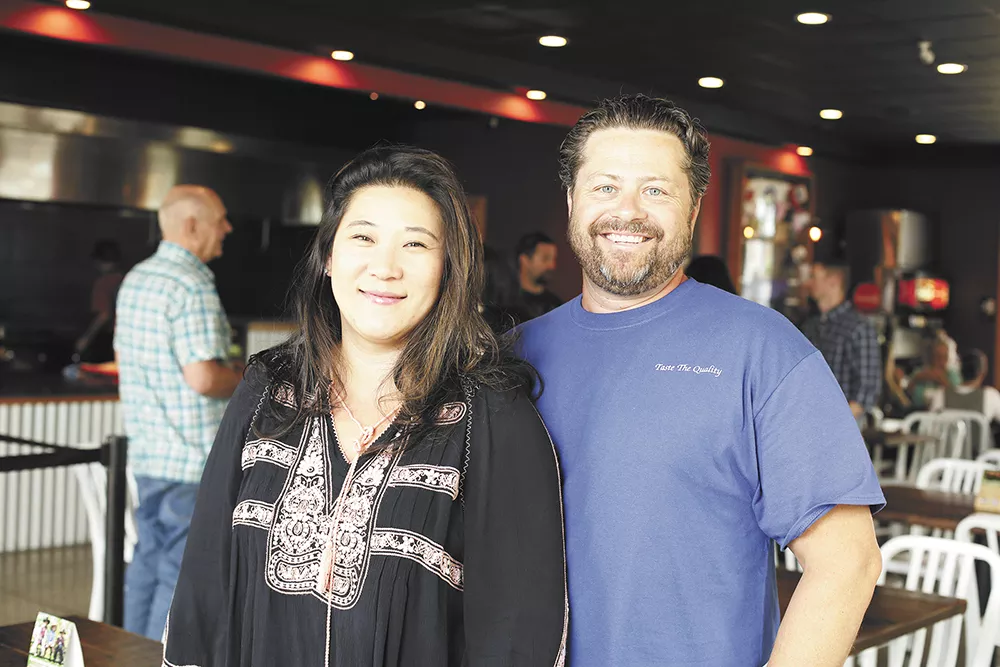 Mark and Nicole Randolph aren't as interested in current food trends as much as they are consistency at Roger's Ice Cream and Burgers, which has been around in one form or another since the 1940s.
What they offer: "High quality, consistent food and at a good price," says Randolph, who left Seattle's fine dining scene to relocate to Coeur d'Alene, where his wife Nicole is from. The couple opened their first Roger's Ice Cream and Burgers in 2009, keeping the retro look and feel of the original building with its striped awning, and red, white and turquoise sign that lights up at night like a beacon. Additional locations followed in Coeur d'Alene (2012), Post Falls (2017), and Hayden, just two months ago.
"Every dollar [our customers] spend, they earn that money," he says. "And [we] have to make it worth it."
Their niche is nostalgia. "What we do — the type of burgers, milkshakes and fries — is what you'd get in the 1940s," says Randolph.
Their milkshakes, floats and malts are all scratch-made and available in 17 flavors. A huckleberry flavored ice cream is extremely popular. And in the downtown Coeur d'Alene location, where there is no indoor dining — they heat a partitioned area during the colder months — enjoying an ice cream cone out-of-doors is almost a rite of passage in any weather, but especially summer.
Ice cream was the mainstay of Roger's, which originated under different ownership in Moscow, Idaho, in the 1940s. After relocating to Coeur d'Alene, the original Roger's Ice Cream eventually took over an old Dairy De-Lite location in 1992. The walk-up eatery passed through various hands until, after a year of dormancy, the Randolphs came along and revamped the quaint spot in 2009, adding burgers to their name and menu lineup.
Their burger and fries look like classic diner food, yet the Randolphs have embraced at least one current trend: healthier options. Their cooked-to-order burgers feature vegetarian-fed, hormone- and antibiotic-free fresh beef from an Oregon cooperative which the Randolph's have visited. Turkey and vegetarian burgers are available, too. Toppings like lettuce, onions and tomatoes are cut fresh daily. Sauces are scratch-made. And their fries are hand-cut fresh and cooked in low-transfat oil.
Randolph credits their success to their workforce of 100-120. With his background in restaurant training and development, implementing standards across the locations was key. "We're very clear on our expectations on how you should be at work," says Randolph, who describes an approach of leading versus managing people.
"As a company you have to continue to grow, motivate people," he says, noting that adding locations has created new opportunities for employees.
"Success isn't money," says Randolph. "It's repeat customers. Guests. We call them guests." ♦
Roger's Ice Cream & Burgers • Open Sun-Thu 10 am-10 pm, Fri-Sat 10 am-11 pm, all branches • rogersicecreamburgers.com