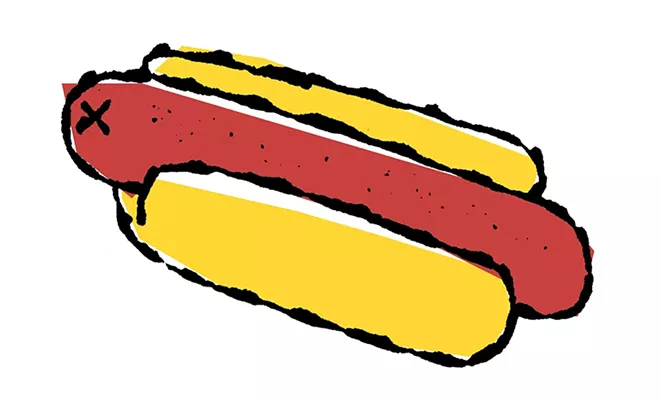 Ever notice that as soon as you sit down to eat in a social setting you invariably end up talking about food? Some people get all misty over memories of past meals, while others debate whether Timber Gastro Pub's pork belly-steak mix actually qualifies as a "burger," or does it have to be all beef, like Hudson's Hamburgers and Dick's?
Whatever. That's the beauty of this great nation: You don't have to choose one or the other. Go for the classics — meaning seasoned staples of the culinary landscape — or the newbies, newfangled or just plain noteworthy.
BURRITO
CLASSIC: ATILANO'S
(Various locations at atilanos.com)
Machaca Breakfast Burrito ($4.19)
Breakfast — so they say — is the most important meal of the day. So what if it's 3 am? Atilano's has you covered with four locations in Spokane and Coeur d'Alene, late-night hours downtown and nothing over $8. This is stick-to-your-ribs Mexican food, with nearly 30 burritos. The Machaca is tender beef, crispy potatoes, gooey cheese, eggs and that unmistakably fresh Atilano's salsa.
NEW: FREEDOM BURRITO
1602 E. Seltice Way, Post Falls, 208-777-4460
Carne Asada Burrito with rice, beans ($8.75)
In a Post Falls strip mall, Freedom Burrito is quietly assembling an army of loyal followers. The menu is minimal — six or seven items — but mostly scratch-made. The carne asada is tender, flavorful marinated skirt steak bulging out of a flour tortilla alongside fluffy, fragrant rice and beans. There's an added bonus, too. Freedom Burrito donates 10 percent of their year-end profits to the Wounded Warrior Project and Gold Star Families for Peace organizations.
HOT DOG
CLASSIC: FRANK'S AUTHENTIC NEW YORK FRANKS
Near 115 S. University Rd. and East Sprague Avenue
Hot Dog ($2.50 including tax)
Blue and yellow umbrella on the cart? Check. Steamed buns? Check (that makes them chewy, as compared to the snap of the 100-percent-imported-from-New York City Sabrett dogs). Ketchup, mustard, sauerkraut, relish and the like? Free with the purchase of a dog. Also free? A little dose of nostalgia for the kinds of dogs that still rule the Big Apple.
NEW: WILD DAWGS
102 N. Howard, 255-3688
Dogs Gone Wild ($7 including tax)
Sounding like what happens when pizza gets it on with a hot dog, this mouthful of meat features a huge bun from Portland-based Franz, an all-beef dog, ham, pineapple, bacon, grilled onions and assorted sauces. Mozzarella is melted over the top and for extra crunch, potato chips are crumpled into the cheese. Pair that with $2 Tuesdays, when almost all drinks are just $2.25 and you've got a date with deliciousness.
BREAKFAST SANDWICH
CLASSIC: SATELLITE DINER
425 W. Sprague, 624-3952
Breakfast Sandwich ($6.95)
Even if you were just next door at the Satellite Lounge only hours (or minutes) before, this is downtown icon's reputation is justifiably earned. In one hand, you'll have the sandwich: two eggs, your choice of bacon, sausage or ham and cheddar cheese on either locally made focaccia bread, flatbread or a croissant. In the other hand? One of their kick-ass Bloody Marys, of course.
NEW: COMMON KNOWLEDGE CAFE
823 Main St., Sandpoint, 208-263-0509
Bagel Sandwich ($6 including tax)
Order this for a flavorful, protein-packed breakfast of a toasted egg on a locally made, Ice House bakery bagel, with organic pesto, sprouts and chèvre goat cheese. While your delicious, organic (and often gluten-free) meal is being prepared, peruse pottery crafted by the region's artists and gifts or browse in the adjacent bookstore. Then sit outside in their garden and know you're doing something great for your mind and body.
GRILLED CHEESE
CLASSIC: BROOKLYN DELI & LOUNGE
122 S. Monroe, 835-4177
Half Grilled Cheese Sandwich and Tomato Parmesan Soup ($8.25)
Where else but a classic deli would you find the perfect combo of grilled cheese and tomato soup? Theirs is on homemade French bread with both smoked provolone and Tillamook cheddar cheese. The housemade tomato Parmesan soup is perfect for dipping. Or not.
NEW: MELTZ EXTREME GRILLED CHEESE
1735 W. Kathleen Ave., Coeur d'Alene,
208-664-1717
Build Your Own Sandwich ($5.50-$9)
You've heard of build-your-own pizza and sub sandwiches? Same thing, only gooier. Start with sourdough or wheat and add cheese, like sharp cheddar, provolone, mozzarella, colby, pepper jack or Monterey jack ($1). Toppings could be buttermilk fried onions, an egg, or garlicky spinach ($2.95), or even meats like bacon or pulled pork ($2.50). You decide the flavors to fit your budget and style.
DONUT
CLASSIC: DONUT PARADE
2152 N. Hamilton, 714-2482, donutparade.com
Flatliner ($3)
Purists may insist that protein has no business being on a donut. Phooey. For more than 40 years, Darrell and Kathryn Jones have been making donuts, so if they want to take their fluffy, maple-coated bar and stuff it with sausage before topping it with bacon, who are we to argue? Grab a coffee drink, milk or juice for a few bucks more and you have a mighty meal any time of the day.
NEW: DAVIS DONUTS
2520 N. Fourth St., Coeur d'Alene, 208-664-1701
Brioche Donut ($1.25)
Technically not new, Davis Donuts transferred ownership last year. They've offering more thematic donuts like green and blue glazed for Seahawks games, unusual flavors like lemon and poppyseed, even vegan and gluten-free options. Their Brioche Donut is topped with blueberry Greek yogurt icing and a sprinkle of granola. Still hungry? Get 10, one-day-old donuts for $5, but only the cake donuts; all the others are donated to the local food bank. ♦