"Basically, without being overly dramatic, from the time you get up there, you're experiencing a slow death."
Bill Hughes says this matter-of-factly — definitely not dramatically — as he describes the feeling of living atop a glacier at 17,000 feet for a month, a trip he and his son Will did twice as part of an archaeological team hunting for what they believe are the remains of the real Noah's Ark.
"Everybody's body responds differently to that altitude and lack of oxygen. I don't know if there's any real way to prepare for something like that. I stayed up there for the duration, and it did damage," Hughes says. "A couple weeks in, we were losing feelings in our extremities, and it wasn't because of the cold, it was just lack of oxygen. My blood oxygen level got to 72 percent [a "normal" blood oxygen level is 95-100 percent]."
Hughes was a 58-year-old retired Air Force veteran living with his wife in Chattaroy when his 28-year-old son, Will, now working as a missionary in Chile, got in touch regarding an expedition he'd learned about through some Bible study friends. A couple of last-minute dropouts left the team in need of mechanics and life-support staff who could dedicate seven weeks to the epic climbing and drilling operation.
Hughes says his involvement came through "a whole bunch of really crazy circumstances," and he figures someone must have asked Will, "Hey, do you know anybody who's good under Arctic conditions, culturally sensitive and is OK in a war zone?"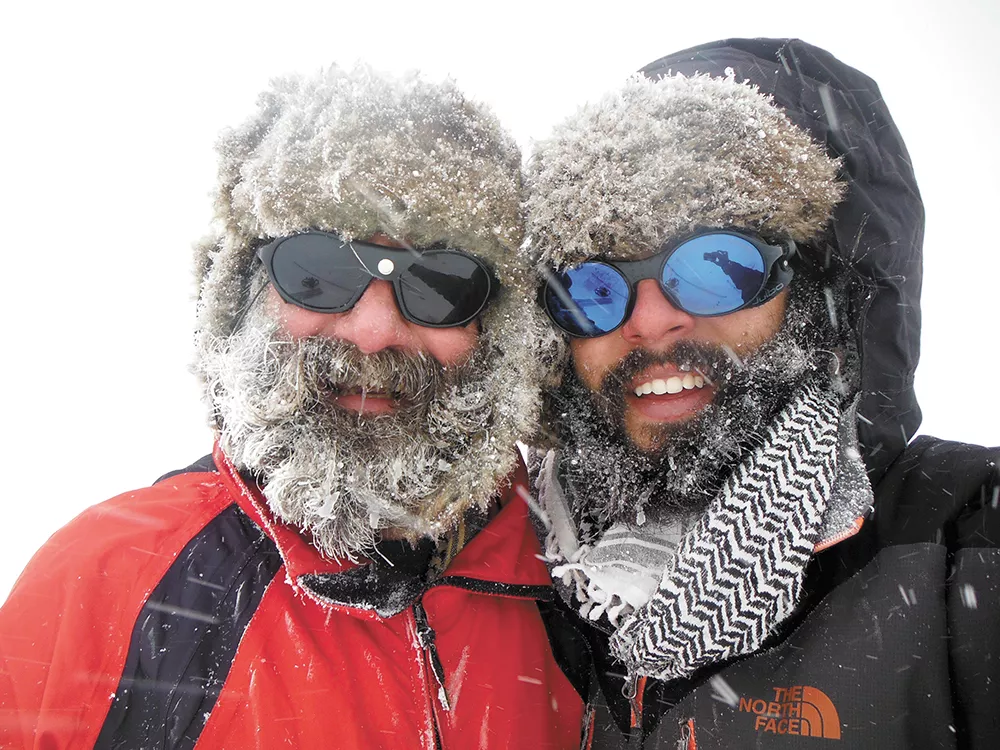 The elder Hughes, a Christian and veteran of nearly six years in the Fairchild Air Force Base Survival School, jumped at the chance.
"I was going with my son, so how can you turn that down?" Hughes says. "We spent a lot of time together, through some pretty harrowing experiences, and being able to have that kind of bond is amazing."
Their adventure and that of the ark hunters is recounted in a new film, Finding Noah, that is part outdoor adventure flick and part faith-based documentary rooted in the team's belief that the Bible stories of Noah, the ark and a great flood are more than allegory. The film was made during the Hughes boys' second trip up Mt. Ararat in 2013. Spoiler alert: The team didn't find the ark. (You probably would have heard something.)
Even so, the film successfully illustrates the role that an apocalyptic, global great flood plays in faiths ranging from Christianity to Judaism and Islam. Ultimately, it's a film about the lengths men will go in service of their faith, and each other.
None of the team illustrated that idea more than the bearded father-and-son duo, says Jonathan Shaw, one of the film's producers and editors. The Hugheses scrambled to the peak of Mt. Ararat and set up camp ahead of the rest of the team, braving unpredictable weather, a lack of oxygen and occasional tank and gunfire below, where Kurds, Turks, Syrians and Iraqis wage endless battles for the land around the mountain. And, Shaw says, they did it selflessly.
"Just the sincerity of what Will and Bill were doing, they gave the credibility to me of the idea of what this film all about," Shaw says from his Los Angeles studio. "If you climb Mt. Everest, you're doing that for yourself. If you're climbing Mt. Ararat to look for the ark, you're doing something beyond yourself. You're doing something for your faith and your belief."
Their faith helped the Hugheses stay calm in the face of some daunting odds when they were alone on the mountain, waiting for the rest of the team to arrive, Hughes says.
"We had lightning going up, going down, it was right next to us," Hughes says, describing one storm. "And it was amazing, it was beautiful, just gorgeous. We figured we were supposed to be there, so we're not gonna die. God had brought us there, so we were good with that. We had complete peace."
While Hughes was disappointed that the team didn't find the ark, and was happy to come back to his wife and job working as a career and employment coordinator at Spokane Community College, the memories of his Mt. Ararat trips stick with him.
"When Will and I were up there by ourselves, you go out at two in the morning, and you're standing on the ground, but it's the perspective you have from an airplane at night," Hughes says. "The sky, it was amazing. The solitude, the peace, the clarity that we could muster up with no brain cells working — I was losing that [memory] until this movie was released, because it gave me the opportunity to think and remember where we were. Not just physically, but where we were spiritually and mentally.
"Looking back, like many of the experiences I've had in my life, it's like, 'OK, that was really good! Maybe I'll get to do it again.'" ♦
Finding Noah will screen on Thu, Oct. 8, at 7 pm at the NorthTown 12 in Spokane and Riverstone Stadium 14 in Coeur d'Alene.