Scattered across the Gonzaga campus, students stand with their eyes glued to smartphones. Their fingers swipe down repeatedly to refresh their Twitter timelines. Anticipation is tangible in the air.
It's the day before the men's basketball game against West Coast Conference rival Saint Mary's College back in January, and within minutes the location of Tent City registration will be released via tweet.
When it happens, you know. The crowd breaks into panicked sprints, sliding as they accelerate across the icy field. A once-empty corner of campus is met with a stampede of runners, who quickly aggregate into a line.
This is not the first line the Zags have formed this week. Game preparation began days before, when they stood for hours in front of the McCarthey Athletic Center, hoping to get one of the 1,250 tickets that would allow them into the student section.
In today's race, it's not admittance to the game that these students are chasing. It's a coveted spot in the rows that nearly touch the court inside the Kennel.
Only hours after the race for registering has ended, the thick ice on the ground in front of Foley Library is broken apart with shovels to make way for a field of tents. Stakes are stomped into stubbornly unaccepting soil.
For the next 24 hours, all 120 places in Tent City will have at least one die-hard Zag fan bundled up inside. You'll find a similar scene this weekend on campus for the Zags' final home game against BYU.
What does it take to survive the elements and make it to tip-off? That depends on who you ask.
Tent #1
They have bragging rights. They have air mattresses. And they have a sign made of masking tape and fluorescent lights illuminating their place at the front of Tent City. When we stopped in to visit, the spacious Tent One was filled with seven seniors, all sitting comfortably in chairs. In the corner, a television plugged into extension cords was playing Happy Gilmore. As these veterans confirm, there are certain things you learn at Gonzaga after four years.
"Run fast, and don't sleep on the ground," advised Suzanne Mikesell, who secured the group's spot by beating the masses. This group of senior friends, who are at the front of the pack for their first time, admired the excitement that was already building.
"The people who make it to the game have suffered through all the work and the cold to get there, so you know they really care," Mikesell said.
As far as staying warm, the seasoned pros have some easy answers. "You have to order lots of pizza, and not forget the hand warmers."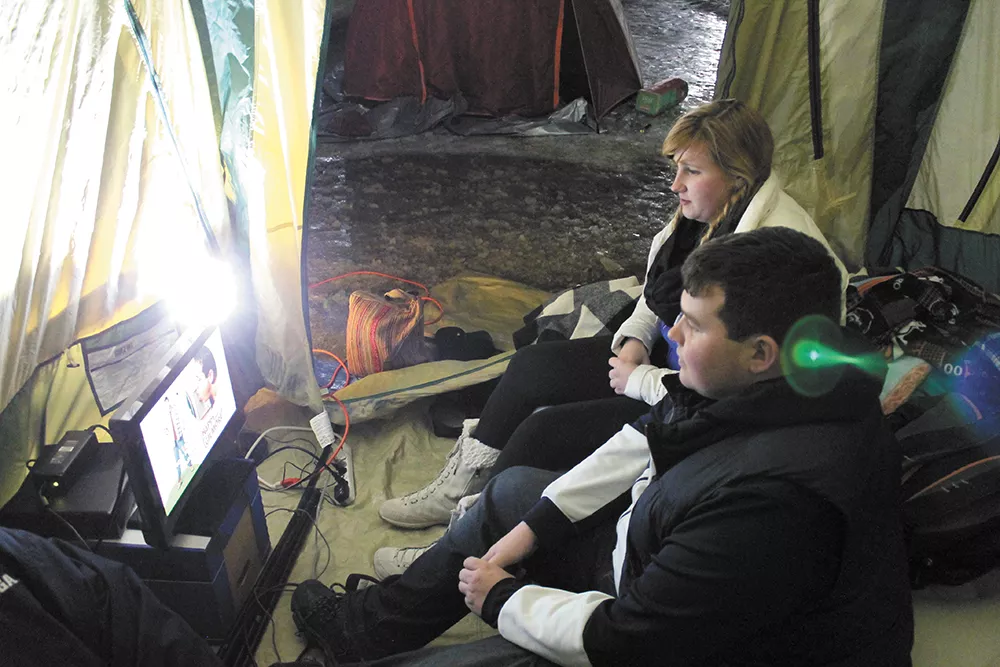 Tent #119
On the opposite end of the field, a vibrant green tent sticks out from the others. At the second-to-last placement in the crowd, Tent 119 didn't have much to brag about, but for these first-year students, that didn't eliminate the thrill of camping in January.
"I've always watched the Zags," freshman Klint Wacholz said. "I saw Tent City on TV and I would think to myself, 'Those kids look crazy.' I couldn't wait to be part of that."
Wacholz saw Tent City firsthand when Gonzaga played Southern Methodist University in November.
"This is only our second game," freshman Lauren Phares said. "But my brother is a senior, and he let me borrow this tent."
Inside the lime-green nylon of their shelter, there was little other than blankets, sleeping bags, and leftover Styrofoam cups from hot chocolate long since finished.
"We couldn't get the spikes in the ground," Phares admitted. "We hope it doesn't get windy."
Tent #54
Attached to the fence surrounding the new John J. Hemmingson University Center construction, a multicolored parachute is draped over tent poles. Beneath, five sophomore boys sit on an old couch, covered in blankets and layered with jackets and snuggies.
"We've brought the parachute out every game since I've been here," sophomore Josh Horton said. "My mom used to be a preschool teacher, so she just had it lying around."
It's a flashy component that makes this tent stand out, which is exactly why Horton and the others continue to use it as decoration. The couch, a more functional addition, was pulled down to the field from the second level of a nearby residence hall.
By morning, the parachute had collapsed to the ground, pulling the old tent underneath off-kilter as it fell.
Tent #92
By the time the sun began to set, the boys of Tent 92 had learned a lesson. Wisdom is often found in hindsight.
"There are two huge sections in our tent, and we realized we didn't really take advantage of that," freshman Zack Schroder said. "I think next time, we'll turn the second half into a whole room for Rock Band."
When they slept in Tent City last November, they regretfully crammed three bodies into a one-person tent. Now, with a green-and-grey Coleman that towered over the neighboring tents, there would be no shortage of space.
"We want everyone to come stop by the tent for a while," Jake Sahli said. "The social part of this is what makes it so fun."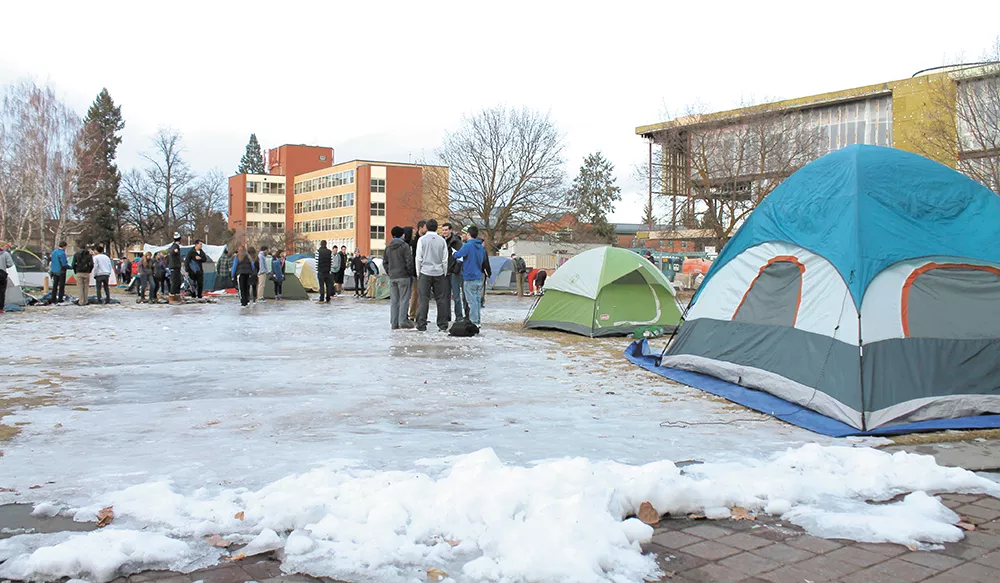 Tent #18
Daylight was short-lived, but lamps have Tent 18 glowing once night has settled in.
Though smaller tents stay warmer, seniors Lindsay Masters and Sam Wyss decided that extra space is worth losing a little heat for.
"We have a huge tent, but we'll huddle up in this corner for warmth," Masters said.
Although it's bright enough, Masters says they'll leave studying for the daytime. Like many other tents, they've planned a detailed schedule of alternating shifts to split the time spent in Tent City with the time they'll each drag their cold limbs to the classroom.
For the night, Masters and Wyss have speakers blasting country tunes and a deck of Cards Against Humanity to keep them entertained. Distraction seems to be the most important amenity to bring along, and several doors down, a group of fellow seniors have prepared with a downloaded copy of a Victoria Secret fashion show.
Once in awhile, the entertainment comes from outside. A few years earlier, Wyss' tent was visited by Gonzaga center Robert Sacre, who ducked into their space to film a television interview.
"Our freshman year, we fit four mattresses in here, with a couch," Wyss said. "And then we fit Rob Sacre, so you know it's nice and big."♦