ON INLANDER.COM

ARTS & CULTURE:
Lookin' ahead to festival and tanning season but need a way to cover up? Sandpoint-based
Pastease has you covered
, in style.
ARTS & CULTURE:
Did you meet your bf/gf/wife/husband/partner/lover in a unique or unusual way?
We want to hear from you
for an upcoming feature for our Valentine's Day issue.
IN OTHER NEWS...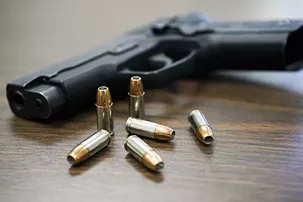 Guns stolen from police chief still missing
When someone stole 29 guns from the Kettle Falls police chief, he didn't report it to other law enforcement officials at first. Instead, he tried for a while to investigate on his own, but the case has recently taken turns that involve an ex-girlfriend, the court system and a
continued search for the missing weapons
, the
Spokesman-Review
reports.
Former Spokane Valley firefighter wins free speech settlement
A former Spokane Valley firefighter fired after using his work email to send religious anti-suicide messages and set up meetings
has reached a more than $900,000 settlement
with the department, KXLY reports.
Trump rejects temporary reopening plan
As the shutdown enters its fourth week, President
Trump turned down a plan to temporarily reopen the government
that was put forward by Republican Sen. Lindsey Graham, the
New York Times
reports.
Washington bounty hunters can break and enter with little training
The
Seattle Times
' watchdog team highlights an interesting issue: Bounty Hunters looking for people who skipped out on bail or court dates are allowed to break and enter homes,
but may have very little training
, which can lead to dangerous situations.