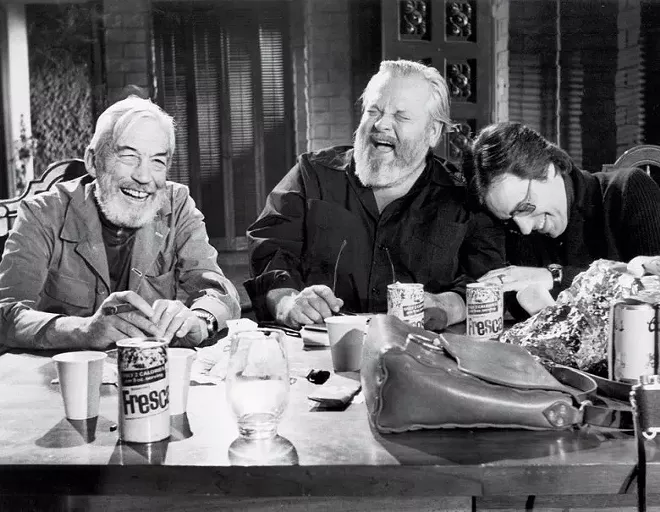 Right now on the French Riviera, the Cannes Film Festival is in full swing. It's the most prestigious of international movie events, and big names — Asghar Farhadi, Spike Lee, Jean-Luc Godard — are competing for the Palme d'Or, the festival's highest honor. But one of the juggernauts of modern film production is noticeably absent from the roster: Netflix.
Cannes recently decreed movies released exclusively through streaming platforms could still play, but would be ineligible for the Palme. Because they're not seen on a big screen, they argued, they're not really films. In retaliation, Netflix pulled its features from Cannes, resulting in much huffing and puffing.
Who's the bad guy here — the digital giant changing how we consume media, or the old guard clinging to a celluloid past? Let's examine the main arguments on both sides:
Netflix is funding the work of great filmmakers!
Sure, they've bankrolled crappy Adam Sandler comedies even he forgot existed, but Netflix's upcoming releases include work by Alfonso Cuarón and Martin Scorsese, and films comparatively-sized studios would never finance. They've also got distribution rights to Orson Welles' The Other Side of the Wind, a long-unfinished holy grail of cinema.
BUT...
Netflix is also burying the work of great filmmakers!
Some argue that indie films are more widely seen if they're on a platform people are already paying for. Because Netflix doesn't release its numbers, that's merely conjecture. What's difficult to dispute, though, is that Netflix doesn't really promote content beyond its high-profile series. Its library has grown so rapidly and indiscriminately that many ambitious new features disappear into the algorithm.
Watching movies at home is great now!
Yeah, theaters now have leather recliners and menus resembling actual food, but sometimes leaving the house is a pain in the ass. Besides, high-end home entertainment systems offer crisp sound and picture, the window between theatrical release and digital availability is shrinking, and staying in means you don't have to put on pants.
BUT...
The theatrical experience is sacrosanct!
If the theatrical distribution model goes extinct, will the very act of filmgoing follow? Consider: Would less people have ventured to see Avengers: Infinity War on the big screen if Marvel had made it simultaneously available online? Definitely. The hypothetical shuttering of theaters might elicit a shrug from casual moviegoers, but seeing films with an audience is as old as the artform itself, and it should at least be an option for those who want it.
So who's in the wrong: Netflix or Cannes? Impossible to say, really, but this fight isn't doing the real victim — the art of the cinema — any good. ♦