The overwhelming comments coming from area ski resorts so far this season are all about how great the coverage is, how awesome the conditions are and how early in the season this is all happening. If that is not enough to get you up there, then maybe you might be inspired by one of the following:
The terrain at 49 Degrees North is prime for trying out new gear. So it's not surprising that 49 Degrees North has scheduled demo days, offered by the region's best ski shops, on Dec. 17 and Jan. 14. They are also stoked to be hosting Mountain Gear's WinterFest on Jan. 7 and 8. There will be plenty of gear to try out. But make sure you stick around for live music, barbecue and bonfire. There will even be nighttime ski and snowshoe tours.
A lot of the buzz at 49 is behind the scenes. Utilities are being put in place for an eventual groundbreaking on the new mid-mountain lodge. If you have been to 49 in the last year, you might have noticed the new runs cut and the thinning of glades over in the Angel Peak area. Scheduled for summer 2012 is an installation of a chairlift that has already been purchased. With the new lodge and the additional terrain offerings, there will be many more options for food, views and tree skiing.
Mt. Spokane is known for convenience, as well as its massive amount of night skiing. Only 28 miles from downtown Spokane, it is an easy justification to get up and ski several days or nights a week, even if it is only for a couple of hours. The first night of night skiing, Friday, Dec. 16, is always a party but this year there is a lot to celebrate. Mt. Spokane has lowered the cost of night skiing this season. Now you will only pay $19 bucks (or less for those 70 ) for six hours up on the slopes. Night skiing goes through March 10.
It's good to be king. As of Dec. 8, Schweitzer boasted the most open terrain in the entire nation with the opening of the Outback Bowl, affectionately known locally as the North Bowl, offering a total of 2,900 acres of skiing terrain.
Schweitzer has long been known for its great variety in terrain, steeps, glades and bowls, but they are quickly adding to their amenities with the addition of weekly wine tastings at Gourmandie, a specialty shop in the heart of the village. The tastings are an excellent way to sample new vintages and chat with other snow enthusiasts about another great mutual love — wine. Each week they will announce the type of wine available. Tastings typically go from 3-6 pm.
Schweitzer will also kick off the holiday break by opening the zip line for the season. On Dec. 17, the dual 700-foot line will whiz you over the beginner skiing area for a screaming good time. There are age and weight requirements, so check out Schweitzer's webpage for more info and operating schedule. Or better yet, just stop in the Hermit's Hollow Tubing Yurt and book your adventure now.
In addition to their 1,600 acres of skiable terrain, Silver Mountain Resort has the largest indoor waterpark in the great state of Idaho. Silver Mountain is so convinced that you will enjoy your time more than ever, they've created several packages to make the pot even sweeter. The Ski, Surf and Stay package is great for those who want to shred the mountain but then also be able to relax in the hot tub or continue the adventure with a session on the Flow Rider Surf Wave. This package starts at $83 per person (based on quad occupancy).
Everyone knows all about the Lookout Pass Free Ski School. In 35 years, the Free Ski School, which starts Jan. 7, has taught some 60,000 people. In addition to the Free Ski School, Lookout Pass is also offering a Freeriders Camp, a daily clinic for those wanting to ride with the pros and gain some experience jumping and landing in either of Lookout's terrain parks. The cost is $50/day or $80 for two days. The Clinic is offered Dec. 19-22, 9 am-3 pm. Find out more or register at the Snow Sports desk or online.
And don't forget that Lookout kicks off daily operations on Dec. 15 and runs that schedule through Jan. 2.

Welcome to Snowlander, Vol. III
Wow! What a November and early December this has been. While we're less than a month into the season, many avid riders in the region are boasting double digits for their ski day totals with still many days (and months!) of winter left to go. How many do you have?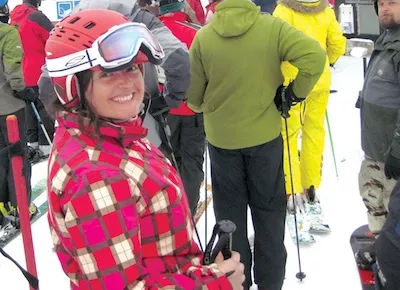 If coverage or conditions are your concern for having not clocked your first day, there's no need to have this worry. Conditions and coverage are historically better than many can remember. All ski areas opened within a week of each other, and 100 percent of the terrain in the region is open. Many of the resorts opened earlier than they have in recent history. The rain during the last week of November actually helped the current snowpack, which is why area resorts are still boasting great coverage even without any recent snow. But keep in mind that it is still early season so remember to ski and board with care.
With the shortest day of the year almost upon us and a lingering high-pressure system, valley fog is masking the beautiful sunshiny days up in the mountains. Soon, the days will start to get longer, and we'll be back to enjoying long afternoons full of sun.
The holiday season is in full swing and the Inland Northwest has the most epic start to the best time of the year — ski season. So what are you waiting for? Get up to the mountains and enjoy the snow, sun and laughter with fellow snow-riding enthusiasts.
Happy holidays and see you on the slopes!
Jen Forsyth
Snowlander Editor
jen@snowlander.com