Spokane writer Jack Nisbet sees the little things — the things all around us that most of us don't take the time to consider. Ants, for example — there's an entire chapter in his new book, Ancient Places, about the mysterious genius of ants.
"There's so much to explore right here," Nisbet says of his policy of keeping his subject matter all within a day's drive of his South Hill home.
Or magpies — just the mention of the misunderstood bird launches a spirited discussion about why they're so hated, almost like wolves. But no, that's not in this book — he's not quite done with that subject yet. Maybe it'll make his next book.
How about that icon of all things Inland Northwesty, the ubiquitous ponderosa pine? Well, did you know, as he writes in Ancient Places, that "the thick outer bark that glows like a ruddy sunburn... supposedly marks the passing of the trees' first century"? I love the fact that somebody knows this stuff. When I bring it up, he adds that he and a friend bore-tested a particularly ruddy specimen along the High Drive bluff. Age: 350 years.
As Aristotle, the original student of nature, put it, "In all things of nature, there is something of the marvelous." Through Nisbet's eyes, there's wonder all around us.
The name of Nisbet's book, Ancient Places, is taken from the obtuse, religious Francis Thompson poem, The Kingdom of God: "Angels keep their ancient places / Turn but a stone, and start a wing!"
Wow, that's deep — maybe too deep for me to follow. So I ask Nisbet what the line means to him.
"When I kick rocks," he says with a chuckle, "stuff comes out."
In his chapter about Wes Wehr, the eccentric founder of the Stonerose Interpretive Center in Republic, Nisbet writes that Wehr "followed the European Enlightenment tradition... that any understanding of the larger world required not only close examination of its smallest motes, but also a steady awareness of their place in time."
In that line, it's as if Nisbet has written the job description for the career he has carved out for himself: Kicking rocks and studying whatever motes float up into view.
Getting here was no straight path. Nisbet was born along the line that splits North and South Carolina, around the Catawba River. Two of his aunts were writers; he was given an old fruit box filled with the work of one after she died — kind of Dorothea Lange-esque, Depression-era vignettes of life in the rural South. His mom was a chemist and loved bugs. But she died while he was in high school, and he was looking to move away even in his teens.
"I grew up in a racist world," Nisbet says matter-of-factly. "It was ugly. I wanted to get away from it."
Acceptance to Stanford University was his ticket, and learning from the great Wallace Stegner added the inspiration — Nisbet especially identified with Stegner's memoir, Wolf Willow. He graduated with an English degree in 1971 and wound up in northeastern Washington, where a classmate's dad had some murky mining claims. Soon Nisbet was working construction, driving tractors and starting to take notice of the mountains, the streams and the people.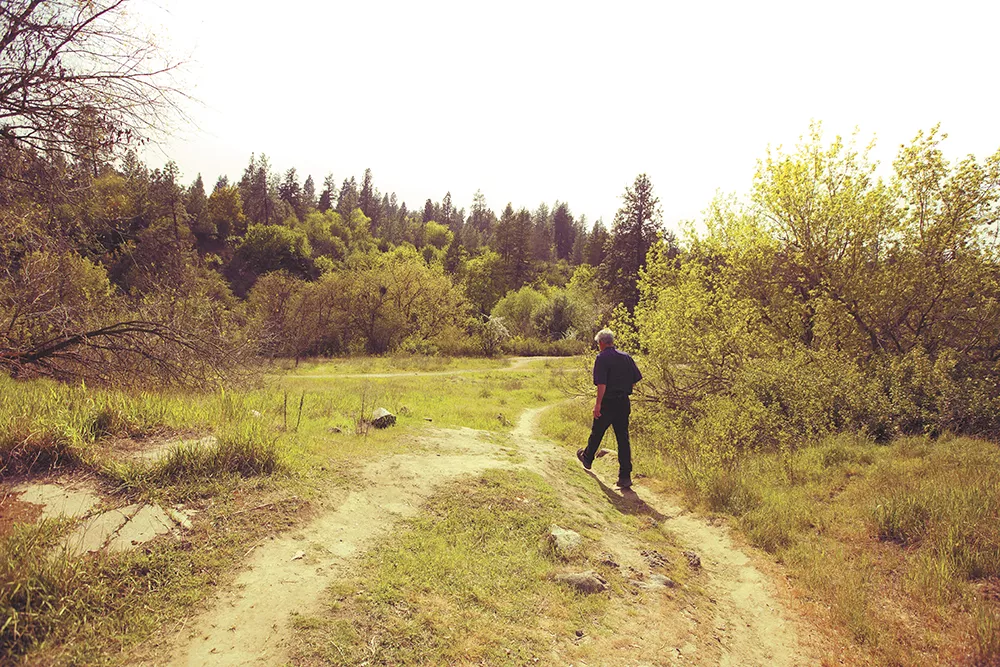 He became a columnist for the newspaper in Chewelah — a 10-year run that created the raw material for his book Purple Flat Top. "In fact," Nisbet says, "I view Purple Flat Top, Visible Bones and Ancient Places as a kind of trilogy."
His big break came in 1994, when he finally sold — after 10 rejections — Sources of the River, one of the best books about the Great Northwest. Telling the tale of fur trapper David Thompson, whose fingerprints are all over our region, Nisbet worked on the book for nearly a decade. Since '94, he and his wife Claire have lived in Spokane, where they raised two kids.
Today, Nisbet works on his stories, teaches kids all over the Inland Northwest about local history and publishes new books at a steady clip.
I've had the pleasure of working with Jack for many years now; we've published his work here in the Inlander from time to time, and it's always been fun kicking rocks with him. I feel like Ancient Places is a great introduction to the way his mind works — it jumps around a little bit but stays true to those big themes of his.
Nature is central in each of the 10 chapters, for sure, but it's the people he profiles who add depth and color to the big picture. There's Byron Riblet, who helped solve the problem of getting remote stashes of dolomite to the World War I effort by creating a massive gondola to carry the ore to a railhead. His brother Royal built the Riblet Mansion that is now the Arbor Crest Winery; his company also installed the first ski lifts in the region.
The tension between the original owners of these lands and the settlers who came after is another of Nisbet's big themes, and here we meet hero/scoundrel William Manning, who, in controversial fashion, collected many artifacts owned by local tribes — a haul that today makes up the bulk of the MAC collection. After the two cultures clashed during what Nisbet calls that "period of flux," the fallout has been, well, complicated.
"'Tis ye, 'tis your estranged faces," the Thompson poem continues, "that miss the many-splendored thing."
Nisbet wants us to look so we don't miss those many-splendored things — to see, as he shows in Chapter One, a wonder like the Northern Lights. Aristotle nailed it: All those tiny motes do add up to something truly marvelous. ♦
Jack Nisbet reads from Ancient Places • Tue, May 19, at 7 pm • Auntie's • 402 W. Main • auntiesbooks.com • 838-0206
---
BOOK EXCERPT
TERRA-COTTA MAN
BY JACK NISBET
Outsider artist Leno Prestini emigrated to the United States with his family from Besano, Italy, in the early part of the 20th century. His father worked as a terra-cotta finisher for the Washington Brick, Lime and Sewer Pipe Company in Clayton, just north of Spokane. After the elder Prestini passed away, young Leno dropped out of school and joined his brother Batista at the brickyard.
It was during the 1930s that Leno Prestini emerged as a unique figure in local lore, proving himself time and again to be a gifted design artist crossed with a clever engineer, a broad conversationalist and a mad adventurer. He seemed to breathe in the essence of northeastern Washington — including the Clayton brick plant and its machine shop; the region's sawmill and mining culture; its mountains, coniferous forests and glacier-carved lakes; tribal culture and extended trail-horse rides; the taverns, churches and country music — and spit them back out in ways that were entirely personal.
When Leno decided he wanted to go boating on nearby Loon Lake, he fashioned a craft with cement-sack sails and an iron rudder oriented like the tail of an airplane. The keel was a coffin cover held in place with a length of company strap iron, and the thin steel would begin to hum as the boat picked up speed.
After seeing a round diving helmet made by a Spokane machinist, Leno and his friend Burton Stewart used an acetylene torch to shape their own helmet out of a hot water heater, decorated it with a sculpted octopus and installed double glass to prevent the faceplate from fogging. Adapting a garden hose for an air supply line, they put their odd headdress to work, diving after lost property for the summer lake crowd. Soon the dive team started descending beyond available sunlight, so they cobbled up an underwater flashlight from a six-cell battery enclosed in an aluminum cylinder, with a fuse head to hold the glass and a Model T radiator cap to seal the end. As their dives in Loon Lake approached 90 feet, they ordered balloon cloth from the Goodyear company to sew into a suit that could handle the cold temperatures.
Stewart and Prestini's eccentric operations were just getting warmed up. They salvaged a stainless-steel cream can and fabricated an improved helmet. A beer-barrel pressure pump regulated the air supply flowing through their garden hose. One dockside photograph shows Burton and another pal, in dark shirts, bending over the compressor in the background while Leno, fully tricked out in the white Goodyear diving suit, weighted yoke and leaden shoes, stares at the camera like Captain Nemo himself. They thought enough of their efforts to exhibit the suit at the Spokane Interstate Fair that fall and to answer a call from the Colville Police Department to help locate the body of a drowned man in a lake north of town.
Leno and Burton Stewart climbed mountain peaks all around the region. When the terra-cotta plant shut down for a brief period, they customized a 10-foot ladder and used it to scale the kiln's 110-foot brick smokestack, taking panoramic photographs from the top to prove it.
And at every opportunity, Leno added his own strange creations to the terra-cotta kiln. He molded a diver dodging dangerous sharks, and an elf lamp that carried an unsettlingly dark aura. A two-headed mountain climber seemed to teeter toward an abyss, and when his brother Batista asked him about the double heads, Leno replied, "Every time I get to the top of the mountain, my problems are still with me." ♦
Reprinted by permission from Ancient Places: People and Landscape in the Emerging Northwest by Jack Nisbet. Published by Sasquatch Books.