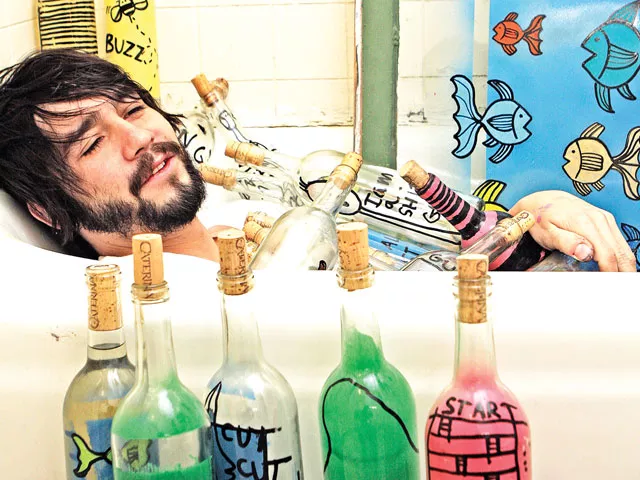 He doesn't make excuses. If Ruben Villarreal is nothing else, he's unapologetic — about nearly everything: being too drunk, knocking things over, falling asleep at his own art opening, sitting in his bathtub for hours on end.
It's a quality that hardly stops at how he is perceived socially. Villarreal is also unashamed when he explains how he makes art, why he is permanently poor and what his life goals are.

A 30-year-old skateboarder who could be mistaken for a teenager if not for a messy one-o'clock shadow, Villarreal has a provocative, slightly gritty personality that is a complete contrast to his art. Splattered across amplifiers, wood panels, aging glass windows and the occasional Volkswagen remnant, Villarreal's work imagines a simplistic animal world. Where you might expect him to create art that's dark and moody, sinister and dejected — art that's as "I-don't-give-a-f---" as he is — he paints bright yellow giraffes against Pepto-Bismol pink skies. Spindly-legged owls with royal blue feathers. Bumblebees that say, "buzz." Toy cameras that say, "Pictures are fun!" "It looks like a really, really intelligent 8 year old did it," Villarreal says.
His art is simplistic — but it's clear, talking to Villarreal, that this is not a contradiction of his personality. It's calculated, in fact: line drawings of birds and goldfish and stick figures are exactly what he intends to draw.
"Everyone is so focused on the outcome of a piece and what people are going to think," he says. "But you don't think that when you're a kid because drawing is so f---ing fun!
"I try to keep that childlike innocence — which also may add to my immatureness," he says.
He's formally trained— he has an associate's degree in design and photography from a small college in Phoenix, Ariz. — but chooses to flip off all the rules he learned in art school.
"[College] didn't do anything but help me with my shading," he says. "I was pretty much taking advantage of the skate parks there. I already knew what I wanted to do and the style that I had."
He continues, "I can't do realism. And I admire that very much: The artists who can sit in front of a building and shade it to a T? That's awesome. I don't have the patience. I like finished products."
Art hardly dictates his existence. When he feels like painting, he paints. Last night he stayed up until 5 am, he says, drinking wine and making art on windows and bottles. Today his face shows the late night. Paint stains his wrists and palms.
"I sit down and I feel like drawing something and I will," he says. "I won't draw something for a month at a time, and then I just will."
And when he does make art, it's usually because someone gave him something to make art on. A guy donated old cabinet pieces to him once — for this show, someone else gave him old windows, and he gathered empty wine bottles at Caterina (where he helps with Platform Booking events). Windows and bottles meant his next show would be on glass.
On clear panes of glass, his art — which has shown in the past at Rock Coffee, Prago, the Baby Bar and Terrain — radiates: flat colors catching light and giving his fi sh and birds depth.
"I like flatness a lot — I like flat colors. I don't like putting depth to things. It's always been like that," he says.
Lack of depth hardly means shallow. By subtracting depth, Villarreal's art plainly asks why we like the art we do. What are we trying to prove with the art we make? The art we like? And why is everyone being so goddamn serious?
"That's my main focus: not taking myself too seriously. Even with my artwork, I don't take it too seriously, and that's why I have so much fun with it," he says. "I've been judged so much around town, but man, I'm having a good time."

Works by Ruben Villarreal are on display at Sunset Junction, 1804 W. Second Ave., through Jan. 31. Opening reception Friday, Jan. 8, from 7-9 pm. 21 .