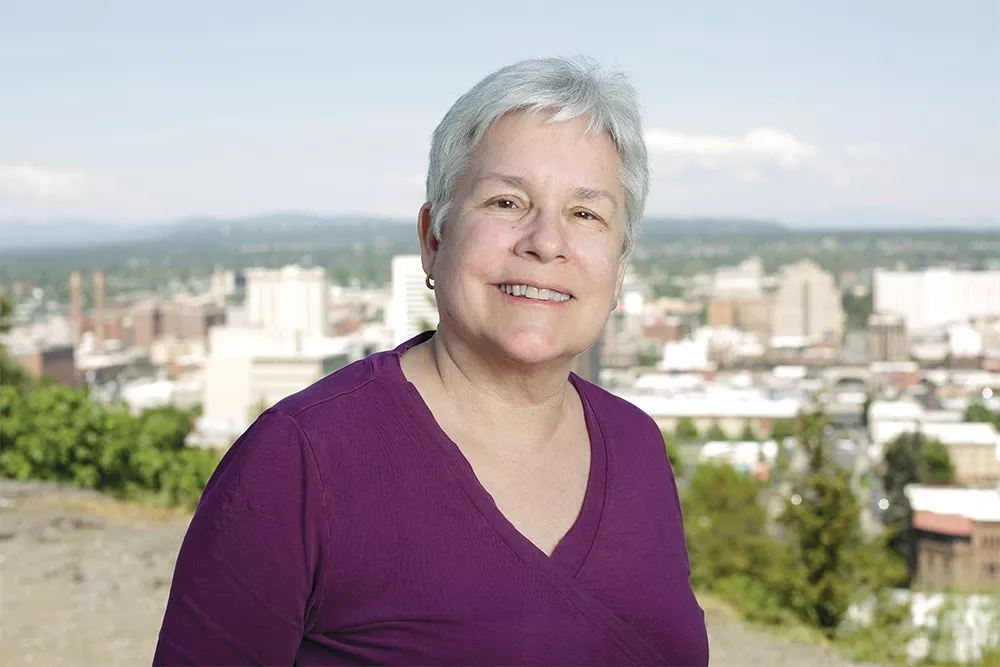 Spokane physician Deb Harper remembers clearly why she chose to practice pediatrics over any other specialty.
"My initial idea was to be a family physician, but I got really distressed by people who had end-of-life lifestyle diseases like smokers," Harper recalls. "So I thought, 'Either I have to get a better attitude and change my personality so I can deal with that, or be on the right end of getting people to have healthy lives.'"
To take this proactive approach, she started with patients at the beginning.
Harper graduated from med school and began her residency at Chicago's Cook County Hospital in 1980. Five years later, she moved to Spokane to accept a job with Valley Young People's Clinic, now owned by Providence Health & Services, where she spent more than three decades caring for local families and their children. One of the most rewarding parts of her practice there was seeing past patients who later brought their own children to her for care.
"One of my favorite stories is that I had two accident-prone, active brothers coming in with broken wrists, and I was always going after them about 'you have to wear your helmet!'" she recalls.
"Then when they were grown men and one brought in his 3-day-old baby girl, I said, 'How do you feel about that bike helmet thing now?' and he said, 'If I could put her in a suit of armor, I would.' I love that, and I love watching new parents."
Harper retired from the practice in April of this year, though she continues to fill in when needed for other Providence pediatricians. Not long after, at a ceremony in early May, she was inducted in the Spokane Library Foundation's Citizen Hall of Fame alongside friend and fellow Spokane physician Katherine Tuttle. Previous accolades for Harper include Spokane County Physician of the Year and the YWCA Spokane's Women of Achievement Award, among others.
"I am really touched by this, and I appreciate the recognition," she says. "It really helps because sometimes when you do this work in the community, you're one of several anonymous people pounding your head against the wall."
Though Harper isn't seeing patients full-time, she still serves on boards for many local and statewide health care organizations, including the Northwest Mediation Center, the Spokane Teaching Health Center and the Washington State Medical Association. In July, she'll take over as president of Rotary Club of Spokane 21.
"I thought, 'Well, I'm 63. I've got more years to practice medicine, but I then thought, 'No, I'm going to step away,'" she says. "I've been mentoring some people to come up in leadership at Providence in pediatrics, and they were ready to go." Throughout Harper's practice, and her partnerships with area organizations working to prevent child abuse and to improve health care access for local families, she's seen many successes, but also encountered many challenges along the way. The pediatrician underscores that successes — like helping to bring Spokane's death rate due to child abuse and neglect to below two per year in the 1990s (it currently hovers around this number) — have been due to the hard work, innovation and leadership from many others in the community working alongside her.
"I tell you, all I do is sit back at meetings and give people autonomy. I was just 'Go forth and make it so, please,' and I went to a lot of meetings where people came up with better ideas than I had," she says, in reference to time spent as an administrator for Providence pediatrics.
Of other success markers that still bring her satisfaction, Harper never tires of seeing parents truly adore and nurture their children. Or seeing parents with drug and alcohol addictions who are able to overcome those barriers to successfully raise their children. She also finds joy in her own failures, like predicting that a young boy born with severe developmental disabilities would not live past infancy. That boy is now in his early teen years.
Among issues facing children's health that concern her most are the rise of helicopter parents who make excuses for their kids, and the growing rate of youth with early-onset Type 2 diabetes. The fear of children being neglected and abused will never subside.
As she moves to pass the torch, Harper is now working to launch a pediatrics residency program here through the Spokane Teaching Health Center. As it stands, she says, Spokane has one-third to one-half as many pediatricians a city this size should have.
Despite the many challenges of her profession, Harper has a deep-rooted love for Spokane, and thinks, by most standards, the community is doing kids' health care right.
"People think there is quality medical care everywhere in the country, but that's not the case," she says. "Could we do better? Yeah. Could we be more efficient? Yeah. Could we have better access for patients? Yeah, we better. But [when I got here] I was really amazed at how good the quality of medical care is."