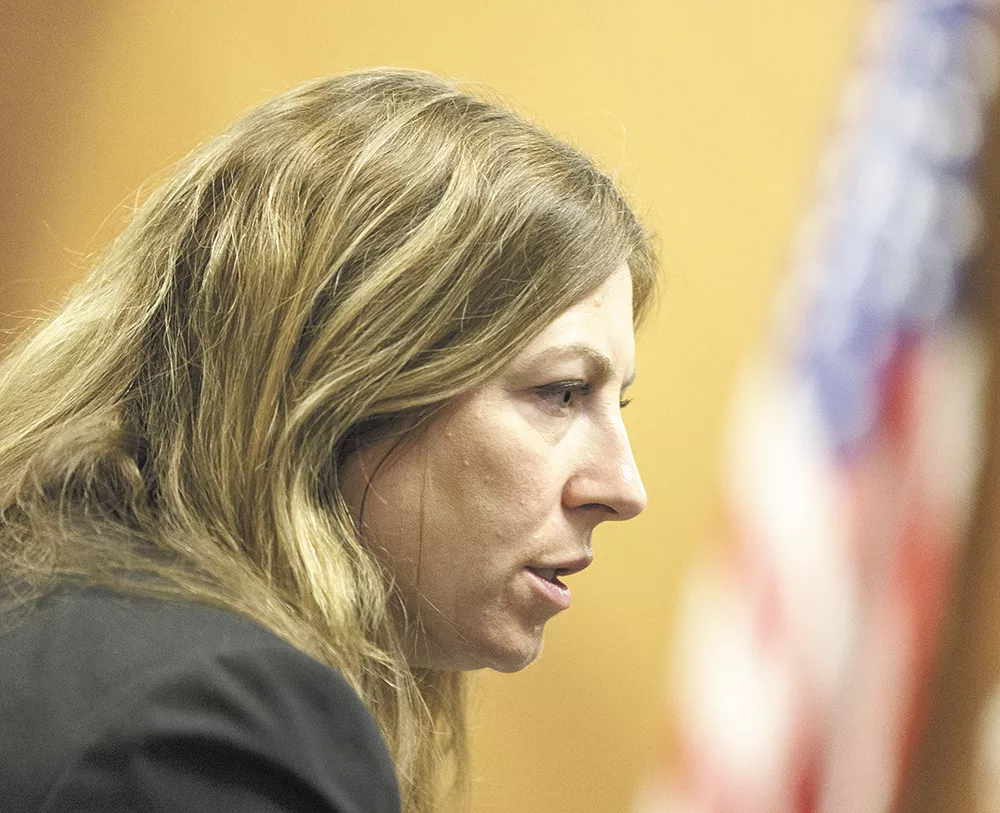 When Spokane County Prosecutor Larry Haskell took office in January, he found a drawer with more than 370 unresolved juvenile cases from the previous county prosecutor, Steve Tucker. Under Tucker, certain cases were kept out of the courtroom, allowing prosecutors and defense attorneys to find reasonable compromises without necessarily tossing every kid into the juvenile justice system.
Under Haskell, that's changed.
"Sometimes you can get kids the necessary treatment without throwing them into the system and having constant contact with the court," says Krista Elliott, a Spokane County public defender who's been handling juvenile cases for more than 10 years. "There are other ways to help kids that don't require convictions."
For county prosecutors, clearing the backlogged cases represents a commitment to by-the-book prosecution. Haskell, who denies that his office is moving away from a rehabilitative bent, points out that there is nothing in Washington state law explicitly saying that the juvenile justice system is supposed to be rehabilitative.
"We're here to protect community safety and due process," he says. "Accountability is very important, but rehabilitation is not a statutory requirement."
The new tactics have bumped up the number of cases in the juvenile justice system so far this year compared to last. From January through October of 2015, there were 92 more cases filed in juvenile court compared to the same time in 2014, a 15 percent increase. That rise has nearly maxed-out public defenders' caseloads and prompted director Tom Krzyminski of the Public Defender's Office to enlist two other attorneys to pitch in.
But the increase in filings is just one example that defense attorneys give for the change they're seeing under Haskell's leadership. Others include:

A new requirement that juvenile defendants attend all pretrial court dates;

An increase in cases resulting in a felony conviction or plea;

The demise of alternative case resolutions, where attorneys construct solutions without filing charges;

The state's persistence in moving forward with charges even if victims aren't willing to cooperate.

"The standard prosecutorial approach for adults here in Spokane is bleeding into juvenile court," says Bryan Whitaker, a local defense attorney who has worked in juvenile court since 1997. "That's my true perception of what's happened. They want uniformity in their charging, but that's not outcome-based. That's charge-based."
Whitaker says one particular case exemplifies the change he's seen in the Prosecutor's Office. In May, Jason Timm's 17-year-old daughter, Megan, agreed to get drug and alcohol treatment at Daybreak Youth Services in Spokane. While in treatment, Megan and two other girls broke a window. When a staff member responded to the commotion, the girls "pushed and slapped" him, Whitaker says. Unable to get control of the girls, employees called police, which resulted in felony assault and malicious mischief charges for all three.
Annette Klinefelter, executive director of Daybreak Youth Services in Spokane, sent a letter to Haskell and senior deputy prosecutor Steve Garvin saying the treatment center did not wish to press charges against Megan. Robert Larson, the employee who took the brunt of the girls' physical aggression, also sent an email to prosecutors requesting that the charges be dropped.
Prosecutors refused.
Although he said he wouldn't speak about specific cases, Garvin, who supervises the Spokane County Prosecutor's juvenile division, says: "It's important that victims have an opportunity to meet with a prosecutor and express their wishes, but it's also important to understand that they are not and cannot be given the final say on what happens with a case. My job is not to follow the whims of whatever victim I happen to be dealing with. My job is to treat people fairly."
Megan had no other criminal history. She eventually pleaded guilty to a misdemeanor assault charge, but the felony malicious mischief charge stuck.
"I'm not going to say Megan should get off scot-free," Timm says. "She made bad choices and should pay for that, but I think the felony charge goes too far for breaking a window."
After petitioning the Prosecutor's Office to drop the charges to no avail, Klinefelter says she now thinks twice before calling the police to de-escalate confrontations at Daybreak.
"As an agency, we would like to be able to call law enforcement when we have a problem. However the fear is that the consequences for the kids [are] going to be permanent," she says. "We've done a lot of reflection on policy, and what we can do to avoid calling law enforcement."
Whitaker, Megan's defense attorney, says he believes the charges were harsh for a girl with no previous criminal history who is making an effort to get her life back together, but he recognizes that prosecutors have a difficult job.
"If prosecutors charge everything as a felony and plead out as a misdemeanor, it looks like they're making a mistake on one end or the other," he says. "They're either overcharging or they have no grit."
Within the past 10 years, courts have recognized the science explaining the difference between a juvenile brain and an adult brain. Three U.S. Supreme Court cases since 2005 have ruled in light of that research.
In 2005, the Supreme Court abolished the death penalty for juveniles. A 2010 decision struck down mandatory minimum life sentences for non-homicide crimes committed by juveniles. And in Miller v. Alabama, the court ruled in 2012 that mandatory life sentences without the possibility of parole for juveniles are unconstitutional.
In the court's opinion in Miller, Justice Elena Kagan writes, "our decisions rested not only on common sense — on what 'any parent knows' — but on science and social science as well."
She points to scientific research in psychology and brain science showing "fundamental differences between juvenile and adult minds" including "transient rashness, proclivity for risk and inability to assess consequences."
Granted, all three of those decisions dealt with capital offenses and punishment for juveniles. But new Washington state case law and state law follows the trend.
Earlier this year, the state legislature passed a bill that presumptively seals nonviolent juvenile records when offenders turn 18, as long as they've paid all victim restitution. The new state law, known as the Youth Equality and Reintegration Act, also abolishes almost all types of legal financial obligations, helping youth get out from under court-imposed debt.
A recent state Supreme Court decision also addressed juvenile criminal records. In State v. SJC, the court excluded juvenile records from a standard used for adult records, making it easier for juveniles to seal their criminal history. In the majority opinion, Justice Mary Yu wrote that the ruling was an important step in helping young offenders move past their mistakes by clearing roadblocks to housing, employment and education.
In 2013, the Blueprint for Reform, a report with suggestions to improve criminal justice in Spokane County, called out the juvenile justice system as a "pocket of excellence."
Elliott, the juvenile public defender, says that is no longer the case. She points to the now-defunct alternative resolutions system, where prosecutors and defenders would agree on a way for kids to pay for their crimes through treatment, community service or counseling. The lawyers acted like social workers, Elliott says, fitting the resolution to the offender and the offense without filing the case.
As soon as a case is filed, that creates a record, Elliott says, which is the first step in keeping kids from getting a job, an apartment or an education by sticking a felony charge or conviction next to their name.
Garvin says his division no longer agrees to alternative resolutions, because they're not specifically spelled out in state law. He points to nine ways juvenile cases can be resolved after they've been filed. A suspended disposition, for example, is where a kid will give up the right to trial and is put on probation. If he or she completes the terms, the case is dismissed. If not, the court enters a guilty conviction based on the police report.
George Yeannakis, a Seattle attorney who has worked in juvenile justice for nearly 35 years, says although individual alternative resolutions are not the standard in King County, the prosecutor's office sponsors a similar program on an even larger scale. The 180 Program in King County sends kids charged with misdemeanors to a weekend workshop, where they hear from people who've been through the criminal justice system and talk as a group about how to turn their lives around. A 2014 evaluation by the King County Office of Performance, Strategy and Budget said the program showed promise, but more time was needed to evaluate its effectiveness in reducing recidivism.
Local civil attorney Breean Beggs, who ran against Haskell last year, says the point of the juvenile justice system, and one of the goals of the Smart Justice Spokane initiative, is moving toward diversion and rehabilitation.
"Prosecutors have the most power in the criminal justice system because they have discretion," Beggs says. "They're supposed to look at each individual case and do what's right overall."
As for the new requirement that kids attend all pretrial court hearings — which typically last only a few minutes — Garvin says he recently suggested a policy that all juvenile pretrial hearings be scheduled after 3 pm, so kids don't miss school.
"But it is my position that even if it meant missing a couple days of school, appearing in court is more important," he says.
Bob Jalovi, a former senior deputy prosecutor who tried juvenile cases for almost 18 years in Spokane County, says the cases sitting in the drawer were a result of prosecutorial discretion. In some ways, it was a quasi-diversionary tactic, he says, adding that prosecutors would often consider a kid's criminal history before deciding to file, rather than only looking at the charges.
"One of the areas in looking at how we want to approach juvenile cases was how to prevent them from graduating to adult criminal stuff," he says. "The philosophy within the statute talks about retributive, but we also thought about rehabilitation." ♦