CHILDREN AT SPRAY
Splash pads — they're just like your sprinkler at home, except bigger, better and wetter. They sport squirt cannons, rainbow misters, towering fountains and those buckets that fill up and then suddenly douse all awaiting below. If there's one joy I truly envy of kids today, it's their abundant access to free splash pads.
The Spokane area offers more than 20 public pads, including facilities in Coeur d'Alene, Liberty Lake and Airway Heights. You could spend all summer making the rounds to find the finest spray. You know, if you're into things like having fun.
Josh Oakes, aquatics supervisor for Spokane Parks and Recreation, says most pads either went in new or received upgrades in recent years. Each park has slightly different features and advantages.
"They're all unique," he says. "There's a whole bunch of good ones."
Most local splash pads sit adjacent to playgrounds or picnic areas. The Manito Park pad has some small rocks for scrambling and its many nearby gardens to explore. McEuen Park in Coeur d'Alene has a variety of nature-theme fountains just off the downtown waterfront near Tubbs Hill.
Oakes says his family often visits the Carson Park pad so they can rotate back and forth from the splash pad to the Joe Albi skate park.
The splash pads complement Spokane's other aquatic centers and pools. Register online (spokaneparks.org/aquatics) for a free SplashPass to use the facilities.
Oakes says families can also compete this year in a new Cardboard Boat Regatta on July 26 at the Comstock Aquatic Center. Teams use cardboard and duct tape to compete for fastest or best-decorated watercraft. The fee is $20 per team.
FREE-RANGE PASS
Let 'em roam a little. Spokane Public Schools students can also pick up a new Spokane Youth Card that allows unlimited free STA bus rides, free admittance to the Riverfront Skate Ribbon and access to other community programs. Students from kindergarten to 12th grade can check out cards from Spokane Public Libraries starting June 13.
GET OUT OF THIS WORLD
While you're visiting Spokane Public Libraries, launch into summer by exploring several STEM-themed workshops and activities. The library's summer reading program blasts off with an Astronaut Party at the downtown branch on June 15; other branches will launch separately. Other events will involve exploring virtual reality, teaching astronomy, breaking out of a lunar-themed escape room and even listening to outer space poetry. Find more information at spokanelibrary.org/calendar.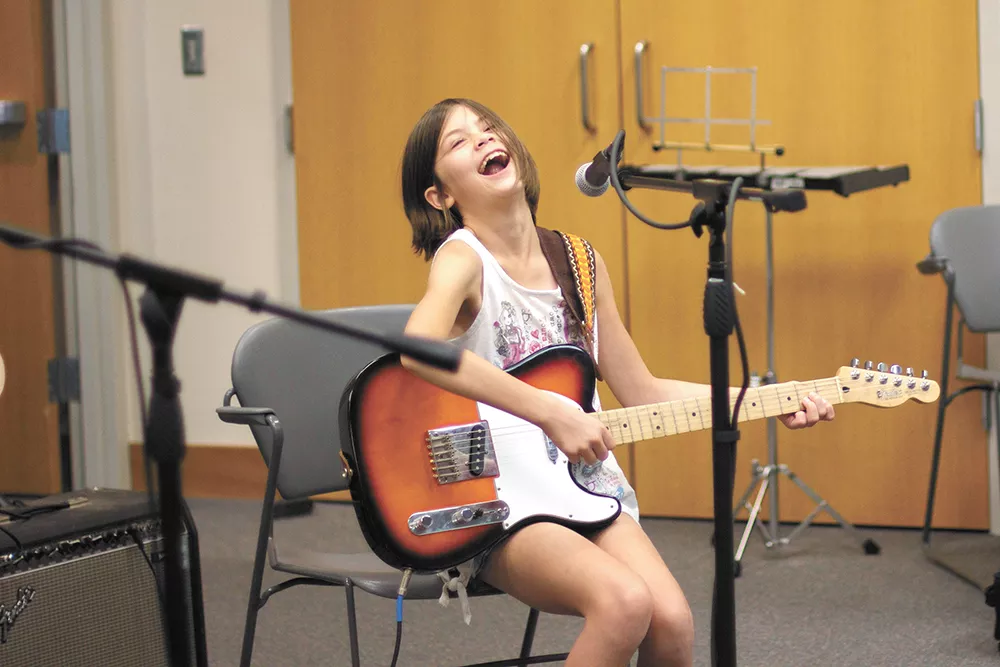 DROP IN & ROCK OUT
Budding musicians and songwriters can register for Spark Central's Girls Rock Lab with two four-day camps in early August. Program manager Melissa Dziedzic says the camps bring girls together for musical mentorship and collaboration. Kids will later perform on Aug. 17 at the downtown Spokane library.
"There's a joint concert," she says. "It's a pretty exciting time."
Spark Central also offers weekly drop-in workshops for young writers, artists and role-playing gamers. Dziedzic says they have just added a drop-in craft workshop. Kids can also register for robotics and coding classes or art programs. The Imaginarium: Creative Play for Toddlers monthly drop-in program lets children ages 1-5 take on art activities that reinforce key learning skills.
"Parents can kind of do the creative activities with their kids," she says.
Find a complete listing at spark-central.org/events.
DRIVE THEM UP THE WALLS
If your kids prefer to do their rocking on the climbing wall, Bloc Yard Bouldering Gym in north Spokane hosts a summer youth bouldering camp in July and August that covers rock-climbing technique and safety practices. The gym offers 4,500 square feet of climbing from beginner to advanced. Kids 9-15 can sign up for the weeklong camps. Registration is $200, including a T-shirt and a pizza party. Find details and registration at: blocyardgym.com.
GO ON A BUG HUNT
Let your kids dig around, overturn rocks and embrace the creepy crawlies in their own backyards. Summer doesn't have to be all mosquitos and yellow jackets. It can also serve as an opportunity to introduce kids to often overlooked insects or helpful pollinators. Ants, ladybugs, bees and butterflies all offer lessons on the small workings of the natural world.
Experts suggest searching around flowers and under rocks. Kids can use a wooden spoon to scoop insects into a clear container where they can get a good look without handling the bug too much. Let them inspect bugs with a magnifying glass or sketch them in a notepad. An insect field guide from the library or online can help you identify the bugs and discuss their unique features.
Always remember to put the bugs back where you found them.
Selkirk Outdoor Leadership & Education, or SOLE, will lead a Kids Pollinator Workshop on July 26 at Evans Brothers Coffee in Coeur d'Alene. The class, for ages 4 and older, will cover the role of pollinators in wild and community ecosystems. There's a suggested donation of $5.
MEET MYTHICAL MONSTERS
From sea serpents to Sasquatch, a traveling exhibit will bring the fantastical history of mythic monsters to the Northwest Museum of Arts and Culture. Giants Dragons & Unicorns: The World of Mythic Creatures, which opens July 5, will combine ancient lore, historic objects and interactive games to share the cultural significance of such beasts. Museum admission costs $10 for adults, $5 for kids ages 6-17, and free for 5 and younger.
The MAC will also host daylong and weeklong summer camps around the exhibit. Kids in grades two through seven can register for camps in June through August. One-day camps will learn about Northwest lore surrounding Sasquatch and coyote. Other activities will include storytelling, painting, sculpting and creating your own creatures. Day camps cost $50. Weeklong camps cost $200. Register at northwestmuseum.org/learn/camps.
SET THE HIGH SCORE
Wonderland Family Fun Center has more than 80 arcade games to try from skee ball to racing simulators. But the center has also added go-karts, laser tag, mini golf, batting cages and other outdoor amusements to its operations. There's a lot of things to do. You can also order pizza to keep the kids running and, more importantly, beer to keep yourself running. Remember to stock up on plenty of tokens. Day passes go for $26 to $37 depending on what you want to try.
SHRED THE NEW CDA SKATE PARK
After years of planning and fundraising, the city of Coeur d'Alene reopened its newly redesigned skate park at Memorial Park last October. The 14,000-square-foot concrete park sports interconnected ramps and bowls, grinding lips and rails galore for all types of riders. Jordon Graham, a manager with Pistole Boardshop, says he skates there almost every day.
"The skate park's actually really sick," he says. "And it's a lot safer than the last park."
While the park can get busy in the evenings, Graham says the park is "pretty chill" during most days. The local skating community is very supportive, he adds, and people try to respect each other's moves and space. The city will also offer skateboarding lessons this summer, starting June 15, to teach fundamental techniques and skate park etiquette. Registration through the Coeur d'Alene Recreation Department costs $15.
Graham, who plans to help lead some of the lessons, says the park gives the next generation of skaters and bikers a place to come together.
"It's going to get a lot more younger kids involved," he says. ♦