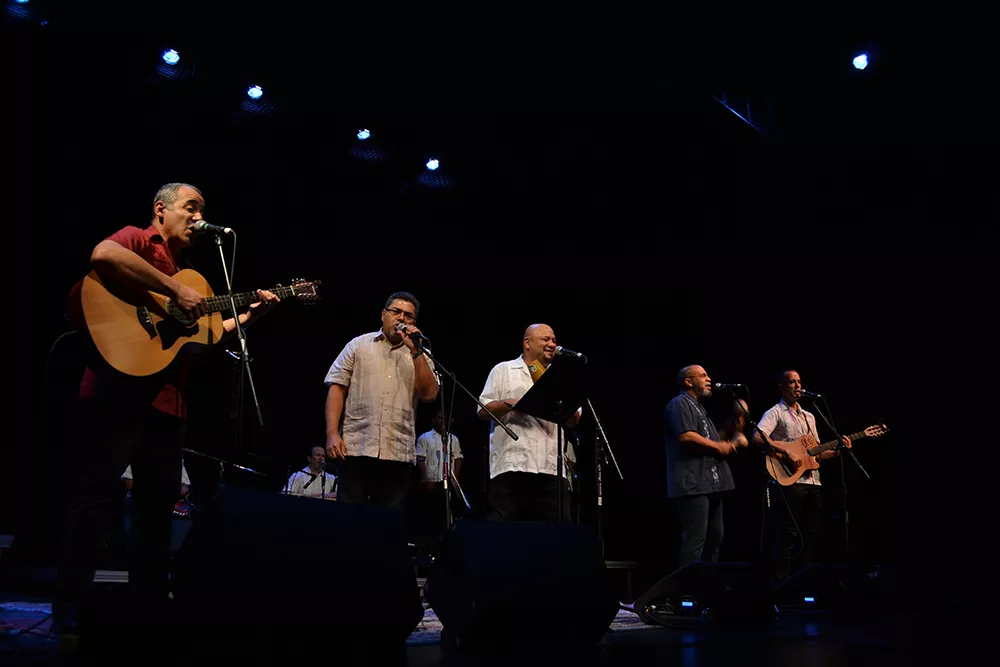 Kiki Valera figured out pretty early in his 54 years that music was going to be his life. After all, he was born into a Cuban family that had been playing and preserving traditional sounds of the island as far back as the 1800s.
That family is known to Cuban music fans as La Familia Valera Miranda, and they are renowned for their expertise in playing a genre called son cubano, a mesmerizing and dance-friendly blend incorporating African and Spanish influences that is particularly prominent in Cuba's eastern hill country. Son cubano burst into international popularity in the late 1990s, thanks to the band (and documentary film of the same name) Buena Vista Social Club.
"I was about 6 years old when I was introduced to my first instrument, the tres, by my father, and I learned from my family," Valera says of delving into an instrument made up of three sets of double strings. "Then I went to the conservatory for classical music and I started to study classical guitar, and after that I discovered the cuatro (a guitar with four sets of double strings). That was my instrument of choice because of all the possibilities I could get out of the instrument. I've been playing cuatro since I was a teenager."
By the time he was 15, Valera was touring the world with La Familia Valera Miranda, taking the sounds of son cubano to diehard Cuban music fans and the curious thanks to his expertise navigating its eight strings.
Even as he was learning to love the traditional music of his family, as well as other Cuban styles like mambo, songo and timba, Valera was hungry to learn about sounds beyond Cuba's borders. He went to what some of us would consider technologically extreme lengths.
"When I was about 17 years old, I built my own short-wave radio and I started to tune in to all those stations from [the United States], from Jamaica, and I started to be bombarded with jazz — Chick Corea, Wes Montgomery, all those big jazz guys," Valera says.
"I fell for that instantly. More than anything, I was trying to understand the way they played that music. It was so beautiful to me. It was not my intention to play like them, but in some ways that music has had some influence in my way of playing."
That's the nature of music, right? A guy growing up in Cuba, playing a sound that blends Spanish and African rhythms and patterns, incorporates American jazz and other far-flung sounds into something new, while remaining rooted in the mountains of his Cuban home.
That sound is captured on Vivencias en Clave Cubano, Valera's first album since leaving La Familia Valera Miranda and leaving Cuba 17 years ago to live in America. (You can listen on Spotify.) Valera and a group of Cuban all-star musicians will bring the album to life, along with several old traditional Cuban songs, at a show in Spokane Saturday night, an event called El Gran Festival de Musica Cubana at the Fox Theater.
Among those ace musicians joining Valera is vocalist Coco Freeman, a legend in his own right among Cuban audiences thanks to his rich voice and lyrics that vividly bring romance and yearning to the songs — even for those of us who don't understand the language.
"We met when we were kids," Valera says of Freeman. "We grew up in the same area, so we were hearing the same music, living the same lifestyle. We were involved in festivals since we were little boys. When I moved here in 2013, a few months later I found out that Coco had moved here, too, to Florida. We started talking to each other, and the idea to do something together was paramount. We started working on this album and we composed the songs together."
Joining Valera and Freeman at the Spokane show, among others, are world-class pianist Nachito Herrera and trumpeter Luis Manuel Mirabel. Expect to be awed into silence by the band's musical chops one moment, and on your feet and dancing the next. It's virtually impossible to stay in your seat when you're listening to Cuban music.
"We Cubans, we're a very musical people," Valera says. "If you go to Cuba, you'll notice that everywhere you go, there's music. There's people playing, there's people singing, dancing. That is the way we live.
"Music is evolving constantly. The musicians of my generation are exposed to new kinds of music, like jazz or other styles, and my vision is in between the old music and the new music." ♦
El Gran Festival de Musica Cubano • Sat, Jan. 11 at 7 pm • $35-$125 • all ages • Martin Woldson Theater at the Fox • 1001 W. Sprague • foxtheaterspokane.org • 624-1200