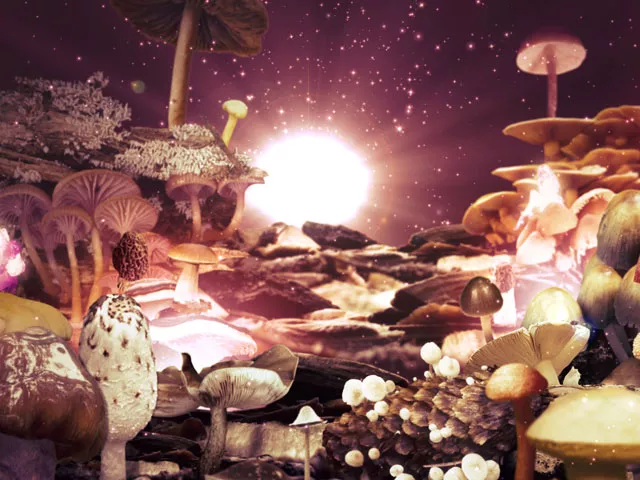 The largest creature on Earth is a mushroom in Eastern Oregon. It's 2,400 years old and covers 2,200 acres in the Malheur National Forest. And, arguably, the biggest weirdos on Earth call themselves fungophiles — that is, mushroom lovers.
Fungophiles believe a lot of things about 'shrooms, like they're the flesh of God (the "stoned ape" hypothesis), and that they clean oil spills (bioremediating mycelium); In his film, Know Your Mushrooms, Ron Mann explores this variety within the fungal world through a mix of throwback science education documentary, psychedelic graphics, original music from the Flaming Lips and the profiling of two very strange men: Gary Lincoff and Larry Evans.
Centered on the annual Telluride Mushroom Festival, the movie introduces us first to Evans (the "Indiana Jones of mushrooms"). With his braided hair in pigtails, a graying handlebar moustache and a Keebler elf hat made from a basket, Evans explores the planet — from Bolivia to Alaska — for 'shrooms. Muscular and bombastic, Evans picks through the forest floor for the little organisms — classified as neither animal nor plant — that consume his life.
Lincoff is the nerdy professor to Evans' manly brawn. Lincoff wrote the National Audubon Society Field Guide to North American Mushrooms and is more thoughtful than Evans. The best scene in the movie has Lincoff describing his first psychedelic trip on "magic mushrooms," where he floated out of a house to explore the universe. "Re-entry wasn't as difficult as I thought it was," he says.
With this film, Mann — who directed the marijuana doc Grass and Woody Harrelson's bio-fuel bus film Go Further — extends his counterculture resume. The result is a jumbled mix of fact and anecdote, with no real narrative or tension. It's good, but not great. Is the movie for kids or adults? Squares or longhairs?
Maybe we should all pay attention, says Lincoff, pointing an eye to the future.
"I keep telling people, yesterday's science fiction is today's science.," he says. "[It's] partially technology, but largely imagination."