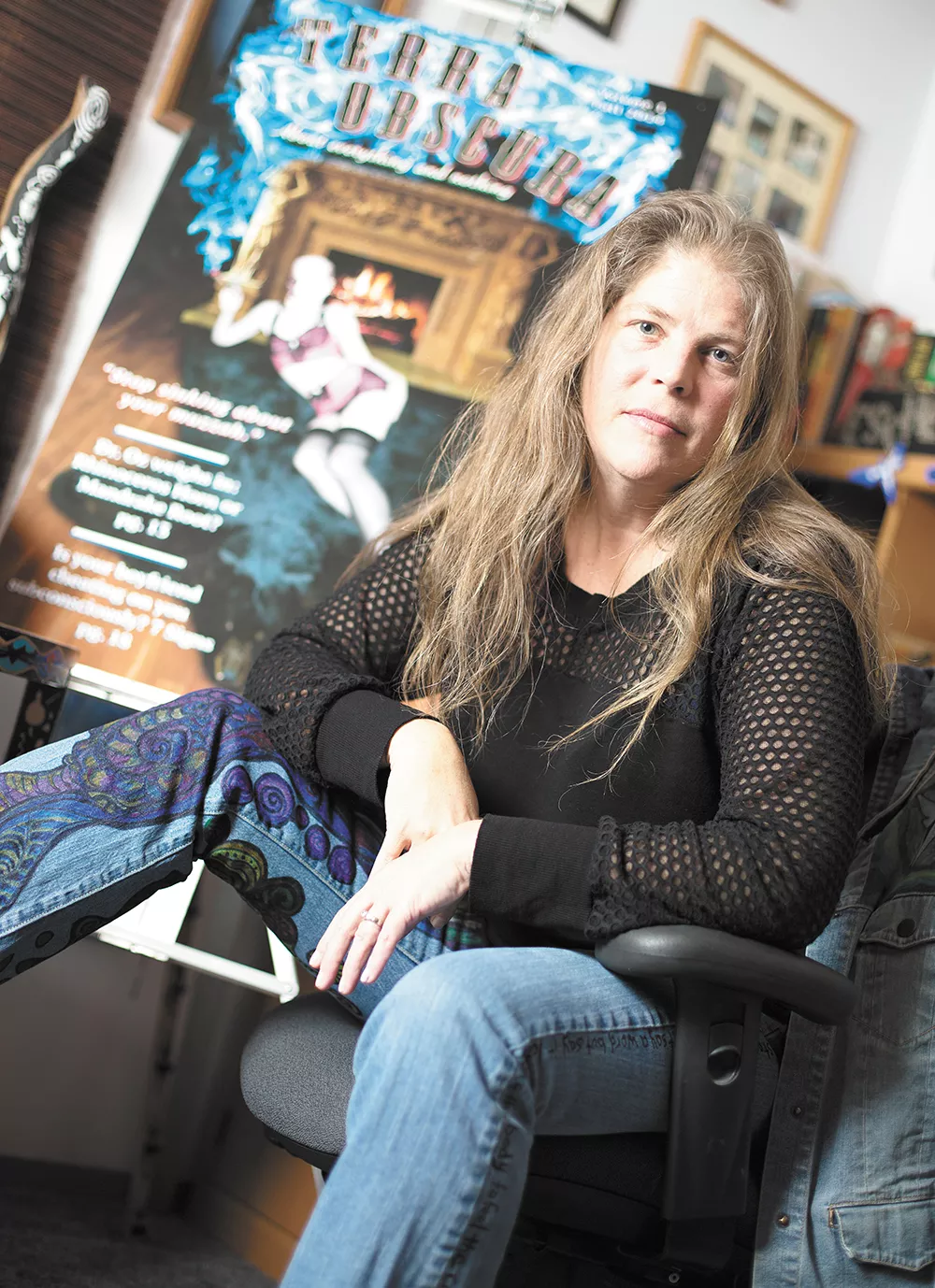 Putting Sigmund Freud in a pink garter set on the cover of her latest collaborative project was not her idea, but Jennifer LaRue can totally relate.
"Repression is the most evil thing," she says, noting that art allows people a unique opportunity to delve into complex things. Difficult things. Even ugly things like the sort of domestic violence, depression and abusive relationships that LaRue has experienced and then relayed to audiences over the years.
"If we see, we cause change," says LaRue, a well-known arts critic and journalist, curator and visual artist who's been influential in the region's cultural fabric for four decades.
In 1983, an 18-year-old LaRue (née Salmi) relocated to Spokane from Hollywood with her larger-than-life actor father, Albert Salmi, and socialite mother. Art and writing enabled her to survive her mother's furtive but vehement abuse, says LaRue, who came to embrace Spokane's punk scene. Her first publishing effort was The Town Noose: Art-Opinion-Poetry in 1985 with Jeff Duty, a prominent member of the punk scene who was featured in the 2011 documentary SpokAnarchy!.
In 1990 her parents were found dead of a murder-suicide (her father was the gunman) in their Spokane home. But her son's birth and a small inheritance were cathartic for LaRue, who channeled her creative energies to benefit others. In 1994, she helped curate the first Raw Space exhibition, exiting once the city got involved. In 1994, she created Galaxy Gallery on the third floor of Auntie's Bookstore with classroom space for kids, especially at-risk populations. In the late '90s, she was a building program assistant for HUBS, District 81's arts-based after-school enrichment program.
In 2005, after years of strong feature writing, she created the Valley Verve artist profile series, which she still spearheads for the Spokesman-Review. In 2012, a story about an attack on a Spokane woman inspired LaRue to create FeFi — Feminine empowerment and Feminine intuition — a piece of jewelry that's pointy enough to serve as a weapon.
Although LaRue recently exhibited her paintings, words are her preferred medium.
"Writing is my art," she says.
Now comes her latest creative endeavor: Terra Obscura, a new arts and literary magazine produced by LaRue, Roch Fautch, Jesse Swanson and Jared Lollar. They have published the first edition, and LaRue's optimistic about its potential to create change.
"We'll just keep moving forward," she says.
"[The magazine's] main purpose is to undermine everyday things we take for granted," says Lollar, a Whitworth University philosophy and theology graduate who spent four months on layout with Swanson in their shared basement apartment.
Fautch, an artist who also specializes in custom concrete sculpture out of his Magicraftsman Studio, clarifies: "The combined stated interest is to feature more surreal and thought-provoking art and 'absurdist prose,'" Fautch adds. "The four of us were those kids in school who were always in the back of the class causing trouble."
The first edition was 20 pages, which they hope to triple in the March issue, says Lollar. Although he's headed to Africa via the Peace Corps, he'll continue contributing, again teaming with Swanson to create custom advertising — which covers production costs — for places like Neato Burrito.
The magazine (available at terraobscura.org) is mostly art, ranging from raw and gritty, like Ryan Babcock's sexually graphic painting, to satirical, to surrealist like Fautch's Dali-esque work. Writing includes free-verse poetry and LaRue's introductions to the artists.
Many of the artists featured in the magazine — Fautch, Babcock, Darrell Wilcox, Haley Wadddington — were featured in this summer's "Art Invasion: Not From Here" exhibit at Missoula, Montana's ZooTown Fringe Festival, a show that LaRue put together to allow edgier Spokane artists to show work their hometown galleries usually won't put on the walls.
LaRue's role for both the ZooTown exhibit and the magazine was mostly curatorial. While she admits to being a micromanager, she prefers the title "muse."
"Make change," she admonishes. "Don't be a sheep." ♦