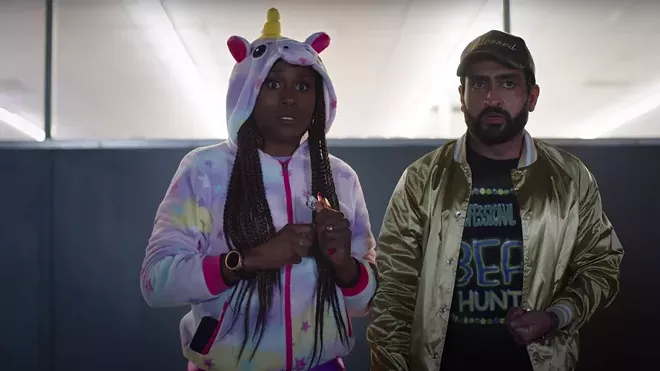 T
he Lovebirds is built on
a promising conceit and has two dynamic, immensely likeable performers at its center, and yet the pieces never really click together into the nimble, intelligent comedy you hope it'll be. The sort of screwball energy that the movie is aiming for requires a tight, clockwork script and snappy timing, but
The Lovebirds
instead feels slack and half-formed, a good idea in search of inspiration it never quite finds.
The movie was supposed to open theatrically last month but is instead
premiering on Netflix
this Friday, which is probably where it always belonged anyway. The title refers to Jibran (Kumail Nanjiani) and Leilani (Issa Rae), who, as the film opens, have just met and are instantly smitten. Flash forward four years, and they're still together, but the thrill is gone: They're at each other's throats all the time, Jibran is paranoid that Leilani is cheating, and she just
knows
they'd never make it as a team on
The Amazing Race
.
As they're driving to yet another joyless dinner party, certain this will be their last as a couple, they hit a bicyclist with their car. A man claiming to be a cop is on the scene, telling Jibran and Leilani that the bicyclist is a criminal and he needs to commandeer their vehicle. So he hops behind the wheel and immediately runs over the bike guy again and again, until he's nothing more than a bloody pulp.
And just as abruptly as he appeared, the self-identified cop runs off, leaving Jibran and Leilani in an obviously compromising position. They also flee (it isn't lost on them that the authorities probably won't believe such an outlandish story, especially from two people of color) and soon become mistaken for criminals by
other
criminals, uncovering clues in a weird sort of scavenger hunt that gradually reveals a greater conspiracy.
This concept — regular people stumble into a convoluted crime plot and then flail their way through it — obviously isn't a new one, and it has inspired a couple all-time greats (
Some Like It Hot
) and even more forgettable basic cable staples (
Date Night
,
The Man with One Red Shoe
,
The Man Who Knew Too Little
). The high-water mark of recent comedies with this premise was 2018's
Game Night
, which firmly established its characters and their dynamics before sweeping them up in violence, and the set pieces that resulted from their misunderstandings were solidly crafted and unpredictable.
The Lovebirds
would have been wise to follow that movie's blueprint, because one scene after another begins with the germ of a promising idea, sneaks in a couple OK jokes and then ends without ever devolving into true comic anarchy. At one point, Jibran and Leilani go to that dinner party and have to pretend that nothing is amiss despite being dressed in clothes they picked up at a convenience store. You'd think their friends might get suspicious, which could inspire some zany situations, but they barely seem to notice. Later, the duo wind up at a black-tie affair only to discover they're unwitting participants in an
Eyes Wide Shut
-type orgy. Now, imagine the craziest possible consequences of that scenario, and I can guarantee that your imagination is funnier and wilder than anything the film actually comes up with.
Director Michael Showalter was one of the driving forces behind such absurdist, cultishly beloved comedies as
The State
and
Wet Hot American Summer
, though his film work tends to be much less incendiary. His best movie so far has been
The Big Sick
, the terrific semi-autobiographical comedy that even earned Nanjiani an Oscar nomination for the script he wrote with his wife Emily V. Gordon. That film was obviously more grounded than something like
The Lovebirds
, but it was also very funny as it told its touching human story.
He gets nice chemistry from Nanjiani and Rae — one of the film's few moments of truth and warmth involves an impromptu sing-along to Katy Perry's "Firework" — and perhaps the filmmakers thought they were home-free when they cast these actors
:
Just turn the camera on them and their improv will be funnier than anything we could write!
Because of that, they never feel like they're inhabiting real characters who would really behave the way they do, and so we experience their wannabe wacky hijinks at a remove. They're so good and look so great together on-screen that
I'd like to see them again in a project that's more deserving of their talents.