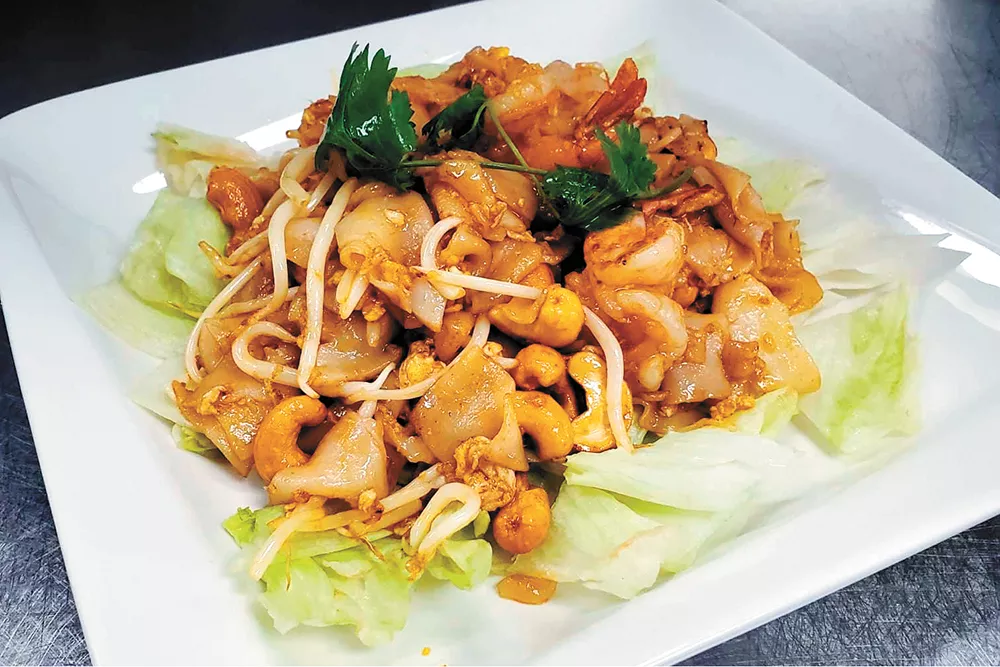 When Yukonthorn "Kuni" Pratanporntrakul Colliton was young, she didn't like cooking at all. Cooking was a chore. This perspective changed, however, after realizing that food had the ability to bring people together, and she fell in love with it.
"My family all had busy lives after work — nobody wanted to come home and cook — so they'd each go on their own after work and buy food. Then they'd come home and everyone went to their room," Colliton says.
"But when I [cook], we come and sit together at the table and we have time to talk. It's making memories together. I feel like when I cook it makes people smile and makes them happy."
That feeling of bringing joy through food is what compelled Colliton this spring to open a new Thai-style restaurant in North Spokane, appropriately called Kuni's Thai.
The menu is vast, and includes staples such as pad thai ($10-$12/lunch, $14-$16/dinner) with rice or glass noodles, egg and bean sprouts, covered in sauce and served with green apples. There's also pad see ew, stir-fried rice noodles with egg, Chinese kale, broccoli and carrots served with soy sauce.
Colliton calls her food "Thai-style" because she also offers many nontraditional dishes, served with a Thai flair.
Half of the restaurant's chefs are American, while the others are Thai, a blend that Colliton says is evident in the food served.
"Our food isn't 'Thai-Thai' because we want to make sure that people who come here, who may not know Thai, eat," she says. "We have something fit for everyone. We want to make sure that everybody can come here and enjoy. If they don't know what to eat, they can find something."
Take her lemongrass clam chowder soup ($8), for example. Although the main ingredients are essentially American clam chowder soup, Colliton uses coconut milk and adds in Thai spices. In addition to giving it a Thai flavor, the coconut milk makes the dish dairy-free and gluten-free.
It is important to Colliton that everyone can eat at her restaurant, so the menu also has vegetarian, vegan and gluten-free options.
The menu also offers rib-eye steak ($20). While it's cooked in a standard American way, the meat is marinated in Thai seasoning and served with a spicy tamarind sauce, giving customers an option to make it as Thai as they want.
Traditional, authentic Thai food is also on the menu. Five types of curry, including panang and pineapple ($10-$13/lunch, $15-$17/dinner), are offered, along with an array of stir-frys, from cashew nuts to hot Thai basil to sweet and sour. ($10-$13/lunch, $14-$17/dinner). All dishes can be made on a spice scale from one to five, with one being least spicy.
"Thai food has mostly three flavors: it's sweet, salty and sour," Colliton says. "So we try to balance those. We also try to be more health conscious by not making it too oily. We use a lot of herbs and Thai ingredients, like Thai basil. It's important in Thai food. You can use just a little, but the flavor is intense."
A dish close to Colliton's heart is one she grew up eating in Chiang Mai, Thailand, where she's from. The Chiang Mai pork curry ($18) is her mother's recipe, and one of her personal favorites on the menu. The pork is seasoned with Hinlay curry powder and red curry paste, with ginger and shallots, served with rice.
"It's my home food, and no one has it in Spokane, or in a lot of the U.S.," she says of the dish. "We bought spices from Thailand, so only we have that dish."
Colliton hopes her Thai-style restaurant and cooking brings families and friends together, and happiness in the way she knows food can.
"I wanted to bring something good to Spokane," she says. "Because I love Spokane, and I love being here." ♦
Kuni's Thai Cuisine • 101 E. Hastings Rd. • Open Tue-Fri 11 am-2 pm and 4:30-9 pm (Fri until 9:30 pm), Sat 11:30 am-9:30 pm, Sun 11:30-8 pm • kunisthai.com • 290-5993