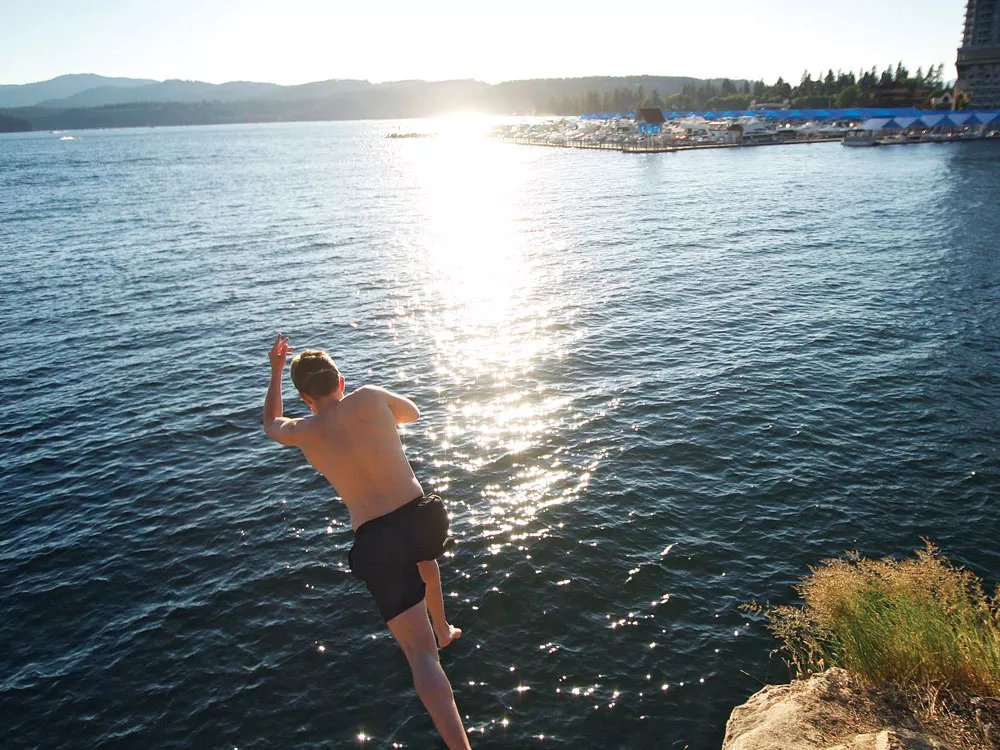 "Just do it." Yes, that's a 20-year-old advertising slogan and practically a cultural joke now. But that tagline gets startlingly real as my bare toes clasp a gnarly rock ledge and I stare 30 feet down into the cold green water of Lake Coeur d'Alene.
We'd arrived at Tubbs Hill, a 135-acre outcrop of schist and gneiss jutting into the lake, two hours before. Following the trail behind the Coeur d'Alene Resort, we clambered to the first set of cliffs, where teens sunbathed and a young woman in a blue star-patterned bikini was staring down into the water, her body almost petrified, as friends prodded her: "Are you going to jump, or what?"
She was quiet. Somber. "This is f----d," she finally uttered, before all that was left of her was a blue, star-patterned blur. Then, a pair of rock 'n' roll devil's horns raised triumphantly above the surface of the water, the rest of her body below.
There was no way I was jumping from there. From this puny little six-foot ledge, maybe. But even then, it took me five minutes to find the nerve. And then I had to work my way up, one ledge at a time, a little higher with every leap.
By the time I worked my way to the top, to that dizzying crag from which blue bikini girl had jumped — from which a middle-aged father dove head-first and his pre-pubescent daughter leapt with ease — my mind had completely seized up.
What if I hit a rock? What if I'm paralyzed for life because I just wanted to take a summer dive? Wheelchair for life or 1.5 seconds of adrenaline? The math was stupid. The more I thought, the more I thought. The further I got from making a move.
"Just do it." Pfft. That's one of the most idiotic, illogical, irrational, counter-intuitive sentiments ever devised. It cuts against the grain of everything we've ever been taught. "Don't think about it, just.…"
Did it.
And damn, did it feel good.
FARRAGUT STATE PARK
"Enjoy yourself," the woman at the park's main entrance says. "But just a warning: Our lake is cold year-round." We assume she's just a swimming wimp, but she's not. While Beaver Bay is a great and popular place to swim, it is cold. Even in the bay itself — a small, shallow lagoon protected by a sandy peninsula that juts into the southernmost part of the massive North Idaho lake.

LIBERTY LAKE
One of the closest lakes to downtown Spokane, Liberty Lake is still a trek, as you must follow the long and windy Lakeside Road along the eastern edge of the lake seemingly forever. But your destination is a nice reward. The county-run beach is surrounded by shade trees and high marsh grass. Lifeguards loom over the sand, and the water is relatively warm.

HAYDEN LAKE
The boat launch is the main attraction here, but Honeysuckle Beach is still pretty swim-friendly, with a long dock that forms a square border around the lifeguard-patrolled swim area. There's a restroom building, a beach volleyball court, a handful of picnic tables and a nice, flat, grassy lawn (where people played bocce ball on our last visit). To get there, just go east on Honeysuckle Avenue off of Highway 95.

FISH LAKE
A cute little boardwalk leads down to a small sandy beach shaded by a massive tree at this little lake on the road between Cheney and Spokane. Don't expect a lot of frills here, though. There are no lifeguards, and a sign at the entry warns that the lake has been hit by hard economic times, just like the rest of the county. (Just like the bathers, too. The clientele here can be a little rough around the edges.) Also, serious swimmers may be turned off by the seaweed wiggling up from the bottom. But for walkers, bikers or rollers cruising the adjoining Fish Lake Trail on a hot day, this is a perfect (free) stop.

MEDICAL LAKE
Swimmers have complained about the quality of the water here, but there's no complaining about the grounds themselves. The home of a couple of triathlons and an annual bluegrass festival, Waterfront Park is a beautifully shaded, grassy oasis in the West Plains, with a nice restroom building, fine sand, a volleyball net and two baseball fields. More adventurous swimmers should aim for the stretch of sun-burned cliffs just east of the park — good for sunbathing and diving.

BEAR LAKE
Often overlooked by Inland Northwest lake-goers (perhaps because motorized watercraft are verboten here), tiny Bear Lake is a good choice for swimming and fishing. The eastern shore (nearest to Highway 2, a few miles north of Chattaroy) is minimally developed, with just a bathroom and a couple little fishing docks. But wind around the lake on the paved walkway and you'll reach a little swimming area with a playground and an archipelago of small floating docks.

CITY BEACH (CdA)
Newcomers to Spokane will be baffled when locals say they are heading to "the lake" on a hot summer day, but unless they're among those lucky bastards with lakefront property, more times than not they mean City Beach at Lake Coeur d'Alene. The place to see and be seen in the summer, the beach boasts about a mile of shoreline — from the resort past North Idaho College — with opportunities in between to play basketball or badminton, catch a concert or just ogle the half-naked bodies. Find yourself a secluded swim spot, then head into town for a pick-me-up or go for a hike/dive on Tubbs Hill, just down the shore.

CITY BEACH (Sandpoint)
A more intimate alternative to Coeur d'Alene's urban beach scene, Sandpoint's city beach — just across Sand Creek from downtown — packs a basketball court, two tennis courts, two boat launch ramps, four horseshoe pits and three beach volleyball courts into 18 acres on Pend Oreille, the Inland Northwest's biggest lake. Swim on the half-mile-long sandy beach and get your picture taken with the tiny Statue of Liberty at the end of the dock, then wander back across the bridge for a drink and some upscale pub grub.

GRANITE POINT
This private beach on Loon Lake (30 miles north of downtown Spokane on Highway 395) feels like a '60s summer camp, with a raggedy volleyball net, rentable cottages and a little country store that overlooks the long, sandy beach below. Rent a paddleboat or change into your Speedo in the on-beach "bath house" and swim out to the pi-shaped dock, where you'll find an ancient diving board. At $6 a pop, admission to the park is a little spendy, but with a long shoreline, a lot of swimming area and one of the nicest sandy entries around, it's worth the cost.