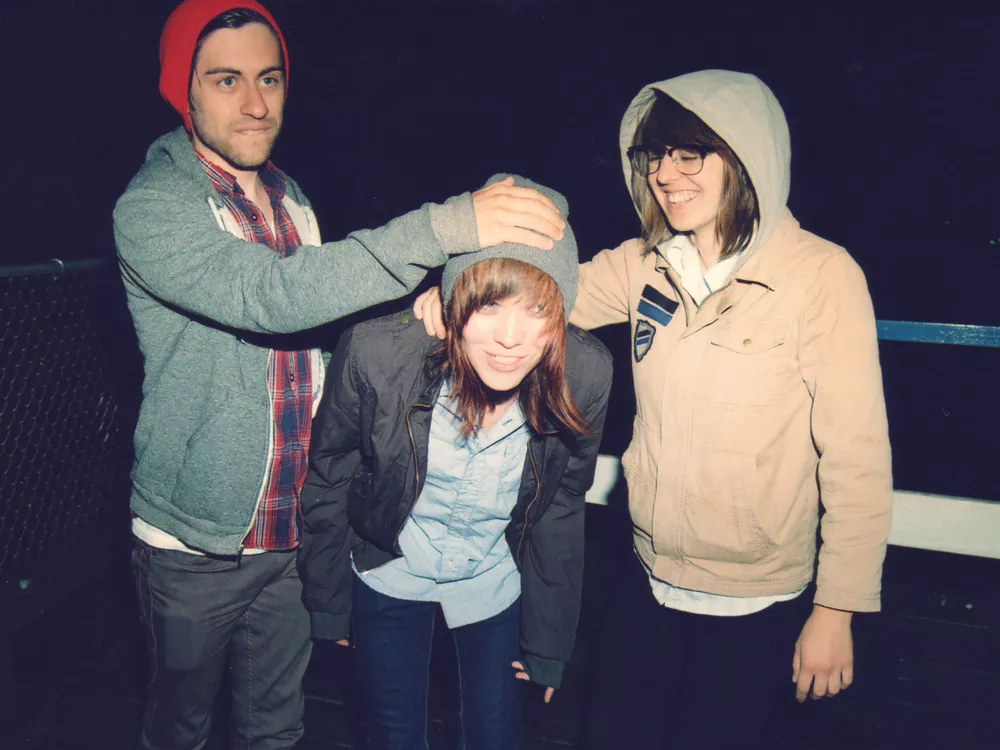 If Minnesota ever comes to mind, it's likely because of lakes, the Vikings, or maybe Judy Garland. But for decades, the state has gone unnoticed for putting out loads of great music. The '80s saw the rise of Prince and the iconoclastic underground sounds of Husker Du and the Replacements. In more recent years, some of the best hip-hop around has poured out of the Twin Cities (P.O.S., MF Doom, Atmosphere, Brother Ali) along with some choice indie (Tapes n' Tapes, Low) and pop-punk (Motion City Soundtrack).
And that's not even mentioning the Minnesota boys who went to the big city to showcase their songwriting chops: the Hold Steady's Craig Finn and the artist formerly known as Robert Zimmerman.
It's weird how quietly Minnesota music has flown under the national radar. But Cacie Dalager, the lead vocalist and guitarist of the excellent Minneapolis indie-pop trio Now, Now, sees one clear reason for the loads of talent coming from the Land of 10,000 Lakes — the notoriously brutal snow and cold that forces artists to feed their creative fires.
"It's pretty much winter at least half the year," says Dalager. "From October to, sometimes, May, it just looks like winter all the time. That kind of puts me in the right mindset to be writing, because usually what I end up writing about isn't anything particularly cheerful."
"Being forced to be inside and be creative helps; as opposed to living somewhere really sunny, where you want to live outside all the time."
Now, Now (formerly Now, Now Every Children) started playing a blizzard of indie rock in 2003 when Dalager and drummer Brad Hale began writing songs after high school marching band practice in Blaine, Minn. After toiling away for years, the duo gained a modicum of national buzz with their first LP, Cars. Dalager eventually connected with guitarist Jess Abbott via MySpace.
The band's sound isn't easy to pin down. While Dalager describes her music as "mopey indie pop," there's a certain ambiance to their hypnotic guitar riffs that's more unique. Now, Now sounds like sad shoegaze for the Warped Tour sect. Much of this comes from the tuning of the guitars, which in turn comes from Dalager never "properly" learning guitar.
"I actually don't know how to play guitar very well. When I started playing guitar, I probably only knew about eight standard guitar chords," Dalager says. "So I made up what I thought was my own special tuning … Neither of Jess or I play standard tuning. Hers is an alternate tuning by choice, because she knows what she's doing, but mine was me happening upon a tuning that made me playing something really easy sound way cooler than it actually is."
Despite finding a unique and well-received sound in an underrated, fairly laid-back musical climate, it wasn't always easy for Now, Now to fit in with the rest of their Minnesotan peers.
"There's obviously way less pressure than if we were in a bigger city like New York or L.A. But at the same time, Minnesota can be kind of a hard place to play. There's a pretty big hip-hop scene going on right now, and then folk/singer-songwriter-y stuff is pretty big in Minneapolis.
"It's kind of weird for us. When the pop-punk scene was bigger we weren't pop-punk enough to be in that scene, but we weren't folky enough to be in the singer-songwriter scene. Too pop for indie and too indie for pop," Dalager says. "So Minnesota is good for writing, bad for playing."
Now, Now play with Sick of Sarah, Rawrly, and Act 1 Scene 1 • Fri, Dec. 9, at 7 pm • A Club • $10 • All-ages • aclubspokane.com • 624-3629