Candace Mumm vs. Matthew Howes
District 3: Northwest Spokane (including West Central, Shadle and Indian Trail areas)
---
The biggest controversy in the District 3 city council race, oddly enough, is something that the city council never specifically voted on.
The planned overhaul of the 1.12-mile stretch of North Monroe Street between Kiernan and Indiana avenues would add streetlights, crosswalks, transit shelters, wider sidewalks and more room to park. But to do that, it would slash the number of lanes from five to three. The prospect of a brutal construction season, followed by reduced traffic, looked like a death sentence to some — though not all — business owners along that stretch.
That's why incumbent Candace Mumm's name gets top billing on the billboard put up by some angry Monroe Street business owners.
To opponent Matthew Howes, the Monroe Street project represents a blatant example of the council not bothering to listen to citizens.
"Most of people I've talked to are very frustrated with the Monroe Street project," Howes says. "They don't understand why that's going through without any citizens being able to be allowed to ask questions about it or vote on it."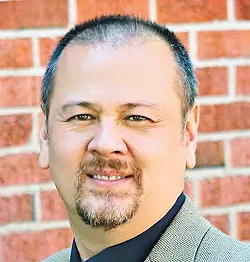 Mumm doesn't see it that way at all. In fact, she says, the council initially wasn't included when the city administration decided to apply for the grant to make the Monroe Street project happen. That's why, back in 2014, the council changed the rules to prevent such surprises in the future.
"We said we have to have more transparency and more involvement early on," Mumm says. In the years since, she says, there have been numerous discussions with neighbors and businesses about the project — including about how to help businesses survive a season of construction.
In the long run, Mumm, whose parents operated one of the first restaurants along the Monroe Street corridor, believes the project will be a boon for businesses, neighbors and safety.
"People are dying on this road," Mumm says. "There's too many people being killed and hurt on the street."
Mumm says public safety is one of her top priorities, pointing to her 2014 ordinance dramatically increasing the number of marked crosswalks. She praises the council's efforts to fight property crime by pursuing a pilot project to give local property crime offenders supervision.
But Howes says that Mumm already had a chance to fix the city's property crime problem.
"You've been in there for long enough to work on it," Howes says. "Now, people are getting tired of hearing the same thing."
He argues the city should spend more money to hire more police officers instead of wasting money on roundabouts and council-chamber renovations.
"I think her biggest mistake is constantly following [City Council President] Ben Stuckart's voting pattern, and not thinking about what's best for her district and city," Howes says.
As a business owner himself — he owns Adelo's Pizza — Howes is particularly critical of Mumm's vote in support of requiring businesses offer a sick leave to employees. While Mumm helped to modify the policy to make things easier for certain businesses, she also supported the statewide ballot measure that raised the minimum wage and removed those exceptions.
Mumm may be concerned about the impact of marijuana shops on youths, but Howes is far more intense in his opposition: At one council meeting, he described ripping off the marijuana advertisement stickers on the Spokesman-Review to prevent his daughter from seeing them.
Ultimately, Howes sees the city council as cynical, dismissive and dishonest: Yes, the council came out fervently and explicitly against a soda tax proposal briefly floated earlier this year. But Howes says he believes that the council will go back on their word, reversing course after the election, and support the soda tax anyway.
"People are tired of the same rhetoric," Howes says.♦