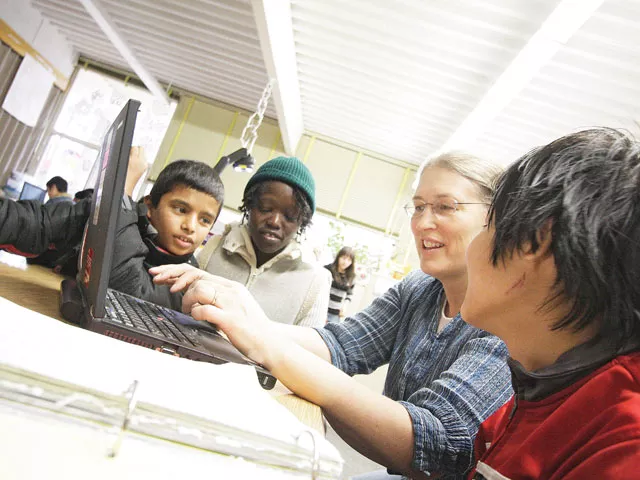 The 10 students in Cory Johnson's English class at Rogers High School are sitting quietly. Some are paying attention, others are looking down. Some are wearing flip-flops, even though the temperature outside is below freezing. Johnson is giving instructions on how students can edit each other's essays.
"We're here to help one another," he says.
He tells the students to look for misspellings, punctuation errors, run-on sentences and places where more details could be added. "Try to find good details."
There are a couple jokes about whether a bad essay should simply be thrown away? "That's my job," says Johnson.
Students pair up and start to read. Some take it seriously, others have to be reminded to stay on task. They are much like teenagers at any high school.
Except that most American high school students haven't spent most of their lives in a refugee camp. Or living on an tropical atoll in the middle of the Pacific Ocean. Or in a communist country from the former Soviet Union.
These are the experiences of Johnson's students. They're here because English isn't their first language.
"We have about 12 different languages and 100 students here at Rogers," says Johnson. He has students from Nepal, Russia, Thailand, Cuba, Afghanistan and the Marshall Islands in this class.
Albert Htoo, 16, is one of them. He is soft spoken but outgoing. Before coming to Spokane more than a year ago, he lived his whole life in a refugee camp in Thailand.
"You don't have freedom," he says of living in the camp. "If you live there, like you can't go outside."
Htoo's family comes from Burma, a country that borders Thailand. They were among the more than 100,000 people driven out of Burma who ended up in refugee camps in Thailand. His first language is Karen.
One of the things that happened when he came to the United States is that he literally grew. "You know, when I come I was like little child," says Htoo. "But after one year, I got like big guy."
Leela Adhikari, 18, has a similar story. He was born in Bhutan but lived in a refugee camp in Nepal. More than 100,000 ethnic Nepalese were driven from Bhutan in the last two decades. "They didn't like us," he says. "We are different. The religions are different. We are Hindu and they are Buddhists."
Jefferson Billimon, 16, came to the United States from the Marshall Islands in 2005 via Hawaii. He is the oldest of six children, with four brothers and a sister. Living so far north was hard at first, he says. "I remember crying two years ago the first time I saw snow," he says.
He says he misses the ocean, but likes Spokane.
"I love it here in Spokane," he says. "I want to live here the rest of my life."
The difference in culture and languages is a big challenge for Johnson's students. High school is challenging enough for American-born students.
"To come to that from a refugee camp or an island in the South Pacific or from an eastern European education system is a huge transition for these kids," Johnson says.
English language learners are required to take regular classes, as well as Johnson's English classes. Students have different academic backgrounds, he says. Some have taken English since elementary school. Others are learning to read and write for the first time in any language. Classes like math and science present a problem for these students.
"Those classes are pretty much impossible for them to have success in," he says.
Spokane Public Schools employs bilingual specialists to help students make the transition to American schools, although all the classes are taught in English. Lauren Pallotta helps with the Marshallese students at Rogers. They are the ones wearing flip-flops, along with coats. She says expectations of American society are hard for these students. They aren't motivated by the same things as Americans, she says.
"They don't want to stand out as individuals, but rather to emulate their surroundings," she says. Marshallese people are well attuned to people's emotions. She says that comes from living on a small island, where people have to tolerate everyone because there is really nowhere to go.
"People become really good at reading other people and knowing what they're thinking and what they're doing without having to express it," says Pallotta. "They don't really ask a lot of questions. I think with Marshallese students, you have to prompt a lot of discussion. If they feel comfortable with you, they'll share their thoughts. If they don't, they'll just tell you want you want to hear."
Hussan Al-Khalidi is another bilingual specialist. He came to Spokane six months ago from Baghdad, Iraq, where he was a social worker for the Coalition Forces. He helps Arabic-speaking students, who come from places like Somalia, Iraq, Sudan and Jordan.
These students have a different challenge than the Marshallese students. Many come from countries where everyday life is dangerous. These students appreciate the safety of doing simple things like going out with their family to eat pizza. "Maybe there is no chance to be together like that in their country because of the violence," Al-Khalidi says.
He says most of his students have good English skills. He assists them with things like converting to American measurements from metric. "In all the Arab homelands, they use Celsius not Fahrenheit, kilometers, not miles, kilograms not pounds," he says.
The Rogers students speak more English than the students Victorya Rouse teaches at Ferris High School. About two-dozen students are in her English class at the Newcomer Center. Some are passing a guitar around, trading guitar licks. Others are chatting in their first language while classmates browse the Web on laptop computers.
Rouse calls the class together. The boys sit on one side of the class, the girls on the other. She shows some questions on an overhead projector.
"What day is today?" she asks. A student answers. The questions and answers continue. "What day will tomorrow be? What did you do today? What will you do tomorrow?" Rouse has the students break out their journals. She moves around the class, continuing to ask questions. The students respond in varying degrees of accent and accuracy. Rouse prompts some for an answer. "Who did you read with today? He knows who you are."
She has been teaching English Language Development in Spokane for 18 years. She did a stint in the Peace Corps, working in the Kingdom of Swaziland in South Africa, where she came to see the need for people to learn English.
"At that point, it became apparent to me that the developing world needed to learn English, so they could teach themselves," she says.
Students are nervous when they first come to American schools. "They walk in with sort of a deer in the headlights look," she says. "They want to blend in, but they're don't feel like they are going to blend in."
In her class, they eventually feel comfortable.
"It's when they go out of this room, that they start being afraid again."
A few years ago there was some tension between American students and the newcomers, she says.
"Now it seems much more accepting," she says.
Some high school students read with the English language learners. "For a kid who has never read in English, having an American student sit down and read with them is pretty powerful. They get tobe friends."
Rouse says things like American non-verbal communication styles are hard for the newcomers. "We're very open," she says. Eye contact is important to Americans. Eye contact is important to English language learners, too, but in a different way. "Almost universally, these children show respect by looking down," she says.
But it is clear that the students in Rouse's class are comfortable with one another and newcomers. They ask me a variety of questions and some agree to be interviewed, even if their English skills are limited.
Inesa Pikulik is an outgoing 15-year-old girl from Ukraine. She speaks Ukrainian, Russian and English. Her father works at White's Boots. She says her family moved to the U.S.for a better life about six months ago.
In Ukraine, "not work, not eat," as well as in the United States, she says. She likes life in Spokane.
"I have many, many friends," she says. She enjoys singing and playing violin in her church. Back in Ukraine, she played several sports, including volleyball and basketball. She says when she moves on to Rogers, she will probably play high school sports again.
Sagar Rai is a 15-year-old boy who arrived in Spokane in October from a refugee camp in Nepal. He came with his parents and two brothers and a sister. Some members of his family were killed back in Nepal. He is reluctant to talk about them.
He says he has uncles, cousins and a grandfather still living in Nepal. "I miss them a lot," he says.
Many of the English language learners have a clear idea of what they want to do with their life after high school. Rai wants to be a doctor, like his brother-in-law, who lived in the refugee camp in Nepal before moving to Australia, where he practices medicine.
Billimon, the Marshall Islands student, wants to go on to college and become a FBI agent. Adhikari wants to be an engineer.
While learning English is difficult and students are sometimes homesick, the students interviewed say they're grateful to be in the United States. "It's easier to live here than in Nepal," Rai says.