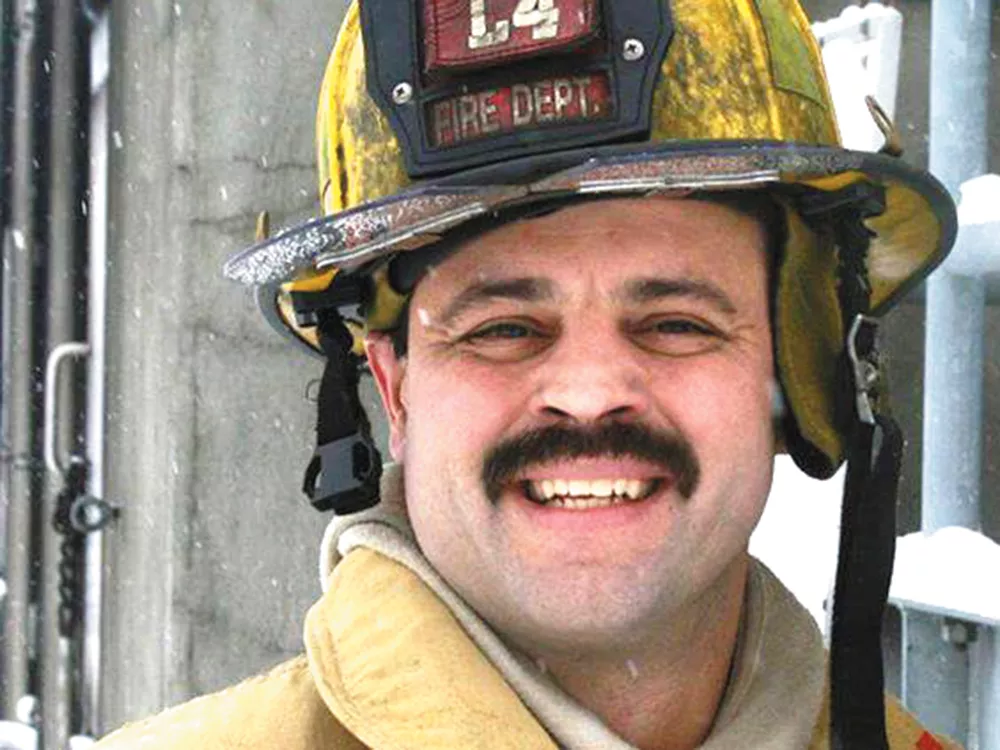 In dark dress uniform, black ribbons across their badges, dozens of Spokane Fire Department firefighters stand straight and silent. The flag-draped casket of fellow firefighter John Knighten rests at the head of the crowded ballroom.
A silver bell gently sounds three sets of three tolls, a traditional farewell for a fallen firefighter. In slow unison, the ranks of uniformed men and women raise their right arms in a final salute.
Knighten, 45, served 19 years with the Spokane Fire Department before succumbing to plasma cell cancer on June 30. Several hundred people gathered Monday for a public memorial service at the Spokane Convention Center.
"John Knighten was a great firefighter who was loved, honored and respected by all of us," Spokane Fire Chief Bobby Williams says, his voice tightening. "We will miss him."
Friends and colleagues remembered Knighten as a dedicated public servant, brave firefighter and loving family man. He ended his firefighting career as a fire equipment operator based out of Station 4 near Browne's Addition.
Officials classified Knighten's death as "duty-related" because his form of cancer, multiple myeloma, has been linked to firefighter working conditions. He becomes the first city employee to die in the line of duty since 2004.
Washington Gov. Jay Inslee, Mayor David Condon and fire department officials offered their condolences to Knighten's family. In a letter read aloud Monday, Inslee praises the firefighter's service and personal example.
"Even in his battle with cancer," Inslee writes, "his courage and selflessness never wavered."
Throughout the memorial ceremony, photo slideshows share lighter moments: Knighten embracing his wife, Shawna, and his three young daughters. Motorcycle trips. Vacations to Mexico. Barbecues with friends.
Some photos show Knighten smiling in helmet and firefighting gear, then a medical gown. In one hospital photo, he holds up his newborn daughter. In the next, he lies in bed while undergoing cancer treatment.
Williams steps forward to present Knighten's widow with the American flag from his coffin. The chief kneels before her as he hands over the folded flag and Knighten's firefighting helmet. He gives a ceremonial coin to each daughter.
In another firefighting tradition, dispatchers broadcast one last alarm for Knighten. Static quietly crackles across the sound system.
"Station 4 to John Knighten," a dispatcher hails over the radio. Once. Twice. Three times with no answer.
"This is your last call."
At the closing of the service, Knighten's oldest daughter plays "Amazing Grace" on piano. His brothers and fellow firefighters escort his casket from the hall. His wife trails close behind, eyes forward, the flag tight against her chest.