ON INLANDER.COM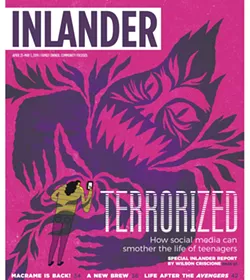 COVER
: A Lewis and Clark student was targeted by social media threats repeatedly in the last year, causing her terror.
This is her story
.
NEWS
: The city of Spokane quietly dropped a sexual harassment investigation. Now,
they regret it
.
NEWS
: A luxury electric car company — no, not Tesla — wants to
move in near the Spokane airport
.
IN OTHER NEWS...
Hearing from the people
The Spokane Public Schools board of directors
heard all about
what they shouldn't be cutting in the layoffs impacting more than 300 staff members. (
Spokesman-Review
)
Pride on display
Councilwoman Kate Burke wants to bring
rainbow sidewalks
to Spokane to celebrate Pride Month and the LGBTQ+ community. (KXLY)
Changing course
Andy Rathbun, who planned on running for mayor, announced that he's dropping that campaign to focus on running for
City Council president instead
. (
Spokesman-Review
)
Man runs for president
In the battle for America's "soul," Joe Biden is
running for president
. (
Associated Press
)
Eye for an eye
John King, the first white man sentenced to death in modern Texas history, was
executed
for the racist killing of a black man. (
New York Times
)