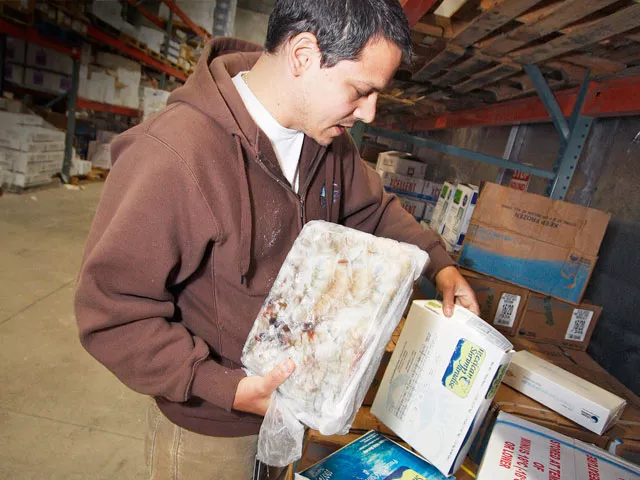 That pesky busted pipe — the one spewing up an endless geyser of oil in the Gulf of Mexico — lies 2,030 miles away from and 6,483 feet below Spokane, Washington.
But that doesn't mean that pipe hasn't affected those in the Pacific Northwest.
Just talk to local vacationers.
Maryann Harlow, manager of traveler services for the Spokane Valley branch of the AAA, reports a recent phone call with a Spokane woman who had booked a hotel room just south of Cancun and was worried that the oil spill might impact her vacation. Ocean currents, however, mean that the spill itself is unlikely to affect Caribbean resorts. Instead the spill's heading straight for the Florida Panhandle, putting the travel plans of southbound Pacific Northwesterners in jeopardy.
Or check out Rod Jessick's shrimp-packed fridge. Two weeks ago, Jessick, the executive chef for Beverly's and seven other Coeur d'Alene restaurants, ordered 1,000 extra pounds of Gulf of Mexico shrimp, anticipating the impact the spill's going to have on shrimp populations in the Gulf.
"At this point in our estimate, it will last us into July," Jessick says. "At that time, we'll either change the menu item, or feature a different shrimp that's from another area."
Phil Lanzone, from the Northstar Seafoods distributor in Spokane, says supplies of Mexican shrimp have already plummeted.
Demand is rising. Restaurants are calling, wanting to stock up now. Prices are ticking up. Each week, the price of a pound of certain varieties of shrimp grows anywhere from 25 cents to 50 cents. Lanzone says he has no idea how high the price could rise in the next few months.
An oil spill can hurt the shrimp industry in a variety of ways.
The droplets of dispersants sprayed on the slick, for example, can kill the shrimp eggs. On May 6, the Louisiana Department of Wildlife and Fisheries shut down a large swath of coastline from shrimp fishing. As the spill edges up — around Florida, as high as North Carolina — expect fishing industries to continue to be troubled. For the Atlantic bluefin tuna — nearly extinct, prized in Japan, found in the Gulf — the consequences could be irreversible.
Typically, the Gulf of Mexico shrimp fishing season begins in July. The shrimp is frozen and doled out to distributors, who then send it to restaurants year round.
Even before the spill, Lanzone says, supplies were low. Shrimp demand from Europe was soaring; shrimp farms in China were struggling. The spill sparked a wave of restaurants and distributors buying up Mexican shrimp supplies in anticipation of shortages. That, in turn, has created shortages.
If Lanzone could afford the temporary loss in revenue, he says he'd stop selling Mexican shrimp now. He'd keep them frozen until supplies are at record lows and demand at record highs, and then sell his supply for a major profit.
There are, of course, other shrimp in the sea. Frankie Dietz of Anthony's Homeport says that his restaurant's menus won't need to change.
"We don't source anything from the Gulf, so we're not affected at all," Dietz says. "We get our shrimp from Oregon — usually from Astoria — and the prawns we get are usually from the California area."
Anthony Anton, president of the Washington Restaurant Association, says most Washington restaurants use types of shrimp that can easily be found in the Northwest. Jessick may swap out, say, Mexican white shrimp for shrimp that comes from Alaska.
Lanzone, however, says changing to a different type of shrimp will place a higher demand — and thus, a higher price — on those other types of shrimp.
Ecology, of course, like economics, is an incredibly complicated system. "We don't know yet what the immediate environmental economic impacts [of the oil spill] will be in the Northwest," says Curt Hart, communications manager with the Washington Department of Ecology. The impact on Washington environmental agencies, however, was immediately clear.
"When we heard the spill was occurring, we got ready," Hart says. "We work with EPA, we work with the Coast Guard, with the State Department — we work with ports and tribes."
Like the departments of ecology in every state, Washington's helped direct massive swaths of resources toward the Gulf region.
From Washington, the Marine Spill Response Corporation loaned out personnel, shallow water barges, a fire boom (intended to corral a large section of oil and burn it) and 15,000 gallons of dispersant (chemicals that break up oil). Washington members of the United States Coast Guard headed down to help as well. All that equipment will come back to Washington, eventually.
Otherwise, for Washington's environmental experts, it's a matter of learning lessons from the disaster. Every year, 14 billion gallons of oil float past the Washington coast in tankers. To Washington, a massive oil spill could mean $10.8 billion in damage. (In 2008, only 150 of those gallons were spilled — and then quickly contained.)
One lesson: Dispersants need to be more environmentally friendly. When the Marine Spill Response Corporation restocks, Hart promises, the formula will be improved.
Just because Washington residents may escape the worst of this disaster, Hart says, doesn't mean they shouldn't care.
"I remember the 1989 Exxon Valdez spill — the communities up there that were affected by the spill," Hart says. "The businesses shut down. The fisheries shut down. The suicide rate went up. The divorced rate went up.
"Those are our fellow Americans," he says.