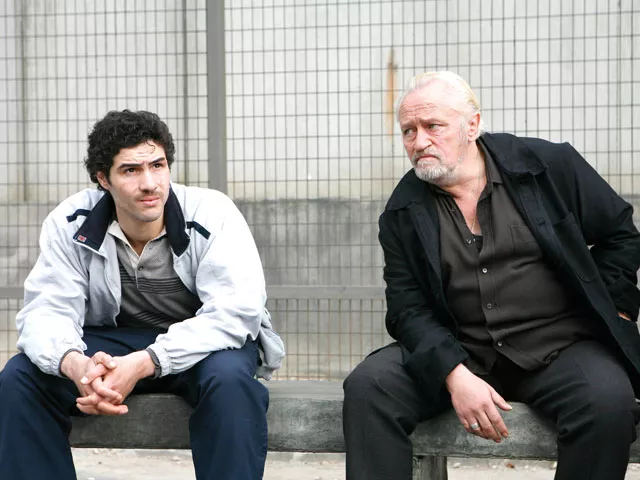 A Prophet is sort of like The Godfather, if The Godfather took place in a French prison. Sort of.
When Malik El Djebena (Tahar Rahim) enters prison, we know nothing of his past: no flashbacks, no stories, just a brief interview with his government-provided lawyer. It's revealed that 19-year-old Malik is illiterate, has no family, no friends, no religion, no work skills, and is being incarcerated for some unidentified battery-related crime.
In a prison dominated by two forces, a branch of the Corsican mafia and a large Muslim population, Malik is the ultimate outsider — a Frenchman of Arab descent who isn't Muslim.
A loner, Malik seems to be sleepwalking his way through his sentence when a new prisoner arrives, a man named Reyeb, whom the Corsicans want dead.
In Malik, they find the perfect fall guy. So in true Godfather fashion, they make Malik an offer he can't refuse: Kill Reyeb, or we kill you.
The violence that ensues hits with unexpected impact — largely for how much it veers away from your typical slick, stylized Hollywood murder scene.
Guilt, opportunism and moral degradation become the order of the day — on the part of the Corsican kingpin, his henchmen, and the unsuspecting prisoners whom they compel into their service.
It's a classic underdog story, and in other hands, Malik might have been turned into the kind of bad guy whom you love to hate.
But what makes A Prophet unique and riveting is that Malik is one underdog you have trouble rooting for. Instead of offering up a backstory by way of explanation and to garner the audience's sympathy, A Prophet focuses on Malik's evolving identity, offering a fresh and sobering perspective.
Instead of showing us the heart buried inside in a bad guy, A Prophet shows us why the bad guy is bad. Malik's transformation may owe a lot to his environment, but it's also the result of his conscious decision-making. A Prophet presents a cautionary tale that's hard to swallow. But it's hard not to watch.