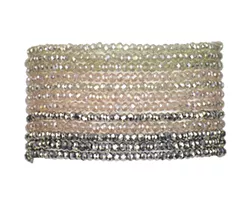 MILLIANNA
With its intricately woven or hand-strung, cut crystals, Millianna's earrings, cuffs and bib necklaces are as distinctive as they are beautiful. Note the craftsmanship on each intricate piece, or the patented magnetic python skin clasp that's as stunning as it is functional. Admire the bold design — intended to make an outfit, not simply accessorize it. When you look carefully, it's easy to spot a piece of Millianna's jewelry, whether it's worn by a celebrity at the Grammys, in the pages of O Magazine or worn by the guest sitting next to you at Epicurean Delight.
"It's definitely statement driven," explains Millianna co-founder Arianna Brooke. "If you appreciate good design and aesthetics, you'll appreciate it. You'll also appreciate it for the workmanship that obviously goes into it. We have some pieces that literally take hours of weaving. That's what we love to do and that's what we are known for."
It's clear these heavily worked, intricate designs are being noticed locally, and nationally. Celebrities from Miranda Lambert to Rachel Ray have been spotted wearing Millianna's signature style. "I think our biggest hit came from Téa Leoni wearing our cuff on Madam Secretary," Brooke adds, "All of a sudden we started noticing we were selling all these micro cuffs on the website and we were wondering why." Leoni wore the beautiful dark blue cut crystal bracelet (still available on their website) for almost a whole season, sparking hundreds of sales.
Co-owners and friends AriannaBrooke and Sharmilla Persaudbegan dreaming of starting their own line when they worked together at BCBG Max Azria in New York City. This spring, Millianna will celebrate 10 years of designing, producing and selling their statement jewelry.
"It's definitely been a labor of love. Sharmilla is a really gifted and talented designer. It's really exciting to see what she creates. Every season it's like opening a new jewel box and seeing all these really cool things," Brooke says.
While Persaud drives the design process, Brooke oversees production here in Spokane, using a team of local artisans. When Millianna started, they had a hard time finding reliable people to execute their intricate designs. While visiting her parents, Brooke had an epiphany when one of their friends talked about his experience volunteering with World Relief, a refugee advocacy organization. "So a little light just went on," she explains. "I need workers, and they need jobs. So we started this training program over there." When you order a necklace or pair of earrings off the website, one of these trained artisans then hand-makes it for you and is paid by the piece. "I feel like we have the best workforce anyone could ever hope to have. I've had the pleasure of getting to know several of our artisans and they are beautiful people through and through."
So what will the next 10 years bring for Millianna?
"The dream is to be able to diversify in our product categories so that we're doing more than jewelry, we're doing other types of accessories." In 2019, the design duo experimented with "shoewelery" — bringing feather shoe accessories to the Grammy Gift Lounge for celebrities to wear.
In the meantime, look for a dramatic fall line, says Persaud, "Jewelry is going back to being big and bold again. Statement pieces are coming back and jewelry is going from being minimalist, light and airy to darker, richer and heavier in style and elements of that will be reflected in Millianna for fall."
Find it locally at the Davenport Home Store, La Rive Spa at Northern Quest Resort and Casino or online at millianna.com.
TEDDI JOELLE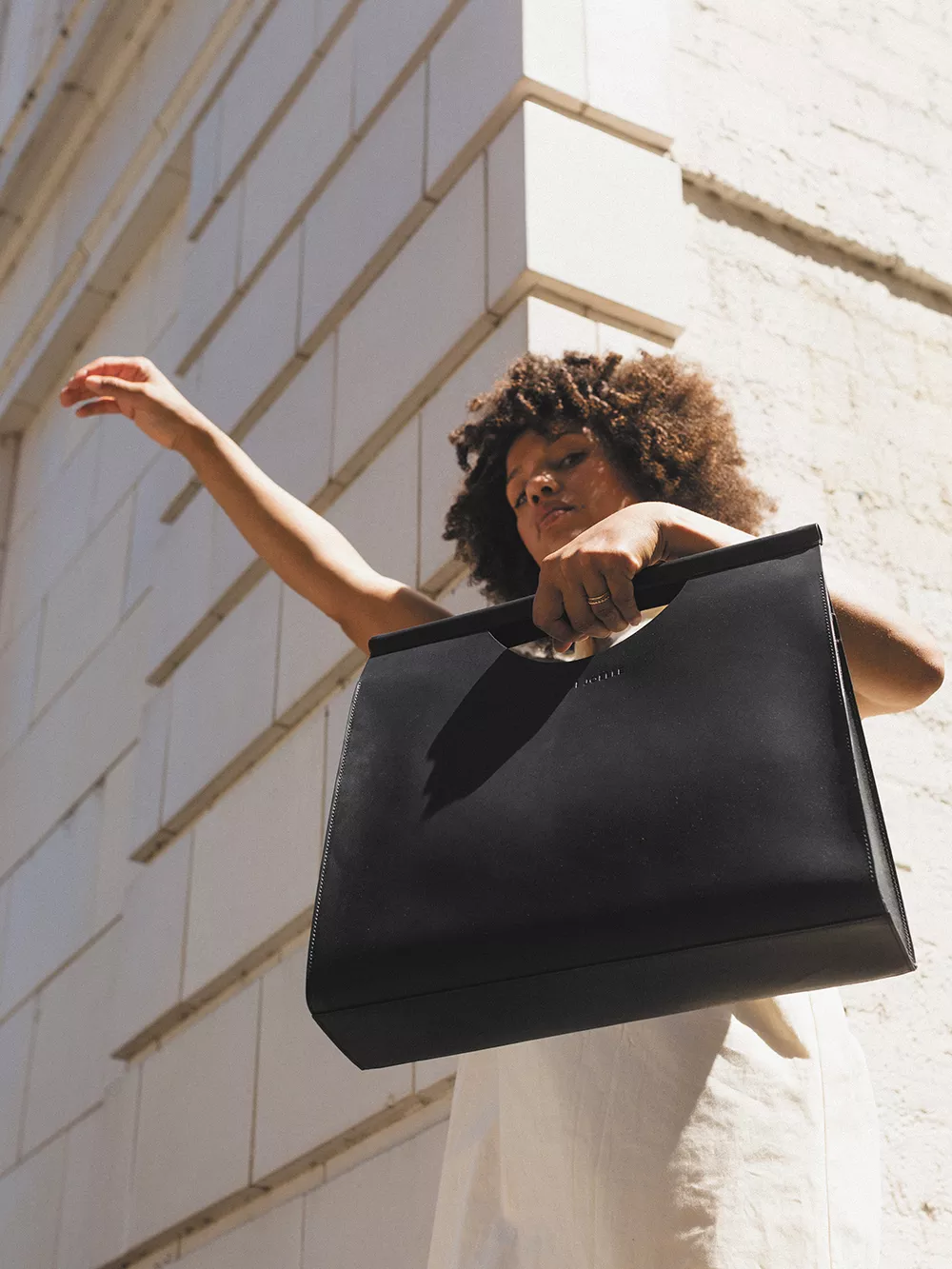 Simple. Timeless. Luxurious. Those are the qualities that have made Teddi Joelle purses, clutches and totes so splurgeworthy. Previously known as Hustle & Hide, the rebrand in November 2018 to Teddi Joelle signified a bigger move for the company, from a side hustle owner Teddi Cripps started during graduate school in Spokane, to a much larger vision, which includes a clothing line in addition to their collection of minimal, sleek bags.
"Last year we came to a point in our company where we had to make some big decisions around growth and sustainability," explains Cripps. "We knew that we wanted to take our work to a whole new level of craftsmanship and design."
While all of the company's bags were previously handmade in Spokane, Cripps has now partnered with a small group of leather artisans in Northern Italy. "They are made from Italian vachetta vegetable-tanned leather and are meticulously crafted to perfect," she explains. As for her team in Spokane, they will continue to focus on design, product development and their expanding in-house clothing line, "which we are very excited about," she says. All of the sketching, pattern-making, prototyping and sewing for this line will be done out of the Spokane studio. Just as Teddi Joelle's handbags are known for their classic, and timeless style, look for a clothing line that also embraces slow fashion — a core principle they describe as "rather than keeping up with the newest trends, we strive to design and create outside of the fast-fashion parameters. Not only does this approach decrease overall waste and excess, but it also allows a greater sense of creative freedom by not having to structure each launch based on what others are doing."
Find it locally at From Here and online at teddiJoelle.com.
ANFISA
In just over a year, Anfisa Skin has developed an international following. Just hours after launching her website, founder Aly Korchemniy found herself fielding an inquiry from British Vogue. Coverage from GQ, Elle and Cosmopolitan followed. Its Lilou Regenerating Balm was quickly picked up to be sold on Anthropolgie's website, where it's frequently on back order. "It's been a whirlwind, for sure," exclaims Korchemniy.
While the company's profile has seemingly blown up overnight, Korchemniy's journey started as an effort to heal her own skin. "I've always struggled with really bad acne," she explains. When her dad was diagnosed with cancer in 2012, she started to pay attention to the ingredients in all the products she was working with at a local medical spa. "All of the products were filled with chemicals and so many synthetics, and I just wanted an option that would have similar effects but would be natural." She researched ingredients endlessly. She formulated and experimented. "It took four years of formulating products for myself to get my skin under control," she explains, "and for once in my life, people started to notice a difference in my skin." With their urging, she decided to launch Anfisa and began to create its signature product, Lilou Regenerating Balm.
"You quickly realize things take a lot more time than you realize," she says. Sourcing the ingredients alone took seven months. She would order 10 or 12 different kinds of cucumber seed oils to compare them side by side to find the best quality she could. Her efforts paid off.
Lilou Regenerating Balm is packed with 21 different antioxidants and is designed to replace traditional cream moisturizer without clogging pores. It's an oil-based balm made from antioxidant-rich blueberries, grape seed oil, matcha tea and cucumber seed, with no fillers or additives. "I wanted it to be able to be used for almost any skin cancer or ailment," Korchemniy adds, from teens with acne, to women worried about aging."
Find it locally at Spa Paradiso, Sarah Hamilton Face, Plastic Surgery Northwest, North Idaho Dermatology (Coeur d'Alene) and online at anfisaskin.com.