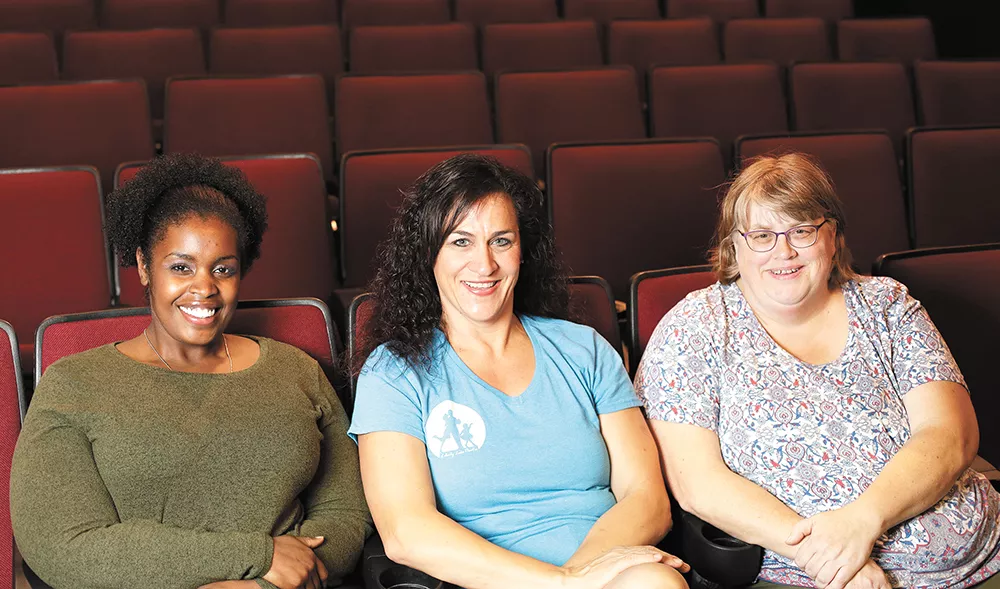 Just over 10 years ago, Jennifer Bergman moved to Liberty Lake. At the time she was married to her high school sweetheart, mother to a 1-year-old daughter and pregnant with her second and preparing to settle into suburban life.
She was new to the area, though, and settling came slowly. As the months passed and her husband spent longer hours on the job, Bergman, a work-from-home graphic designer, found herself increasingly "bored and kind of lonely." Eventually her thoughts drifted back to the school drama program where she and her husband first met. She began longing for the excitement, creativity and socialization it offered.
So she called the city's information line and asked about theater groups in town. They said none existed, but they took down her email address, her phone number, checked her availability to meet on a certain date and said they'd be in touch.
"And then," she says, "an article came out" in the Liberty Lake Splash. "All of a sudden I had 200 emails and people were calling my phone from numbers I didn't know, so I wasn't answering it. I realized that the city had called the Splash and said that I was starting a community theater, and to email me and call me if interested." The date she'd given was advertised as the date for the group's inaugural meeting.
"I'm sure I could have backed out: 'Oh, wait, that's not what I meant.' But I had so many emails from people saying, 'This is cool! It'd be great for our community.' At that point I had to make a decision and say, 'You know what, it sounds like people really want it. Why not?'"
Four people attended the first meeting, she recalls.
"After having so many emails, I was surprised to have only that many people show up. But the people that showed up were our first board members."
The Splash digital archives, incidentally, offer a slightly different origin story. The first full article on the group dates from March 20, 2008. It reports "about a dozen residents" at the previous week's informational meeting and quotes Bergman — still surnamed Ophardt back then — as the self-identified driving force behind the nascent theater group, albeit with the caveat that she "insists her role is to solely start the group."
At any rate, by mid-May Bergman had publicly warmed to the idea of spearheading an amateur theater group, formally identified as Liberty Lake Community Theatre (LLCT). She published an appeal for participation in the Splash and highlighted its possibilities: "plays, musicals, storytelling, concerts, pageants, physical theatre (dance, mime and puppetry), improvisational comedy and more," along with ambitious plans for a dedicated "theatre structure."
And by April of the following year, after practicing in the basement of nearby Palenque Mexican Restaurant, LLCT had staged its first production, a zany short comedy called Hood, of Sherwood, featuring an all-ages cast of 12. "The costumes and makeup were great. And the performances were fantastic to boot," read the enthusiastic review in the Splash.
"We performed at Guardian Angel [Homes] in the barn, and it was a little tiny place, but, man, we packed that barn," laughs Bergman. "All the parents were so excited."
Later they moved to the old library in the Liberty Square Office Building, rehearsing and staging what Bergman describes as "no-name plays — something that didn't have large royalties, or so that we could do them and they wouldn't be compared to other theaters, because we obviously were new and could not compete." LLCT was a grassroots effort with a shoestring budget, in other words, and its participants — everyone from actors to set designers to board members — proudly embraced those aspects as the measure of a true community theater.
It's now 10 years on and somewhere in the ballpark of 80 productions later and those qualities have continued to sustain LLCT through thick and thin.
"We've still, from day one, never paid anyone for directing or anything like that. We don't have a staff. We're all volunteers," she says. Yet that hasn't stopped the organization from becoming a fixture of family entertainment in Liberty Lake and hitting major growth milestones, such as establishing a separate teen board of directors or moving into a new, larger space at 22910 E. Appleway Avenue.
"Getting our space where we are right now on Appleway [Avenue] was probably one of the biggest things that allowed us so much growth. Before, when we were in the Liberty Square Building, we didn't have a backstage. We didn't have our own restrooms. We didn't have a concession stand. The new space allows us to put on more events for children," she says, highlighting LLCT's popular "Play in a Day" workshop where participants create a 15-minute play in just one afternoon.
The nonprofit group is growing in other ways, too. Bergman felt comfortable enough to step down from her longtime role as board president in late July; Sandi Wasteney was newly elected to fill the position. And the days of schedules with "no-name" productions are moving further into the past as the group's main-stage productions inch ever closer to Broadway. Last season saw You're a Good Man, Charlie Brown and the junior version of Elf the Musical, while the current season brings full versions of James and the Giant Peach (Oct. 11-27) and A Charlie Brown Christmas (Nov. 29-Dec. 15).
For Bergman, however, the size of LLCT's venue, its shows or even the donations it attracts from around the community should never eclipse its founding mission to be a creative outlet for everyone, not just the gifted or the expert.
"We wanted a theater where no experience was needed," she says, noting that LLCT continues to make it a priority to entertain all comers, involving and even training them in whatever way they can. But she and her fellow volunteers are also under no illusions that the ability to carry out that mission rests entirely with the people willing to make that happen.
"If a community wants a theater," says Bergman, "there has to be community involvement." ♦