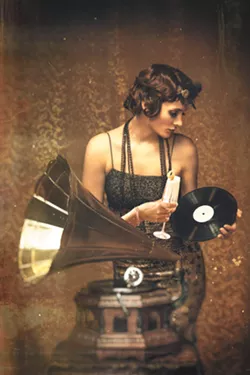 The '20s are back, baby.
Finally, our nostalgia-obsessed culture has caught up with a truly iconic American decade. The looks, the sounds, the feels and the utter chaos of the 1920s still inspire us today... mostly when it comes to getting "zozzled" or, in modern speak, "wasted." But hey, we have 40 more years until the '60s, so soak it up.
The '20s might seem like the Dark Ages, but in reality, the issues of the time still resonate. Prohibition impacts what and where we drink to this day. Jazz was escaping the basements and dens of speakeasies and making its way to the main stages in our biggest cities. And for the first time across America, women were a political force to be reckoned with. Of course, these ideas weren't entirely new. But the '20s represent a culmination of those things to the point of sweet excess — until it all came to a spectacular end with the stock market crash of 1929.
So raise a glass to another decade of people drinking, dancing and exercising their rights.

IN THIS WEEK'S ISSUE...

---
THE INLAND NORTHWEST BY THE NUMBERS, c. 1920
Spokane County
Spokane County population: 141,289
Illiterate persons aged 10 years or older: 1,214
African Americans: 776
Native-born whites: 117,735
Foreign-born whites: 22,247
Native American, Chinese, Japanese and all other races: 551
Dwellings in Spokane County: 30,961
Pigs in Spokane County: 16,228
Beehives in Spokane County: 1,491

Kootenai County
Kootenai County population: 17,878
Illiterate persons aged 10 years or older: 221
African Americans: 7
Native-born whites: 15,079
Foreign-born whites: 2,679
Native American, Chinese, Japanese and all other races: 113
Dwellings in Kootenai County: 4,508
Pigs in Kootenai County: 2,737
Beehives in Kootenai County: 319

— COMPILED BY JOSH KELETY, source 1920 Census