A dead grand fir tree, light gray and lifeless, stands high on the nearby hillside, looming over an ash-blackened ravine in western Stevens County. The snag towers more than 94 feet tall, ringed round with split limbs and bulging knots. Smoke rises off the charred brush at its base as a small crew of firefighters approaches.
Five men — one in yellow and four in red — cut a fresh trail up the narrow draw as the slow-moving fire climbs the surrounding slopes. With picks, pulaskis and shovels, the crew carves a fire line along the edge of the blaze. They pause near the dead fir.
Bringing up the rear, Daniel J. Hall stops to gaze up at the gnarled tree. Hauling a long-handled shovel and a blue gear pack, the 47-year-old seasoned worker listens as the crew supervisor in yellow points out the dead fir and warns them all to watch for falling trees.
Hall and the three other red-uniformed crew members serve among the hundreds of prison inmate workers sent into Washington forests each summer on tree-trimming or wildfire crews.
For pennies on the dollar, these workers dig trails through harsh terrain, fell timber for harvest and man fire hoses against infernos for the Department of Natural Resources. Many consider the program a win-win — inmates get honest work while the state gets cheap labor. But as with any dangerous job, the unexpected costs can be high.
On this October afternoon, Hall and his fellow crew members quickly return to work, according to recently released reports. Hunched over their implements, they continue uphill, shovels clinking against rock, ash sticking to sweat, the hot smell of sunshine on smoke. A light wind leans against the crippled snag.
"We figured it would hold for a while longer," one inmate later told investigators. "I didn't feel threatened by it, so we keep on digging, moving up the hill."
As a young man, Hall sported a feathered mohawk, his brown hair forming a crest from widow's peak to nape. Through the years, as gray hair crept in, he tamed the mane down to a neat tuft, but enough remained for many to continue calling him "Rooster." He grew up in Snohomish, Wash., southeast of Everett, and eventually moved to Spokane for several years. Charismatic and outgoing, he made friends wherever he went.
"He was just the life of the party," his brother Timm Hall says. "He was a people person, very non-judgmental."
But Hall also found trouble easily. As a juvenile, he started racking up property crime convictions, mostly burglary, drugs or vehicle theft. During his first prison sentence, he received a diagnosis of bipolar disorder. Timm Hall says his brother proved to be a model inmate while on medication, but upon release he would often self-medicate with street drugs and cycle back into prison.
Kristine Glasgow, who first met Hall as a teenager, says she watched him struggle with his mental health issues and addiction, but she also came to love his generous heart, dedication to family and artistic creativity. In 2002, they struck up a relationship and had a son together two years later.
"He had a huge spirit, I think would be the best way to describe him," Glasgow says. "He was very kind and loving."
When drug and vehicle theft charges sent him back to prison in 2011, Hall returned to a system he had known off and on for nearly 30 years. At the Airway Heights Corrections Center, he went back to being "Rooster." He went back to writing letters and back to sketching "Bud the Bear," a cartoon bear he often drew for his son or for other inmates to send to their kids.
Hall also went back to his inmate work crew with the Department of Natural Resources, fighting wildfires and clearing timberland for about 40 cents an hour. Timm Hall says his brother had spent many summers working on DNR crews. He found comfort in the fresh air and rewarding toil.
"He does better with structure," Timm says. "Out there, he had the best of both worlds because he had structure, but he also felt free."
So when a planned burn project spread out of control in western Stevens County on Oct. 17, 2013, setting fire to several acres of adjacent hillside, Hall and nine other Airway Heights inmates gathered their gear.
In the remote, tree-choked hills west of Springdale, Wash., about 50 minutes north of Spokane, DNR employees had set fire to several slash piles of trimmed trees and branches in early October. With special permits, they planned to burn the piles to clear the area for an upcoming timber sale. But a few days later, crews reported sparks had carried into the nearby brush, and DNR called in additional workers to contain the steadily growing blaze.
Loren Torgerson, DNR northeast region manager, says the burn piles had "slopped over" into adjacent brush and forest. Sparks had blown across at least one road, and reports say crews worried that the fire could spread into neighboring private property as the blaze approached 20 acres.
Torgerson says inmate crews have repeatedly proven invaluable as hardworking, reliable and cheap manpower for battling wildfires across the state. Most inmate workers make about 40 cents an hour, he says, with some veterans earning up to 62 cents an hour. Reports indicate Hall had more than 15 years with the program, on and off.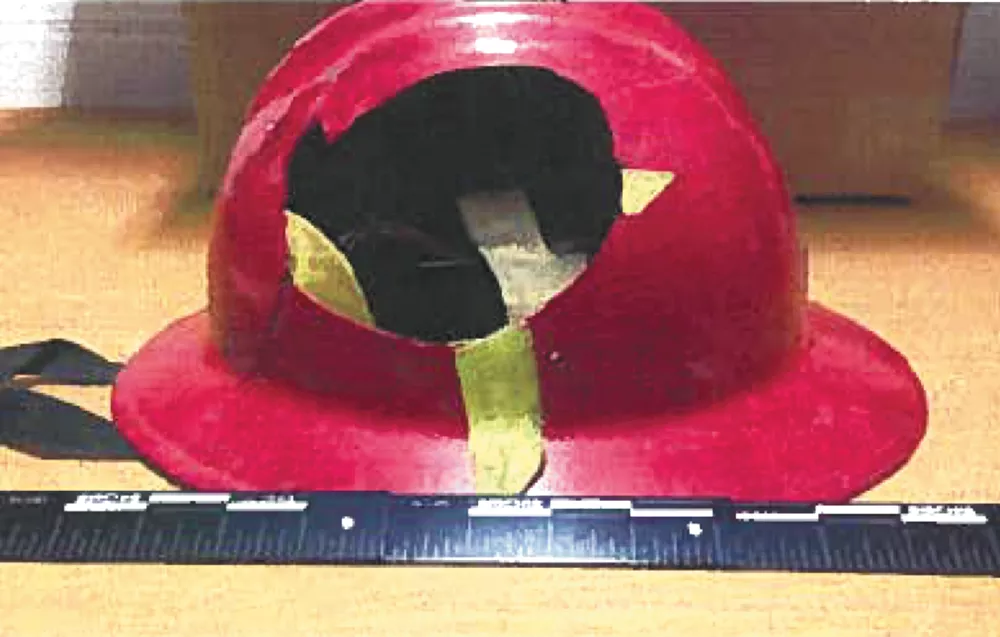 Led by DNR crew leader Paul Nelson, the "Heights 41" inmate crew arrived on scene just after 9:30 am, reports state. They unloaded their gear at the end of a dirt logging road and soon split up into two teams. Six went with Nelson, while Hall and the three other inmates hiked down to help longtime DNR forester and fire investigator Forrest Ownbey on a lower front.
Ownbey planned to cut a new fire line up a lower ravine, digging a trail of bare dirt around the edge of the fire to contain the blaze. He took the lead as they started up the slope. Hall followed at the end of the line, using his shovel to widen the trail. After about an hour, Ownbey reports, the crew spotted the dead grand fir tree, standing about 70 feet up the hill.
"All of us were aware of the tree," he states.
Inmate crew member Floyd Lanoue told investigators they had cut approximately 450 feet of new line when they noticed the snag. They only made it a few more feet. Shortly after 12:30 pm, he says an immense crash sounded behind them. The dead fir tree had snapped off.
"I did not hear it fall — no cracking sound," Lanoue told investigators. "I heard it hit the ground. I turned to see it and I only counted three people."
Ownbey reports he spun around and scanned the slope for the missing man, spotting one inmate standing within a few feet of where the tree had slammed down. Ownbey then saw a body limp on the ground. He rushed down the hill as a voice called out:
"Rooster!"
Hall had no pulse. He wasn't breathing. The impact had broken his glasses and shattered a hole in the side of his helmet. Ownbey and Lanoue started CPR as they radioed for a MedStar helicopter. Reports say DNR employees and inmates traded off compressions for more than an hour until medical crews arrived on scene and pronounced Hall dead at 1:56 pm.
Hall became at least the third* Washington prison inmate to die on a fire line. Newspaper archives show 49-year-old Raymond Pike died from severe burns in 1960 after volunteering to fight the Cummins Creek Fire near Pomeroy.
Hall also became the second fatality in the recent history of the DNR's inmate work program, which suffered its first casualty almost exactly a year earlier when 22-year-old Danny Bergeson, another Airway Heights prison inmate, died on Oct. 15, 2012. Bergeson suffered a fatal shock when a tree he was cutting down in Stevens County fell into overhead power lines. DNR later paid $25,000 in fines for failing to properly train and supervisor thinning crews.
Glasgow says Hall had known Bergeson and was saddened by the loss of a young crew member. For both her and Hall, Bergeson's death had reinforced the risks of the work, she says, which she had not really considered before the incident. She always thought of prison as a secure place.
"You assume that they're safe when they're in there," she says.
The Department of Labor & Industries has since launched a workplace safety investigation into Hall's death, but has not yet released any findings. Vickie Kennedy, L&I assistant director of insurance services, says the agency also will determine any burial reimbursements and what survivor benefits Hall's 9-year-old son may qualify for.
DNR officials say inmate crews often work 40 hours a week, sometimes more when on an active wildfire. Based on full-time minimum wages, Hall's son would be eligible for about $515 a month in survivor benefits. But since Hall worked at prison wages of just 40 cents an hour, his son will likely receive the state's minimum benefits of $185 a month.
"The minimums are there to protect the individual worker from getting almost nothing," Kennedy explains, acknowledging that the benefits do not take into account job risks or the state's standard minimum wage. She notes that the family can appeal.
Glasgow says she doesn't want to complain, but she believes the system could use some mechanism to address that disparity. The state asks a lot of work crews and their families without benefits that recognize the risks.
"He was still doing work that obviously was dangerous," she says, "because it killed him."
As the coroner arrives in the blackened ravine to collect Hall's body, the now-named Springboard Fire continues to crackle and creep along the nearby hillsides. Investigators say the blaze charred the stump where the deadly fir once stood and then started to burn up the broken length of the trunk, reducing it inch-by-inch to ashes. In the end, the fire would burn nearly 40 acres.
Torgerson says the DNR inmate work program remains suspended for now. The department has hired an expert panel to review the incident and make recommendations for safety improvements. The DNR also changed its policies to require wildfire safety protocols on any fire that escapes a controlled burning area. He expects the inmate program to return soon.
"Hopefully, before fire season we're up and running again," he says.
Hall's family has struggled to cope in its own ways. Glasgow says she finds comfort in the stories people still share in Hall's absence. She says the prison held a service with more than 200 people in attendance — fellow inmates, corrections staff, DNR employees and others. The chaplain told the family he had never seen such a turnout.
She sees a reflection of Hall's huge spirit.
"He clearly, when he was well, made a difference in people's lives," she says, "which does not surprise me at all."
As Timm Hall looks back, he admits he spent years resenting his brother's weaknesses, losing his patience with all the relapses and mistakes. He explains that it was the theft of his truck that sent Daniel back to prison this last time.
"I forgave him a long time ago," Timm Hall says, "but I never got to tell him in person."
So Timm Hall recently wrote his brother a letter, putting words to his gratitude and admiration for a troubled friend who he says never gave up. He plans to burn the letter and scatter it with Daniel's ashes this spring, somewhere in the woods where he would have felt at peace. ♦
* Correction: State officials previously reported just two inmate fatalities. News archives later confirmed a third fire crew inmate, Cash Hopkins, died in 1986.