"Narrow-minded." "Out of touch." "Scary." That's how some lifelong Republicans described their own party in a 2013 report commissioned by — get this — the Republican National Committee.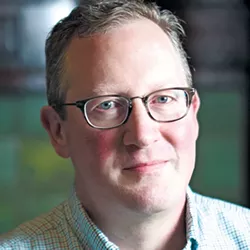 Smarting after the beatdown Mitt Romney took in 2012, GOP leaders went looking for answers — some called it an "autopsy." The resulting Growth and Opportunity Project offered a lot of solid advice for a party that had developed a kind of split personality since the advent of the Tea Party: Reach out to Latinos; Become less judgmental; Steer good candidates through ultra-conservative primaries. In general, start winning so party principles can become policy.
The Republican Party, the report states, is "marginalizing itself, and unless changes are made, it will be increasingly difficult for Republicans to win another presidential election in the near future."
Party honchos must be dumbfounded by recent events. They diagnosed the problems, had solutions, and now they're left to watch every mistake of the past eight years being repeated.
Alarmed, some conservatives are speaking out. David Frum, former speechwriter for President George W. Bush, wrote that "The conservative shift to ever more extreme, ever more fantasy-based ideology has ominous real-world consequences for American society." Conservative billionaire Charles Koch just admitted he's "discouraged" by the GOP. And New York Times columnist David Brooks added that "These insurgents [within the GOP] are incompetent at governing and unwilling to be governed." Ouch!
Of course, Tea Partiers respond by calling critics RINOs — Republicans In Name Only. And if they don't like tough questions in the debates, they blame everyone else — party leaders, the media — and pound a couple more nails in the coffin by telling Telemundo and their Latino viewers, vete al carajo! For GOP leaders, it's the worst-case scenario: The cats have escaped the herd.
But the GOP probably needs to just have it out. The stakes are high. Will the insurgents get their wish of a Tea Party candidate like Ted Cruz to carry the banner? Will an establishment type like Jeb Bush win out, as Romney did in the end? Will a fiery opportunist like Donald Trump, who is not much of a social conservative, rise up through the wreckage? And whatever the result, will it splinter the party for good, or can it be healed for the sake of America?
As you follow the upcoming debates, and the primaries and caucuses after them, remember that you're not just watching the selection of a presidential candidate. No, we're all witnessing the midlife crisis of a entire political party. ♦