em
Ever think you weren't being listened to in the lift line? You're wrong. Ever feel like everyone wants to hear what you have to say? You're wrong. The comedy stylings you can enjoy in the lift line and during the lift loading process have almost become worth the price of your lift ticket. I love the display of humanity — unless I become the main attraction, which has happened.
Here are some of the best lift-line antics, lessons and incidents I have seen or possibly could have been the victim and/or perpetuator of.
Keep Your Head Up Skiing into the lift line on a local powder day, I was amped up from the new snow. A friend of mine was strapping into his snowboard at the end of the lift corral. Thinking I would be funny, I tapped him on his shoulder with my ski pole. I turned back while still in motion to see his expression when all of a sudden I was straddling the rope line and bit it before realizing I had become the focus of the laughs. Lesson learned. Watch what's in front of me.
Loading Etiquette As we all get more comfortable throughout the season, we tend to let our guard down for the simple things, like actually loading the lift. One thing I learned the hard way is the rhythm of each chair and the load speed. While loading a fixed-grip triple chair this season, I noticed a man talking on his cellphone wearing a backpack. Without hesitation, he skated out to load the lift while fumbling with his backpack, cellphone and ski poles. When the liftie started giving him some friendly advice, he "shushed" him as, you know, he was on a phone call. Shushing the operator — bad karma. Let's just say he got lucky and was able to successfully load. But he still got heckled by the locals for his lack of chairlift etiquette.
Smoking We're outside, people — outside in the mountains, where, presumably, we are all there for some adventure in the fresh air. Want to smoke a cigarette? Get out of the lift line and go back to the bar — but not in Washington, of course, since all bars are non-smoking. Same applies for smoking while on the lift.
Clearance I guess it's like putting on a hat for the first time and not knowing the clearance space for the bill. Standing in a lift line with people who still don't know their clearance and manage to ride up over your tails repeatedly in a lift line can slowly ... drive ... me ... insane.
Rotation This is as easy as your turn, my turn, your turn, my turn. Or so you would think. In practice, even the simplest system challenges the most brilliant on a regular basis.
Conversation There are two types of people: those who think no one else is listening, and those who want everyone to listen. I've heard juicy gossip about local companies, real-estate dealings, and relationships. Too bad I had no idea who any of these people were, otherwise it would have been even better. But those who want us all to listen stories about their recent trip to Utah, Jackson, the X-Games or their first tracks after the rope drop on an eight-inch powder day — that's why Steve Jobs invented the iPod.
The Domino Effect This is usually the result of losing balance and not being able to recover. If you are at all lucky, you fall solo. But sometimes, for a laugh, the snow gods have you take down the better part of the corral in the process. The usual response from those around you is of confusion. Who started it? Just get up quick and start pointing at somebody else.
Singles Line Most chairlifts have them. Most of us use them on a regular basis. And there is humor in rolling up to the opposite sex and saying in a sexy, deep voice, "Are you single?" and waiting for the quirky response — or the awkward silence. Outside of using it as a way to find a future ex-girlfriend, there's a time and place for it. Never use it on powder mornings. I've fallen victim to being pretty close to the front on a powder day yet somehow managed to be looked over as chair after chair were being loaded with powder hounds who matched up with singles way before the lift started running. Clever.
So next time you skate into the lift line, hang back and enjoy the show. If nothing's amiss right then, just wait a second — it's coming.
Welcome to Snowlander, Vol. V
Wow! What a year it's been so far. Winter is still far from over, with a little under two months of the season to go. This is the best time of year for Inland Northwest ski resorts, with late-season storms traditionally bringing lots of powder, a full event schedule and legs that can handle a full day on the slopes and a couple of hours dancing at après ski. As I write this, I am in the 60-day range for the number of days I've skied so far this season. Ski adventures have taken me all over the Northwest, and while the pavement is dry down low, the skiing is superb up high.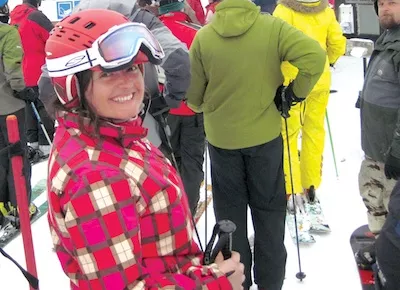 Of course, I have learned, in my quest to ski 100 days, that it isn't as glamorous as one might think. Days of wearing base layers and socks multiple days in a row, broken equipment, fatigued legs, sore back and lack of sleep are all part of it.
But in the end, laughing with friends, challenging myself on a daily basis, breathing in fresh mountain air and taking in some of the most beautiful scenery in the world makes it all worth it.
This is the last issue of Snowlander for this season. I'm already looking forward to next October's issue! I hope you enjoyed it as much as I did. Since we all know there is a lot more season left, please take the time to "Like" our Facebook fan page (www.facebook.com/SnowlanderNW) to keep informed about upcoming events, giveaways and contests. We're emptying out our schwag bag, so you might win something cool — lift tickets, goggles, T-shirts.
Thanks for reading, and see you on the slopes!
Jen Forsyth
Snowlander Editor
jen@snowlander.com