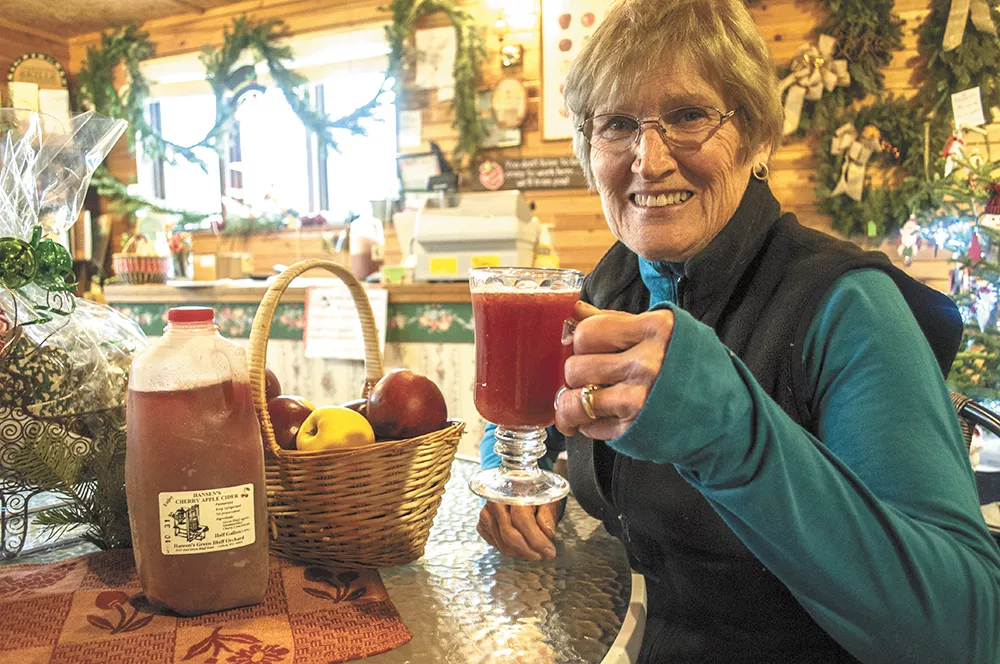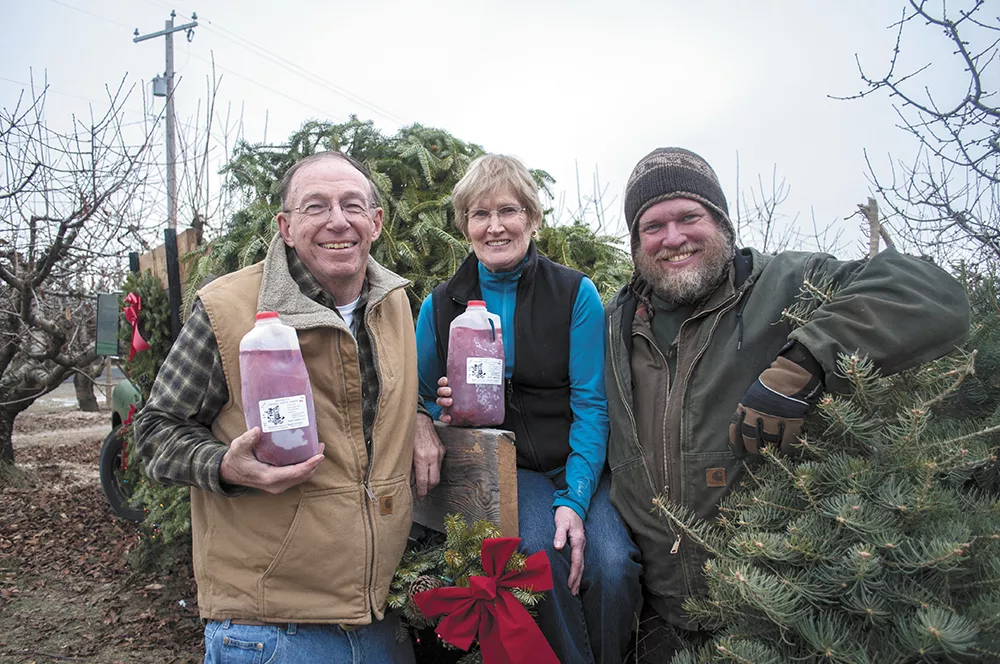 The Hansens were looking forward to their first apple crop at their Green Bluff orchard after they planted their trees 27 years ago. But a June hailstorm hit hard and ruined the crop.
"We were looking at the apples like, 'What are we going to do?'" Karen Hansen says.
A neighbor loaned them an old wooden press after hearing about their damaged apples. Then a church youth group came, helped turn the apples into apple cider and sold it at the church. The Hansens never planned on making apple cider before this happened; it wasn't even on their minds, Karen says.
"That's how cider was born here: out of a bad apple year," she says.
Some of those same people who helped the first year still make cider with the Hansens. Karen and Rod Hansen's oldest son Derrick points to the wood wall behind the red steel press they now use, where names of people who helped at each pressing over the years and how much was produced are scrawled in black marker.
Pressing starts in late August every year. Each batch yields about 200 gallons of cider from about 120 boxes of a blend of different apple types.
"You need a variety of apples to get that nice flavor," Derrick says.
The apples are fed through a hopper and ground like coleslaw into large barrels. Then the barrels go under the press and 1,500 pounds of pressure pushes the juice out of the apples into a large holding container. The Hansens pasteurize their cider before bottling it.
Nothing needs to be added to it, like water or sugar. Except that the Hansens make two flavored ciders: a grape-apple cider made with patriot grapes and a cherry-apple cider.
For most people, apple cider cravings usually coincide with yuletide vibes — sitting under the glow cast by Christmas tree lights, sipping a mug of steaming cider. But cider actually is made in the fall.
One of the major factors in getting good cider is to press the apples within a couple days of picking them from the trees, Karen says. By now, Hansen's Green Bluff Orchard has already sold out of the cider they pressed in the fall.
"It is a terribly popular product," Derrick says. "I don't mean to brag, but we can't make enough."
The Hansens suggest buying cider in late fall, freezing it and thawing it out for Christmas. Just take a cup or so out of the jug because it will expand, but it freezes well for up to a year, Karen says.
Other Green Bluff farms — like Cherry Shack, Harvest House and Walter's Fruit Ranch — press their own cider too. The Cherry Shack has sold out as well, but if you wanted some farm-made apple cider for the holiday, there's still hope. The Harvest House has some frozen, and Walter's is still pressing and selling cider until Dec. 23 and will sell it frozen year-round.
You also can take a do-it-yourself approach and make your own cider. If you don't have a press, you could steam the juice out of the apples in a large pot. The flavor will be different, though, because it's cooked.
Once you have your cider, there are numerous ways to flavor it and even cook with it. The Hansens put together spice packets that go with their cider: a mixture of brown sugar, cinnamon sticks, Red Hots and cloves. Adding cinnamon schnapps or rum (like Captain Morgan) tastes good, too, and you can use cherry-apple cider to baste on ribs or turkey, Derrick says.
Mark and Arlene Morrell of Walter's Fruit Ranch use apple cider to make sugar-free apple butter. Cider works nicely for replacing sugar in sugar-free recipes, Arlene says.
You can also satisfy your apple cider hankering in downtown Spokane.
The Kitchen Engine sells apple cider mulling spices in premeasured jars, with a blend of cloves, allspice and orange zest.
If you want to try a dish cooked with apple cider, Herbal Essence makes bacon-and-date-stuffed pork loin with apple cider and thyme glaze.
"Traditionally, pork and apples go together," says chef owner Ryan Morales. The pork has pieces of apple mixed with cinnamon and nutmeg.
Alison Collins, owner of Boots Bakery and Lounge, currently makes apples and pears stuffed with dried fruit, oats and brown sugar, baked in apple cider. Boots also serves organic hot apple cider. People like to get it with fresh orange zest and cinnamon, with steamed milk or in chai, Collins says. Or try their boozy hot apple cider with spiked brandy, ginger liqueur, fresh lemon and a cinnamon stick. ♦