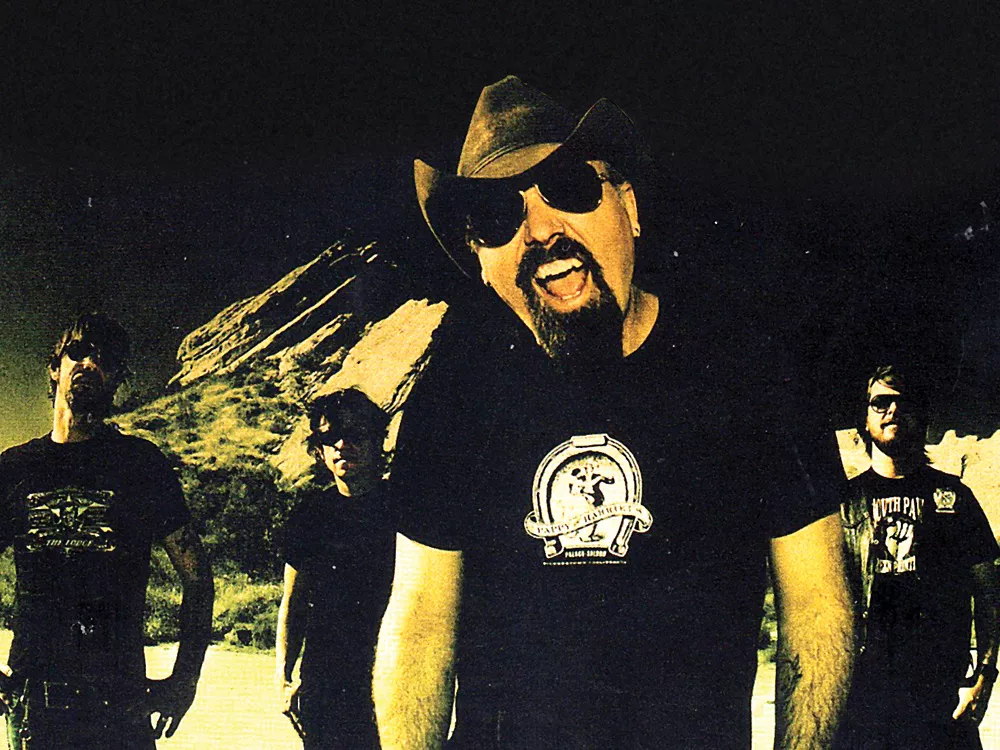 Boot-stompin', beer-drinkin', hell-raisin' — this is what the Supersuckers are all about.
And for over two decades, the Seattle rockers have been blasting buzzed bar patrons from coast to coast with their brand of rock and roll. Longevity like that is rare, but frontman and bassist Eddie Spaghetti doesn't revel in it. He sees it more as a historical inevitability.
"Rock and roll as an art form is still kinda new in the scope of things compared to classical music or even blues or whatever," says Spaghetti. "I don't know when you consider the start date of rock and roll. Sometime in the '50s I guess. As the art form itself becomes older, it's gonna become more common to see older guys up there rockin'."
The Supersuckers began with pure rock and punk roots, but have since garnered recognition for adding country stylings into the mix. What was meant to be an Eddie Spaghetti solo record, 1997's Must've Been High, turned out to be a Supersuckers alt-country album by virtue of Spaghetti not knowing anyone to play with but the guys in his band. The success of that record led the band to collaborate with the likes of Steve Earle and Willie Nelson.
While combining styles has opened many doors, Spaghetti thinks anyone who sees the Supersuckers as an act striving for genre cross-pollination is way overthinking it.
"Rock, country, punk; I think they're all kind of the same. It's basically the same three chords and you try and put some words over it that sound fresh or interesting to you," he says. "I think anybody who spends any amount of time listening to rock and roll or punk rock — eventually it's going to lead them down the road to the country music.
"I think that Hank Williams is the same as the Ramones. All his songs sort of sound the same, but they're all totally awesome; just like the Ramones."
Spaghetti also scoffs at being a "retro" band by sheer virtue of sounding more like classic rock and roll than most modern acts. To him, bands attempting to live in the past — stylistically — are a joke.
"I always think these new rockabilly bands are doing something kind of stupid. Why not just make something that sounds current?" he says. "I always write songs that I think are current, but I guess they come off sounding a bit retro."
Spaghetti attributes the general lack of successful "old school" rock acts to modern artists getting up in their own heads, trying to be too smart.
"Obviously we kind of pretend to be more stupid than we are, because I like to write about simple, remedial things. But these are the same things every good movie ever made has been written about: liquor, women, drugs, and killing. What we're doing is kind of timeless."
It's that spirit of simplicity and carefree living that has allowed the band to continue rocking after more than 20 years. Survival in the music industry, he says, is about defusing tension and keeping egos in check.
"You can't take things too seriously. It's just rock and roll music after all. We're not curing cancer or saving the Earth, we're just out here entertaining people. You gotta keep all that in perspective to enjoy it."
And while it's a party 99 percent of the time with the Supersuckers, one thing the band did take a stand for was the West Memphis Three: three young Arkansas men who were wrongly accused of murder and released from prison earlier this year after serving over 18 years. In 2000, Spaghetti organized a benefit compilation, Free the West Memphis 3, and held multiple fundraisers to help with their legal bills. When the West Memphis Three were finally released this year, it was cause for celebration for Spaghetti.
"I can't believe they're actually out. In fact, Jason Baldwin [one of the three] came over to my house and had dinner with my family and we went and played poker at this regular poker night I have in Seattle. So it's been great."
Despite the group's projected image of pure rock machismo, years of putting out albums and being road warriors has given the Supersuckers a very distinctively un-rock and roll trait: consistency.
"We're still hungry. We feel like we still have good music in us and feel like we have a lot to prove still, especially now that we've been doing it so long. It seems like there's always a reason not to do it, and that alone keeps us wanting to do it even longer."
Not only does Spaghetti not predict the end of the Supersuckers, he doesn't expect it to happen. Ever.
"I feel like there's no expiration date on what we're doing."
The Supersuckers play with Geoff Johnson and His Model T Jesus • Fri, Dec. 16, at 7 pm • Red Room Lounge • $12 • 21 • redroomloungespokane.com • 838-7613