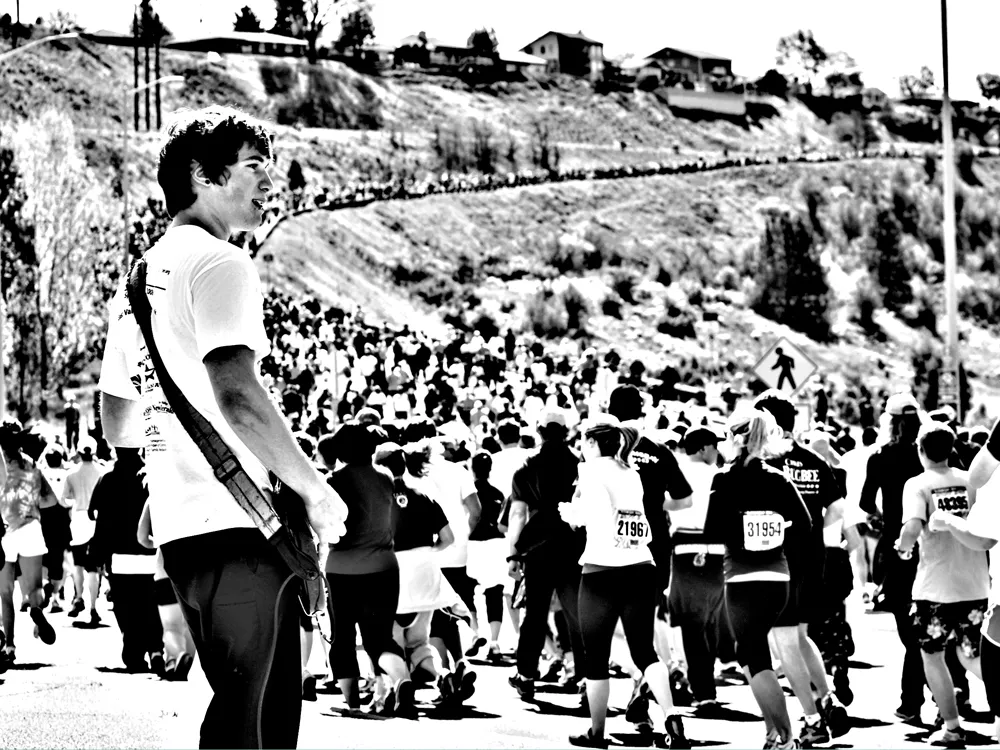 There are few rules for Bloomsday participants to abide by, many of which should go without saying. Like, no roller skates or no dogs. It is called a foot race, people, and they mean it. 
But one not-so-obvious rule: no headphones.
Leave your iPod or bright yellow Sony Walkman at home, Bloomies. It is contraband.
Because when you've got Mr. Jon Bon Jovi yelling about Tommy and Gina in your headphones as you're hauling your ass up Doomsday Hill, you might not be able to hear the emergency sirens behind you. Or the zombie apocalypse running at you from the flanks.
More practically speaking, you won't be able to hear the musicians — everyone from accordion players to punk rockers — that will dot the Bloomsday course. There are 32 of them from starting line to finish line.
Here are five you definitely need to slow down for.
Cathedral Choir of our Lady of Lourdes
On Riverside at the church steps
Just blocks after the race starts, you'll hear the gentle trilling of the beloved Catholic cathedral's choir. We don't expect them to be singing "We Are the Champions" or anything, but they should get you in the zone for the rest of the race.
Tim Blood & the Gutpanthers
Government Way & G Street
As you're scaling the hill coming out of Peaceful Valley — cursing whoever talked you into doing this — you'll be greeted by the fantastic punk rock sounds of Moscow-based punk band Tim Blood & the Gutpanthers. It's young and edgy, grounded in this sort of permanent summertime sound. Get a preview of them as you run by: They'll be playing The Inlander's giant music festival on June 1.
Crimson Resolve
Government Way and Sand Ridge Ave.
Around mile three, you'll start hearing the lilting vocals of Crimson Resolve's singer, Ronni Coleman — the Spokane version of Evanescence's Amy Lee. The locals play their own brand of alternative rock — masculine guitars alongside Coleman's female vocals. When the band kicks it up a notch, it'll be exactly the kick in the butt you need to get psyched for the upcoming Doomsday Hill.
Rhythm Envy
Fort George Wright Dr. at the Unitarian Church parking lot
Back again for another year, this "precision bucket band" took second place in the minds of Bloomies for the "best entertainer" title in 2010 (behind longtime favorite Small Town Nation). Their location — in Mile 3 — is key: Like a drum corps leading troops on the battlefield, the simple sounds of drumming at this point in the race might be the power you'll need to keep you going strong.
Spocon
Summit Blvd. and Lindeke
OK — you're in Mile 6. Things are starting to suck pretty badly. But then you see people in costumes who don't seem to be running the race. Is that Boba Fett? Why yes. Yes, it is. The folks behind SpoCon — Spokane's pre-eminent comic, sci-fi and gaming convention — are there to make you smile, cheer you on at this tough part of the race, and keep you moving with their DJ's handpicked tunes.