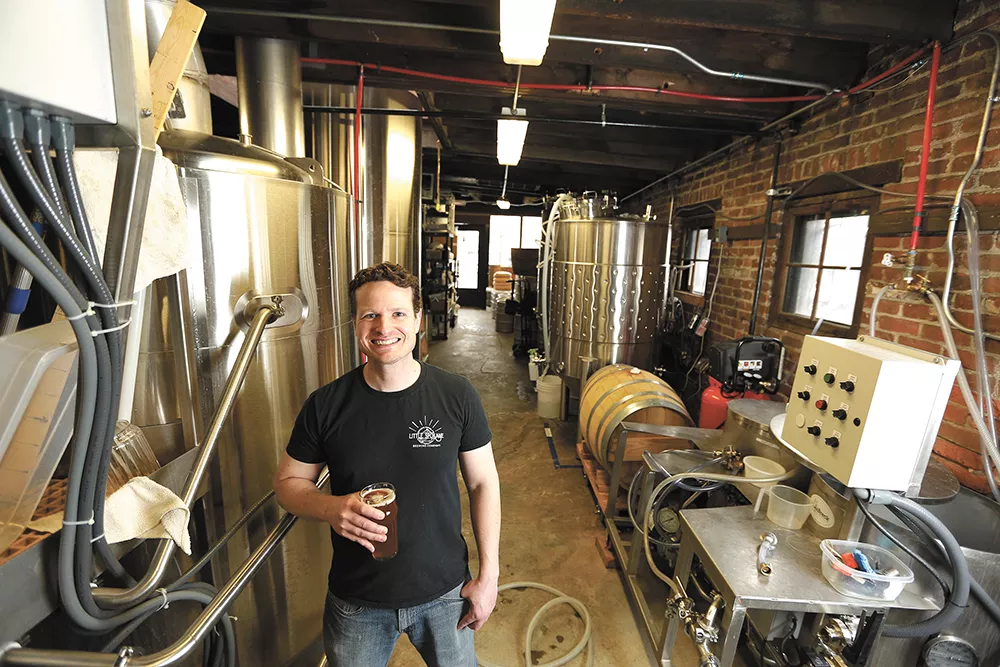 When it comes to brewing beer, Joe Potter is a one-man show. In addition to being the sole owner and head brewer of Little Spokane Brewing Company, Potter also works as a bartender at the Steel Barrel Taproom in downtown Spokane's west end, where most days he's found serving pints of his own brew to thirsty patrons.
Little Spokane Brewing opened as part of Spokane's Incubator Brewery in the summer of 2016. Housed in the historic Luminaria building at 154 S. Madison, Potter shares a brewery space with Young Buck Brewing and the soon-to-open TT's Old Iron Brewery. The breweries within the Incubator share a 7-barrel (roughly 240 gallon) brewing system, with each brewery having its own dedicated fermenter and brite tank. (Zona Blanca shares the building as well.)
One of only a few in the country, the Incubator aims to allow new breweries like Little Spokane grow their brand while keeping startup costs low through the shared brewing space and equipment. Potter says there are other perks to the co-brewing environment.
"Working with another brewer in the same brewery and facing the same challenges I do, we end up helping each other out," he says. "We bounce ideas off of each other."
Once the beer is ready to be served, it finds a place among the 25 beer taps in the adjacent Steel Barrel Taproom.
Potter's brewing roots began, like so many others, as an avid craft beer drinker. While attending Washington State University in the early 2000s, he found himself searching for alternatives to the college town's ubiquitous macro-lagers.
"I was always looking for better beers. I remember when Stone's Imperial Stout came out," he recalls. "It was the first Imperial Stout I had ever had, and I was like, 'Wow... so that's what a beer can taste like.'"
This craft beer awakening led him to soon pursue homebrewing, which presented its own challenges.
"I remember someone got me a homebrew kit for Christmas. So I brewed it and the beer came out terrible. But with my personality, I asked 'What went wrong?'"
Potter's curiosity about making beer at home spurred him to join the local Inland Brewers Unite (IBU) homebrew club in 2009, and he soon found himself elected president of the organization. It was also there that he met fellow brewer Cameron Johnson, now the owner of Young Buck Brewing, and real-estate developer Chris Batten. Several conversations (and brews) later, Potter left his office job to partner with Johnson and Batten as part of the Incubator project. And thus, Little Spokane Brewing Company was born.
"I had spent a lot of time hiking around the Little Spokane River," Joe recalls when asked about the genesis of his brewery's name. "I wanted something that was local to Spokane, and I liked the imagery of the river."
Little Spokane's beers and brand reflect that imagery. The Indian Painted Rocks Red Ale is named after the historic landmark near the river, and Sun Child IPA is a reference to Spokane's Salish meaning, "children of the sun."
Even though the region's craft beer scene remains in the midst of a major boom, running a small brewery in Spokane isn't without its challenges, Potter says.
"Selling beer is hard work. There are limited places your beer can be put on tap, and even if your beer is good, there's a lot of great beer out there. It's not a given to be a craft brewery anymore."
Yet Potter is appreciative of the places that have chosen to put his beer on tap, and he's received positive feedback from local pub owners and drinkers alike. As a new brewer on the scene who's still trying to get a feel for the beer-drinking climate of Spokane, Potter also isn't afraid to try new things.
"I've been thinking about doing some oak-aging of my beers. I also plan on using my Galaxy Pale recipe as a model to play with; use different yeast, different hops, or maybe different processes, and just see what I can do with that," he says.
Find Little Spokane pouring at beer joints like Manito Tap House and The Blackbird. Currently, the brewery has four brews on tap at the Steel Barrel: Sun Child IPA (7.1% alcohol by volume, 77 International Bittering Units), Dark & Lovely Oatmeal Stout (6.2% ABV, 55 IBU), Galaxy Pale Ale (5.5% ABV, 40 IBU), and the Backbone ESB (5.5% ABV, 38 IBU). There's even a chance that the guy who brewed the pint you order is the same guy handing it to you across the bar. ♦
ABOUT THE AUTHOR: Adam Boyd is an award-winning homebrewer, assistant brewer at Iron Goat Brewing, and host of "Good Brews" on KYRS Community Radio. If there is something in this world that interests him more than beer, he has yet to find it; Boyd spends his non-beer time sleeping... and dreaming of beer.
---
Short Pours
A quick Q&A with Little Spokane Brewing's Joe Potter
INLANDER: What's your favorite beer to brew?
A stout. It's a very flexible style... and when you're doughing in, it smells amazing.
What's your favorite beer to drink?
As much as I hate to be cliché, hoppy pales and IPAs. Bale Breaker Brewing's Field 41 Pale is a go-to beer for me.
When you aren't brewing/drinking beer, what are you up to?
I'd like to think I'm musically inclined, so I like to sit around and play guitar or trumpet. Or just getting out and enjoying the outdoors.