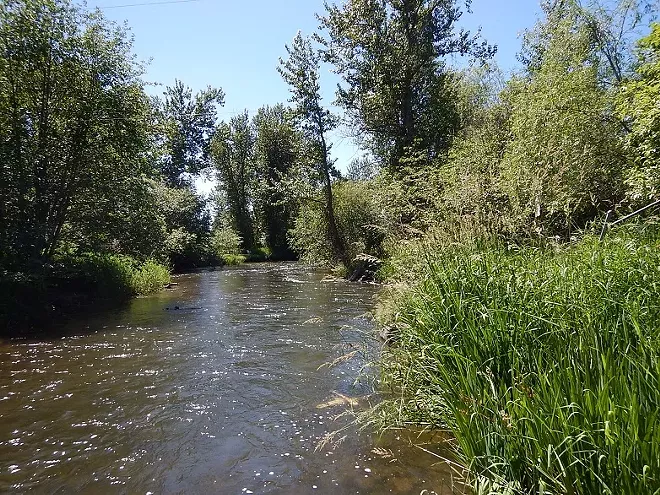 A
s the hottest part of summer arrives
, stream flow rates in the Little Spokane River are dropping below the minimum amount needed to protect fish and senior water rights users, so the state has warned some users they might have to curtail their water use.
The state Department of Ecology sent letters to 172 junior water rights holders who pull water from the Little Spokane for irrigation in parts of Spokane, Stevens and Pend Oreille counties last week, letting them know they might have to restrict their usage through the rest of the irrigation season if water levels continue to drop. Many of them use the water for irrigating lawns, not for agriculture, according to Ecology's Eastern Regional Office.
The notices went out for the first time since 2015 because flows in the Little Spokane at Dartford have recently dropped below the minimum of 115 cubic feet per second, a level the state has determined is necessary in summer to protect the interests of most water users and the health of the watershed.
Curtailments hadn't started as of Tuesday, the second day in a row that the flow rate at Dartford dropped lower than 115 cubic feet per second, because the state bases it's decision to restrict usage on a seven-day average, explains Ryan Lancaster, spokesman for Ecology's Eastern Regional Office.
"They're really trying to base this decision on what the stream is doing over the course of about a week or so," Lancaster says. "If it dips down and goes back up again within a few days, they wouldn't want to make a decision to restrict based on that."
The water rights users were given a hotline number they can call for the most up-to-date information on whether and when they'll be allowed to pull water from the river.
While the river has had healthy flows the last few years, typically once junior water uses are curtailed, those restrictions will last through the end of the irrigation season, typically toward the end of September, Lancaster says.