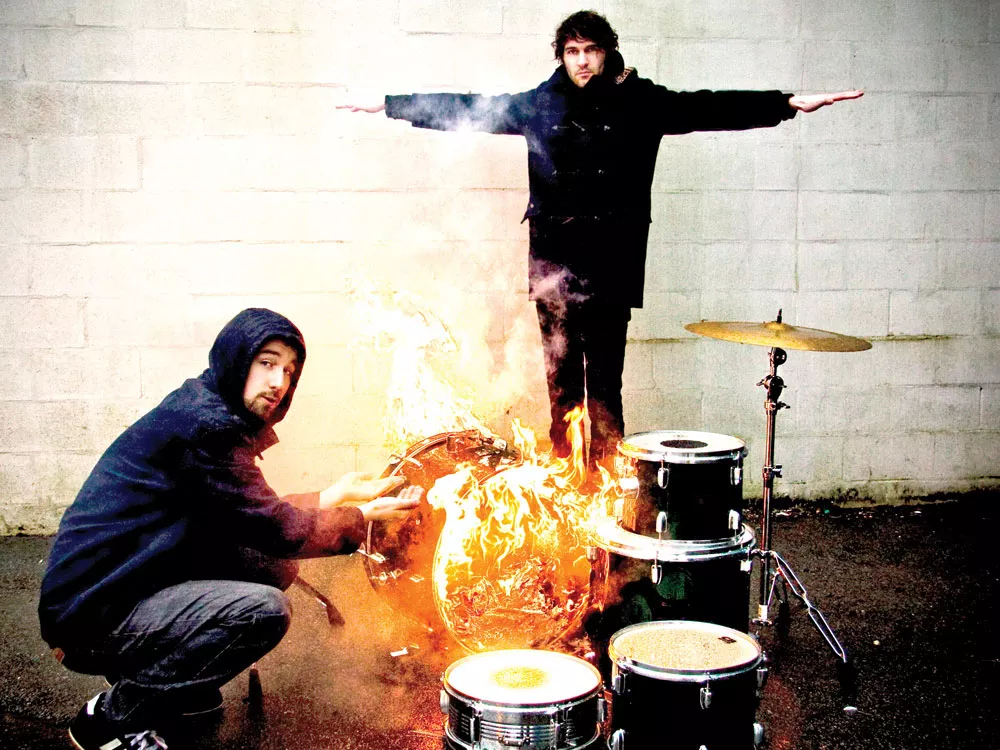 There are really two types of bands: record bands and live bands. Japandroids are the latter, and they aren't ashamed to flaunt it.
The Vancouver, B.C., two-piece barrages listeners with a wall of hard rock, despite its meager size. As drummer David Prowse pounds away on the skins and cymbals, guitarist David King wails away on his guitar with its signal split into two different amps: one for high harsh sounds and one for the lower-end bass-like sounds. Both men share vocal duties.
The signal-splitting thing came after King got tired of hearing people say his guitar was too bright, noisy and abrasive, and the band really needed a bassist. So he became both — and the result is a wave of noise that holds up both in the small clubs and the large outdoor festivals. It's a sound that has drawn between 800 and 1,000 people to see Japandroids at Seattle shows (according to RSN Production's Dale Strom) and landed the band a performance this past January on Jimmy Fallon.
No one talks about that bright guitar anymore. And for King, satisfying the people who come out to see his band is always priority No. 1.
"Whenever we're writing something or recording something, the first thing we're always thinking of is, 'OK, now we have to make sure we can do this live even better than how we're recording it.'" That commitment to delivering live was partially shaped by being let down by concerts they've seen.
"It's always disappointing as a music fan to get really into a record and then go see a band live and realize that they have such a layered and produced and lush record that they didn't even bother making an effort to try and pull it off live, or they couldn't possibly, so they kind of gave up," King says. "We just didn't want to be one of those bands."
This year they'll release five 7-inch singles (two are out now) as a way to give fans new music while not having to take time off the road to record. They cram in recording sessions on off-days.
King knows being a two-piece is a "major limitation," one the band struggles with all the time when trying to write new music.
"We didn't plan on being a two-piece band, and we never really wanted to be one. We don't have a bass player, we don't have a real singer," he says.
This stemmed partially from a fear of being typecast, though King thinks the band has now moved safely beyond that threat.
"We don't want to just sound exactly like the White Stripes, or the Black Keys, or the Kills, or Death From Above 1979, or all these other great two-pieces," he says. "It just took us a few years and a few releases and a few shots at writing songs to find something that worked for us."
While it's frustrating for the band to occasionally be stymied by a vocal line neither member has the range to sing or an idea for a bass line, they have learned to embrace their limitations. In a way, King thinks these impediments have helped force them find their own signature sound.
As King puts it, the goal is to be a "safe bet" band, one that "never, ever, ever phones it in," no matter what the situation is. It all stems from the bands Prowse and King listened to growing up.
"If you decide with your friends you're gonna hop in a car and drive all day to see this band, well it's a safe bet that it's gonna be worth it," he says. "We wanted to make sure our band was like that. We wanted to make sure that people always knew that no matter what show we were playing, it was going to be worth going. Gonna be as intense as we could possibly make it that night."
Japandroids plays with Please Draw In Me and Belt of Vapor at A Club on Thursday, Sept. 9, at 7:30 pm. Tickets: $10-$12. Allages. Visit http://www.ticketswest.com or call (800) 325-SEAT.