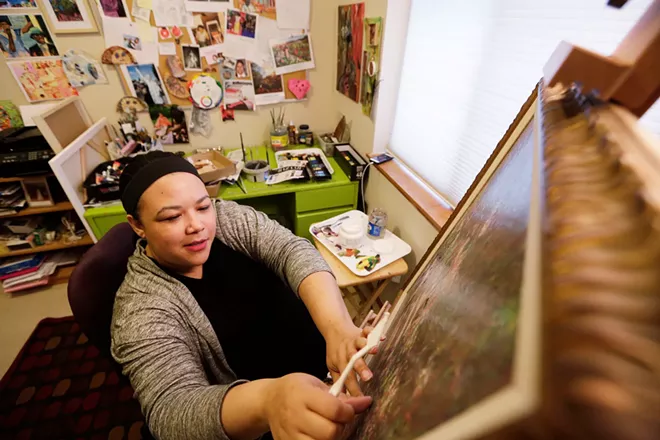 When browsing the home decor section of a thrift store, typical findings aren't anything to call home about — a high school student's discarded photography final, a canvas depicting a nondescript landscape and, if you're lucky, a muted pastel painting adorned with a Bible verse, like "Love is patient, love is kind."
In a recently opened show at the Liberty Building, in its mezzanine gallery space above Auntie's Bookstore, participating artists were challenged to create a new piece using artwork like this, salvaged from area thrift stores.
Traditionally, artists begin a new work with a blank canvas. They pull out their paint and bedeck a stark white background with color, creating something out of practically nothing. In this instance, however, each artist stretched their creative muscles and gave new life to their thrifted finds while also keeping some of that original piece intact.
For local artist Tracy Poindexter-Canton, the search was the easiest part.
"I went into Northwest Christian Thrift Store and just started browsing," Poindexter-Canton says. "I found this painting right away. It really called out to me — spoke to me."
The painting resembles classic impressionism era works — think Monet, Renoir and Matisse. A dirt path in the middle of the canvas meanders into a lush garden full of shades of green and pink. The closer the viewer gets to the painting, the more muddled the colors and shapes become. The further away the viewer stands, the more individual flowers and leaves start to make themselves known.
"Immediately I knew what I wanted to do with the piece," Poindexter-Canton says. "I mostly work in mixed media and collage, so I thought about adding in some people to the foreground — I almost always have people in my work."
Poindexter-Canton's usual art is vibrant with color, stacked with layers of texture, and often features African American figures. In the store's music section, she found a vinyl record featuring The Platters, an R&B/Soul group from the 1950s.
"I think it's going to be really fun to change their outfits," Poindexter-Canton says. "I could even change the background. The possibilities are endless."
Poindexter-Canton's coworkers at her day job at the NorthEast Washington Educational Service District are well aware of her love of mixed media collage, often supplying jewelry, beads and other knickknacks to incorporate into her art. One coworker brought her a vintage wall decoration featuring a tutu-clad ballerina to use for the exhibition.
"A lot of my coworkers come to my shows," she says. "And they notice that I'm using all of the materials they brought me. It adds a layer of sentimentality to my work that I really enjoy."
When Spokane artist Terri Griffin began brainstorming ideas for the show, she started by asking herself the question: "What do I want to say?"
The thrifted art Griffin transformed began as a neon pink, blue and orange, four-panel canvas featuring symbols representing peace and love in each section: a hand holding up the index and middle finger into the universal "V" gesture, the word "love," and the written peace symbol.
"First off, I love pop art," Griffin says. "When I decided I would be participating in this show, I went to Goodwill and brought this piece home because it reminded me a bit of Andy Warhol."
The canvas sat in Griffin's home studio for months before inspiration struck.
"It has a bunch of iconic images — things that have really significant meaning to a lot of people," Griffins says. "I was like "What if I juxtapose a toy soldier on top of that and showcase two opposite icons on top of each other?"
Griffin began the transformation by printing out four images of a female toy soldier with a laser printer and placing them on top of each symbol. After applying layers of paint to dull down the neon colors underneath, she outlined each soldier with metallic silver acrylic paint, making the soldiers seemingly pop off the canvas, creating dimension in a unique way.
When asked about the meaning behind the piece, Griffin is reluctant to divulge exactly what led her to juxtapose symbols of peace with symbols of war.
"Personally, I really care about what my work means to you, the viewer," she says. "Art is meant to start a conversation. I don't like to divulge the whole meaning."
Griffin mentions that participating in this show has been one of the more liberating experiences of her art career.
"I got my fine art degree in 1995," Griffin says. "When you've been in the game that long, you're expected to kind of stay in your 'lane,' if you will. The art world won't take you seriously if you divert from the norm."
Griffin's "norm" is realism. The art she most often creates are landscapes of the Inland Northwest, scenes from her travels as part of a military household and portraits of animals. But, she dabbles in illustration and glass art, showing that she's multifaceted and proud of it.
"The thing that's become most important to me is keeping art relevant to the community," Griffin says. "Artists have the power to connect people through projects that we participate in. Artists always have something to say, so there's always something to be heard through every piece of art." ♦
Thrifted Art Show • Through Feb. 25, open daily from 9 am-9 pm • Free • The Liberty Gallery (second level; above Auntie's) • 203 N. Washington St. • potteryplaceplus.com