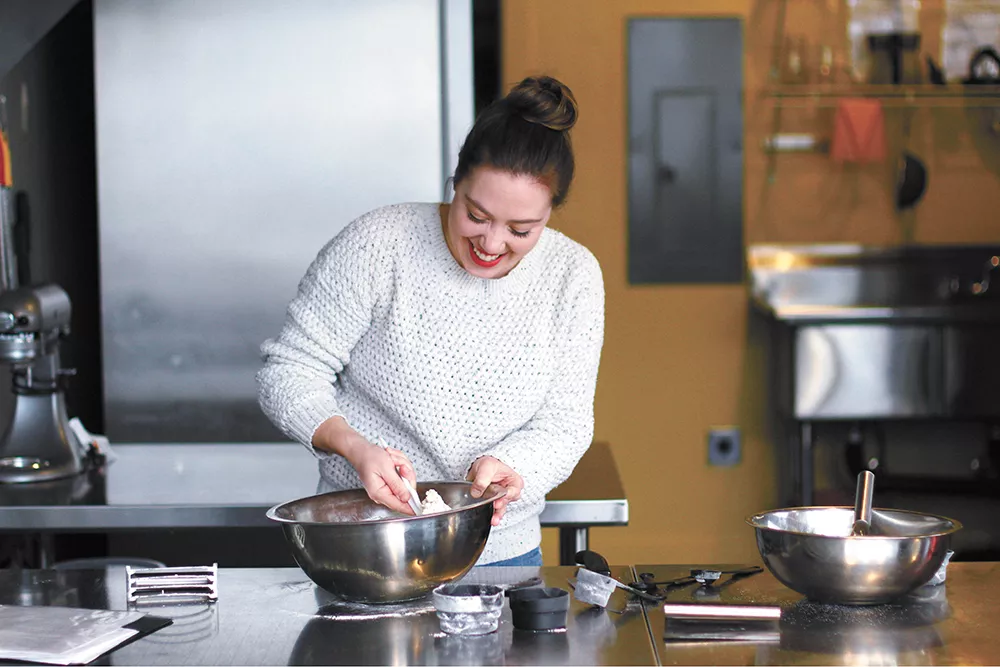 It's right there in the name — Callie Johnson bakes everything with an extra dose of love.
Johnson's Made With Love Bakery has been a dream since sixth grade. On June 29, that dream became a reality when the bakery opened its doors after selling at farmers markets and taking special orders for four years.
"The name is called Made With Love because I just want everybody to know that they have intrinsic worth and value and that when they come in, they're seen and known," she says.
Johnson has been baking for as long as she can remember. She grew up baking with her grandmother and mother, for her grandfather and other residents in his nursing home, for the movers who packed up their home when her family moved to Spokane many years ago, and for her high school classmates.
Baking for others is what Made With Love is all about, Johnson says, and making people feel at home when they walk in the bakery's door.
"That's part of wanting to have the space, too, is a physical place for people to come in and experience that along with eating something delicious that has been made for them with care and intention," she says.
Pies are Johnson's specialty. Customers can order any flavor of whole pie ($20-$28) from peach to pecan, apple to cherry. With a crisscrossed lattice crust on top sprinkled with sugar, Johnson says she sometimes feels like an artist when she pulls them out of the oven. Pie by the slice in the flavor-of-the-week ($5) is also available. When picking the weekly flavor, Johnson focuses on using the freshest ingredients she can, while creating something fun and new.
Part of putting love into her goods comes from the ingredients she uses. Everything at Made With Love is made from scratch — no mixes or fillings allowed. The flour used is from a farm in Davenport, and all of the fruit is from orchards in the Spokane area, including Sunset Orchard and Piper Farms.
Besides her pies, Johnson's Pop-Tart-inspired hand pies ($4) are a popular item. Flavors are apple pie, triple berry and brown sugar cinnamon, all topped with icing. Made With Love also offers cookies of all kinds ($1.50-$3), cupcakes in traditional and specialty flavors like German chocolate and strawberry champagne ($2-$3.50), uniquely decorated whole cakes ($25-$45), pecan and apple pie bars ($2.50-$3), and decadent scones including white chocolate cranberry and cinnamon ($2.50-$3.50).
The opening of Made With Love has been a long time coming, Johnson says. After graduating from Gonzaga University in 2015, she started the business and began selling at the Emerson-Garfield Farmers Market and Perry Street Thursday Market. She was also filling special orders, all baked out of her home kitchen.
At that point, Johnson knew she needed to get into a commercial kitchen so she could begin selling wholesale. Instead, she took over the lease for the West Central Spokane space previously used by Batch Bakeshop, which closed earlier this year.
"I was like, 'Well, I want a shop eventually, why not just jump and do it,'" she recalls.
Johnson immediately began building up wholesale accounts with local coffee shops, including Indaba, Tom Sawyer, Pathfinder Cafe and Vessel. She told herself she'd open the doors for retail sales by the end of June, and did.
Currently Johnson is juggling those wholesale accounts with special orders, farmers market inventory and open shop hours, all reasons why Made With Love is currently open only three days a week. In the future, though, Johnson hopes to move away from selling at farmers markets and instead open the shop on those days.
Since the debut of Made With Love Bakery, Johnson's been really happy with its success. She sees customers returning regularly, and rarely has many goods left by closing time.
"I just want [people who] come in to feel like they're at home and feel well taken care of," Johnson says. "I want them to know that I put a lot of care and love into what I make." ♦
Made With Love Bakery • 2023 W. Dean Ave. • Open Tue, Wed, Sat 7:30 am-2 pm • mwlbakery.com • 590-7623