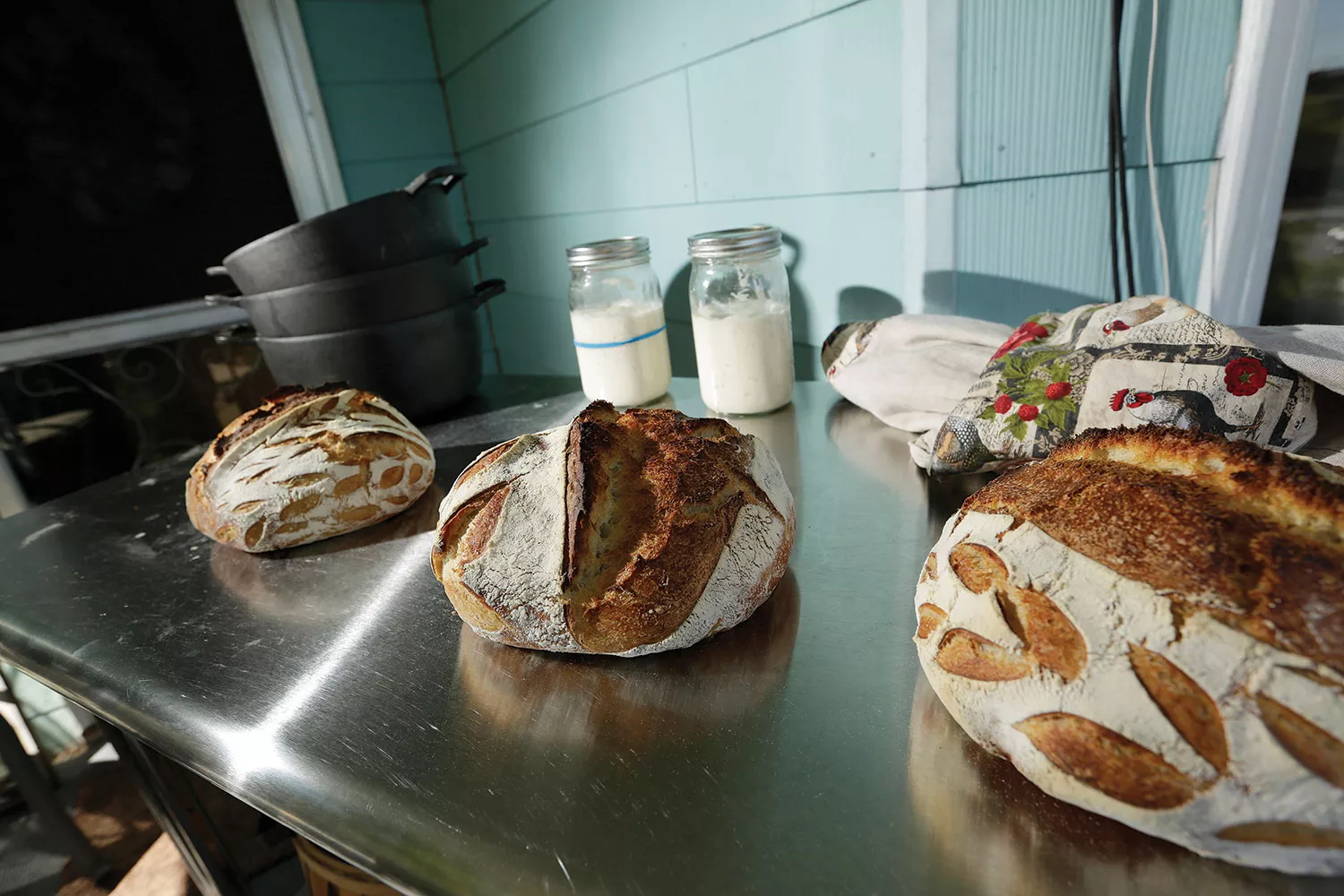 Everybody's baking these days.
Making a crusty, pillow-shaped loaf of sourdough bread that looks as good as it tastes quickly became the ultimate, Instagram-worthy achievement for many aspiring home bakers when the coronavirus pandemic began forcing people to stay home early this spring.
While maintaining a live sourdough starter — a runny mixture of water and flour that hosts a colony of wild yeast — to make picture-perfect loaves may seem like a daunting task (after all, it's a living thing that requires care and nurturing, like a pet!), local experts assure us it's less complicated than we might think.
"Bread is simple," states Lucky Lady Bread owner Stacie Kearney, who launched her pop-up bakery in Spokane last year after six years perfecting her craft.
"Social media people try to make it look inaccessible, but bread is not something hard," she continues. "It just takes a few ingredients: flour, salt and water. That's all."
Lately, the Spokane breadmaker has been sharing helpful resources for budding breadmakers on her social media pages (search Lucky Lady Bread on Instagram and Facebook), including recipes and tips on how to maintain a live starter. Her favorite bread recipe recommendation is the "Best Sourdough Bread Recipe" from acouplecooks.com.
"The bread I bake and share with folks is what I want them to start to make," she says. "I like the throwback of traditional bread, the things our great grandmothers ate."
Kearney uses a sourdough starter named "Carl" that dates back to an 1847 Oregon Trail crossing. After its westward journey, the living yeast was passed down for the next 150 years in the family of its namesake, Carl Griffith. Since the 1990s, the hardy starter has been shared with more than 54,000 bakers around the world through the Oregon Trail Sourdough Preservation Society, online at carlsfriends.net.
"I started working with their preservation society to share the starter, and they've been inundated with orders" since the pandemic hit, Kearney says. "I'm continuing that culture and the history my starter has, to preserve and share with people around the world."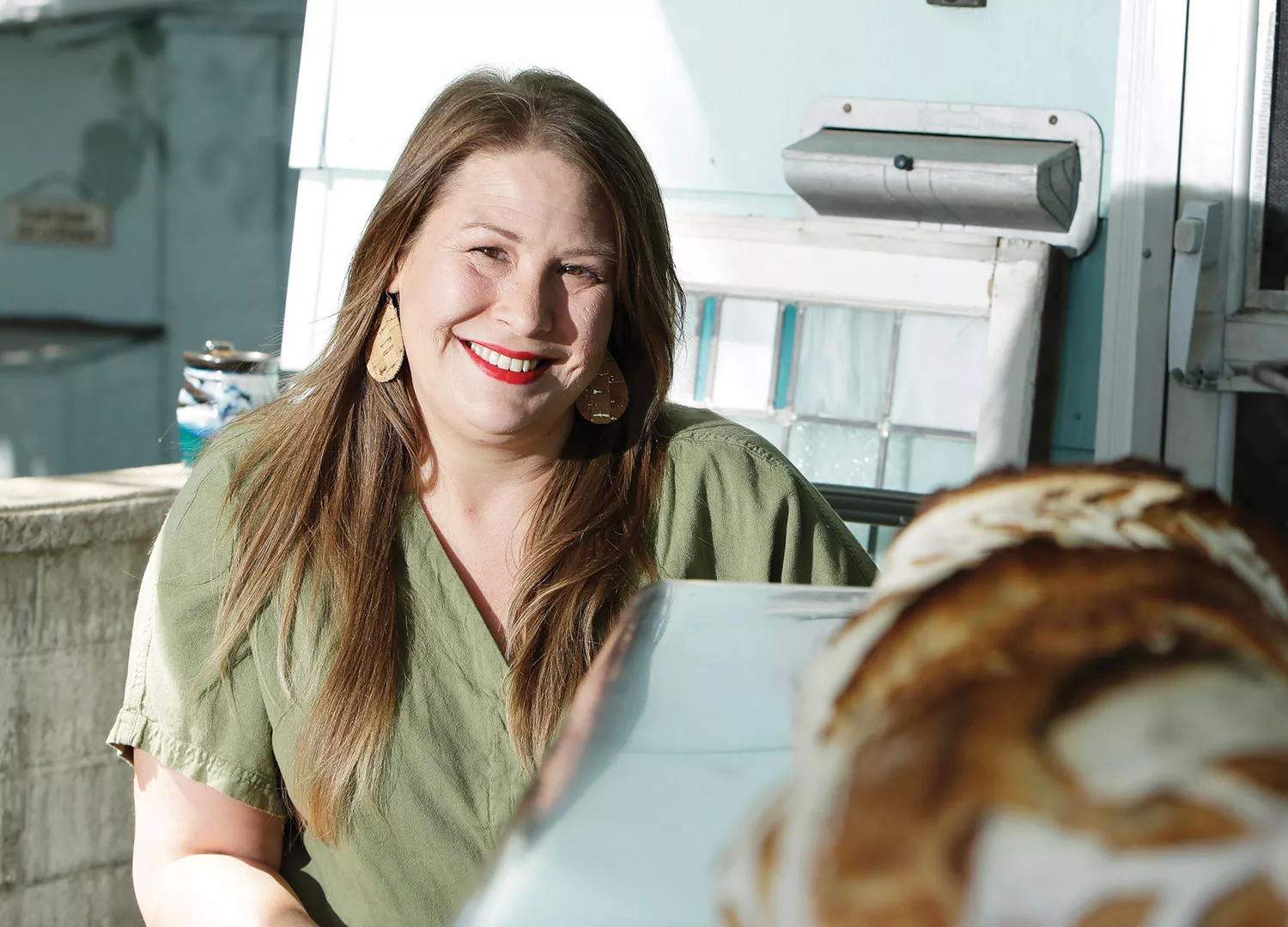 Before the coronavirus pandemic hit and the subsequent "stress-baking" trend took off, Kearney says she and other preservation society members were filling between 30 and 40 requests a week, which have since ballooned to as many as 300. Anyone interested in getting their own piece of "Carl" to bake with can fill out an online request for a dehydrated sample sent by mail along with instructions to revive the yeast colony with water.
Locals can request a tablespoon of "Carl" directly from Kearney, who's been doing porch pickups for both free starter samples and preorders of her loaves ($8 each) from her West Central home. She accepts direct requests for starter through social media, and regularly posts announcements when there's extra to be shared.
She estimates she's given away 700 tablespoon-sized samples of the sourdough starter to Spokane residents since mid-March.
"I decided, why not give it to folks in town, because yeast was becoming unavailable and I thought it was a good way to bring some joy," Kearney says.
"I am constantly getting tags on Instagram of people sharing their first loaf of bread and their starters growing, and how much joy they have doing this with their children," she continues. "My favorite part is seeing what everyone is making."
Once you have a living yeast colony in hand, regular upkeep is required. Kearney advises home bakers who aren't producing a lot of baked goods on a weekly basis to keep their starter in a large Mason jar in the refrigerator. The cool environment slows down the yeast's growth, and means it only needs to be fed fresh flour and water once a week.
At Culture Breads inside the Grain Shed co-op in South Spokane, baker Shaun Thompson Duffy is also happy to give away the bakery's starter to customers who ask.
"There has definitely been a big uptick in people trying out baking bread, which is great," Duffy says. "Lots of people have been coming in asking for tips, so I'll loan out a bread book and I always tell them to email me if they have questions or problems."
Home bakers can purchase the same freshly milled, ancient grain flour used in Culture Bread's slow-fermented loaves, including its turkey red wheat, spelt and rye. One kilogram (about 2.2 pounds) bags of flour are $7 each and can be preordered online.
After your starter has multiplied enough to be able to make a loaf (the amount needed varies by recipe and the hydration of your starter, but is usually around 1 tablespoon), Duffy says it's all about "time and temperature."
"Ambient temperature is the biggest overlooked factor," he says. "Temp your water and dough with a thermometer. If a recipe says to rise in two hours and it doesn't do anything, it's because it's too cold."
"Water is the best way of keeping the dough at a proper temp, and proofing it in a nice little tub with a lid to keep that heat in," he adds.
Both Duffy and Kearney say that bakers who want to dip their toes into making sourdough bread for the first time don't need to rush out and buy special equipment, like proofing baskets, although a kitchen scale and thermometer are helpful to have.
"With a bowl and kitchen towel you're good to go," Duffy says.
When it comes to books on the subject that offer a deeper dive into the process, Kearney recommends Bread Baking for Beginners by Bonnie Ohara. Duffy likes Ken Forkish's Flour Water Salt Yeast, as well as Jeffrey Hamelman's Bread: A Baker's Book of Techniques and Recipes.
"Bread is easier and simpler than we really think it is, and you should never be afraid to try it," Kearney says. "If you just experiment and keep practicing, you'll end up making the perfect loaf."