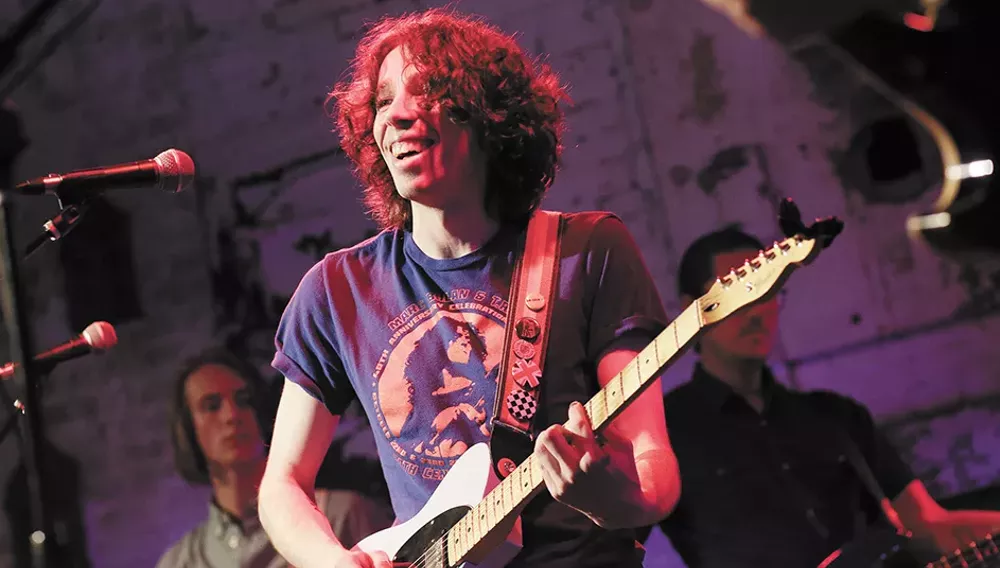 In the living room of Matthew Hughes' small second-floor apartment, the five guys in Atari Ferrari are setting up their makeshift practice space.
Their audience this evening is the collection of framed pictures of Hughes' musical heroes — Joni Mitchell, Kate Bush, David Bowie, Chrissie Hynde of the Pretenders — staring back at them from all directions. In the corner is a small shrine to his idol Marc Bolan: A pair of thigh-high leather boots that the T. Rex frontman actually wore are illuminated under a hanging lamp, shining on them like a spotlight.
They pick up their instruments and check their levels. "Did you warn your neighbors?" someone asks Hughes. He did not. So they decide on a song that's not too loud — it'll be a quick practice anyway — and light into the moody, '80s new wave-inspired pop of "El Camino." They follow that up with a newish track called "Mad Man," which opens with strummy acoustic guitar beamed right out of "Space Oddity."
"We haven't played in a while," drummer Robert Shugert says as the final note fades out, "but we sound pretty good."
And it's true. Atari Ferrari has been playing since 2016, and in that time they've become a well-oiled pop machine. Its members first performed together, fittingly enough, at a Bowie tribute show, and the chemistry was so immediate that they kept getting together. Their camaraderie goes back a ways: Frontman Hughes is a former student of guitarist Eric Woodard, who teaches at Lewis and Clark High School; childhood friends Woodard and Shugert previously played with the Camaros, and they often shared bills with bassist Scott Schultz when he was a member of Myth Ship.
Hughes is Atari Ferrari's primary songwriter, though this is the first real band he's been in. Since he was a teenager, he's been recording glam-inspired music with his solo project Automatic Shoes (that moniker comes from a lyric of the T. Rex song "Telegram Sam"), releasing more than a dozen EPs and full-lengths but hardly ever performing live.
"I'd been waiting to have my T. Rex moment for 12 years," Hughes says with a laugh.
Those Automatic Shoes albums are made up primarily of covers and first-draft songs that Hughes wrote quickly and recorded by himself. Being in Atari Ferrari has challenged those quick-and-dirty instincts, he says: His bandmates might push back on a melody that isn't quite working, or encourage him to rework a song's structure, and they're also dusting off tunes that Hughes abandoned years ago.
"They're songs that I love but never had the balls to play in front of anybody, or were halfway finished," Hughes says.
"I think Matthew used to write a song and then say, 'I'm done,'" Woodard says. "And now I think Matthew writes something and says, 'Here's a draft. Let's think about how to improve this.' I think he's been more thoughtful about that."
Woodard also contributes songs — "El Camino" is his — but the band is still primarily a vessel for Hughes' material, and a showcase for his ethereal vocals.
"All anybody ever talks about after our shows is [Matthew's] voice," Woodard says, "so whatever we can do to highlight his voice and get out of the way is the most important part."
You might also notice that Atari Ferrari has an intergenerational lineup: It started out as three Gen Xers and a millennial, and then Schultz's 17-year-old son Henry joined the fray earlier this year, playing synthesizers and rhythm guitar.
"It's not something I'm really conscious of," Henry Schultz says of the age gap. "I mean, sometimes I'll be like, 'Huh, I'm in a band with guys who are way older than me.' I don't really think it affects the music that much."
"I've always wanted to draw on the influence of older music, but pick out the influences of modern music like Arcade Fire or Lorde," Hughes says. "So it's kind of natural to play with older people, because it's like I'm from a different generation."
That sentiment is reflected in the band's single "Born in the Wrong Time," the second track on their 2018 album Rebel. It's a bright, catchy song about contemporary strife and the security blanket of nostalgia, and you could easily mistake it for a long-lost Pretenders gem. The song is really Atari Ferrari in a nutshell: It walks a fine line, paying obvious homage to another artist while still sounding like an original creation.
"I will try and cross two or three influences together, because if you just try and sound like one thing, it comes across as [derivative]," Hughes says.
"That's my struggle," Woodard adds. "I start a lot of songs and I'll go, 'That's derivative.' ... I don't want to sound like that other person. I want to be inspired by them."
"You just have to be yourself," Shugert says. "Don't try to play like John Bonham. What would you play? You're just stripping yourself of all artistic identity." ♦
Stone in Love with Moving in Stereo and Atari Ferrari • Fri, Dec. 13 at 8 pm • $20 • All ages • Knitting Factory • 919 W. Sprague • sp.knittingfactory.com • 244-3279