L
ocal students aren't
giving up their fight for common sense gun control.
Following a series of demonstrations in the spring, the local chapter of Students Demand Action is putting on a concert tomorrow (Friday, Oct. 12) at the Bartlett, with Super Sparkle performing. The goal is to encourage adults and students of age to vote in support of Initiative 1639, a gun control measure, says Lewis and Clark High School student
Ellary
Lockwood.
"We wanted to do something for back to school and get people to participate and care about the issue," Lockwood says. "Since voting season is coming up, we wanted to focus it around that."
Lockwood, 17, was among
a group of local students
who helped organize the "March for Our Lives" in the spring. She helped start Students Demand Action Spokane, which has already spent the first few months of the school year advocating for more mental health counselors in schools — and against armed resource officers — during school board meetings.
Karli Ingersoll, co-owner of the Bartlett and a member of Super Sparkle, says they were happy to support the students.
"We wanted to support them and we want to see students getting involved standing up for what they believe in," Ingersoll says. "Gun Violence has become a fear in the daily life of students and their parents. Students standing up and advocating for their own safety in their schools is something Super Sparkle and the Bartlett can wholeheartedly get behind."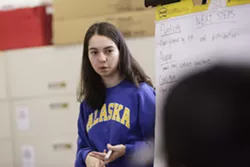 Lockwood says members of Students Demand Action, along with Moms Demand Action, will be at the concert handing out flyers and encouraging people to vote or become politically active. She says they'll also inform people about I-1639, which would enhance background checks and raise the purchase age for semi-automatic firearms from 18 to 21. It would also add a class C felony for gun owners whose firearm is accessed by someone prohibited from having a gun.
"I think it makes our communities safer and our schools safer," Lockwood says. "It really holds responsible gun owners to account for their guns and makes sure they're stored safely and out of reach of people who might use them to harm communities."
But Lockwood says students should come for a good time, too. The concert starts at 8 pm, and there's a cover charge of $10.
"I'm expecting people to come because it's Super Sparkle and the Bartlett," she says.
Super Sparkle + Students Demand Action • $10 • All ages • The Bartlett • 228 W. Sprague • thebartlettspokane.com • 747-2174