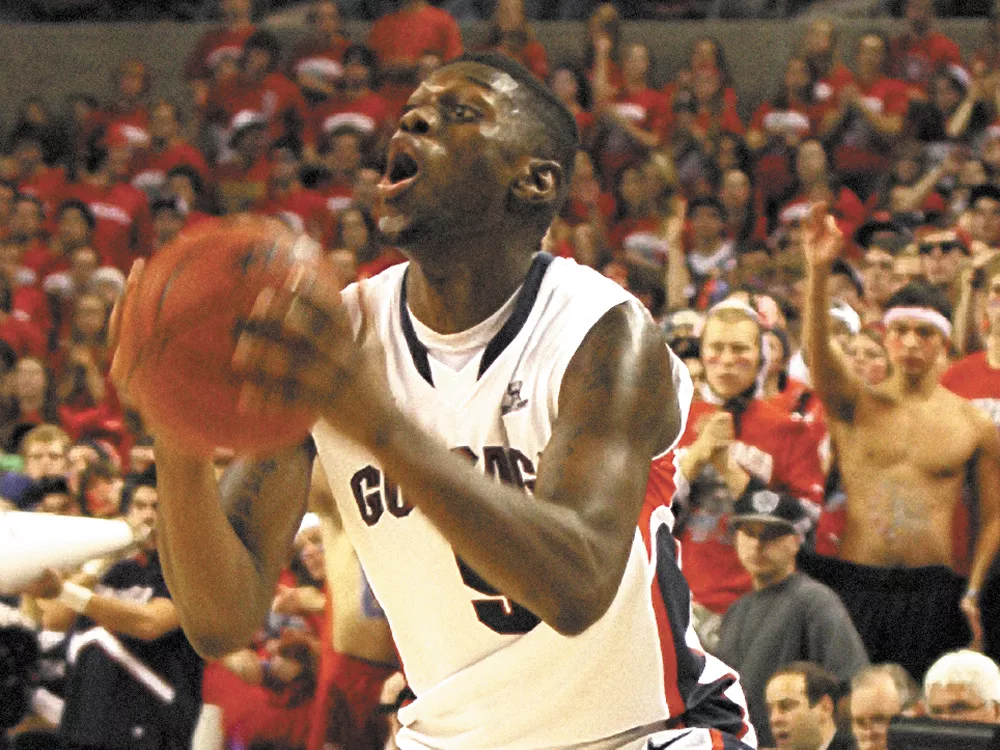 Kevin Pangos glanced at Gary Bell, Jr., and there was venom in his eyes.
"We're not friends," Pangos growled.
What's this? Disenchantment in Basketball Wonderland? A tiff between dogs in the Kennel?
Nah. The Gonzaga basketball family environment is alive and well. Pangos was just being sarcastic. Sorry, but there's no Pangos vs. Bell drama to be found.
"We're good friends off the court," Pangos says. "We hang together a lot … he's the most laid-back guy you'll meet."
Pangos and Bell excelled as freshmen starting guards last season. Pangos led the well-balanced Bulldogs with 13.6 points and 3.4 assists per game. Bell was fourth in scoring (10.4), first in the West Coast Conference in 3-point shooting percentage (47.7) and first when it came to drawing the defensive assignment against the opposition's best guard.
Longtime Gonzaga coach Mark Few, who will stoop to overstatement the very moment the earth stops spinning on its axis, says Bell was the best freshman guard defensively in Bulldogs history.
"He's the best just because of his discipline for 40 minutes," Few says. "He never 'cheats' a screen. He always took the scouting reports very serious. He was just really, really solid in his approach."
The latter comment also applies to Bell off the court. A business major, Bell takes his classwork seriously.
"It's tougher right now," Bell says. "Definitely some of the harder classes I've taken — ever. Accounting, business management systems."
"He's pretty much solid in all facets of his life," Few says. "I don't worry too much about Gary in anything: school-wise, basketball-wise, socially. He's well-grounded. His mom and dad did a great job."
A two-time all-state player at Kentridge High School in Kent, Bell turned down a "who's who" list of college teams — including Pac-12 Conference schools like Washington, UCLA, California and Washington State — to come to Gonzaga.
After a spotty start last season ("He was pressing," Few says), Bell wound up making 26 starts for the 26-7 Bulldogs. Gonzaga made its annual NCAA tournament run and split two games, but Bell and his teammates are still miffed about finishing second to Saint Mary's in the WCC in the regular season and the conference tournament.
"We try to keep that as motivation, because we haven't won anything," Bell says. "Especially our [freshman] class: Me, Kevin and Kyle Dranginis, and the freshmen coming in."
Some media types predict Gonzaga, with four returning starters, will advance to the Final Four. The Bulldogs were ranked 21st and 22nd in the two major preseason polls, and WCC coaches picked Gonzaga to capture the league title.
"We see that (Final Four) stuff, but we just have to take one game at a time," Bell says. "Last year, I think we were kind of looking ahead sometimes. Kind of looking over a team that we were supposed to beat. Came out sluggish. This year, we have that chip on our shoulder."
Bell, who joined Pangos on the All-WCC Freshman team (Pangos also made all-conference), has been named to the Preseason All-WCC team along with teammates Elias Harris, Sam Dower and Pangos.
"I feel like we're a deeper team," Bell says. "We have guys coming off the bench that can possibly start in a lot of [NCAA Division I] programs in the nation. That's going to help us a lot. Play four minutes, then you put in a new five that can do the same things the starting five can."
Bell says he has no personal goals statistically — "I just want to win" — but his stats might make a significant jump this season. Bell took 95 fewer shots (230) than team leader Harris last year, and Bell attempted 90 fewer 3-pointers (107) than team leader Pangos.
"He's more aggressive," Pangos said. "He can definitely score. He'll put up more shots. Defensively, he's still a lock-down defender."
"Hopefully, we can find him some threes," Few says. "I think they'll be harder to come by this year, because I think people will be keying on him."
Bell sounds ready and willing to take on more responsibility.
"One year older, one year stronger," he says. "I definitely feel more confident."
---
THE BIG ONES
The Zags are again playing the sort of tough non-conference schedule fans have come to expect. Some of their WCC matchups aren't going to be cupcakes, either. Here are some key matchups Gonzaga has ahead of them.
Nov. 12 — West Virginia (ESPN)
Nov. 18 — Clemson (ESPN2)
Dec. 5 — at Washington State (ESPNU)
Dec. 8 — Illinois (ESPN2)
Dec. 15 — Kansas State, Battle in Seattle (ESPN2)
Dec. 28 — #19 Baylor (ESPN2)
Jan. 10 — St. Mary's (ESPN2)
Jan. 19 — at Butler (ESPN)
Feb. 14 — at St. Mary's (ESPN2)
Feb. 28 — at BYU (ESPN2)
---
EASTERN WASHINGTON
2011-12 record: 15-17 (8-8 in Big Sky)
Preseason Big Sky Coaches Poll: 4th
Justin Crosgile is new to Eastern Washington University and the whe seems to have one purpose: score the damn ball.
Crosgile, a 5-11 junior who transferred from St. Joseph's University, dropped in 28 points in his EWU debut against WSU on Saturday. To do that, though, the diminutive but lightning-fast point guard took 24 shots. A startling 17 of those came from behind the 3-point arc. But hey, he made seven of those long-distance bombs.
Crosgile's debut performance was impressive by the numbers (or at least some of the numbers), but the Eagles need to gel as a whole if they want to compete in a Big Sky conference that includes a tough Montana team and several other improved squads.
No one else on the team scored in double figures on Saturday, as the team shot just 34.7 percent from the field and made just four of 12 free throws.
Things didn't get any better on Monday night, when Eastern traveled down to Cal State Northridge for a 96-79 thumping. One bright spot, though, was the play of Martin Seiferth, a transfer from the University of Oregon. The 6-10 Seiferth, originally from Germany, scored a game high 27 points, hauled in 17 rebounds and blocked seven shots.
The Eagles need to spread the ball, and they do have some other promising players, including true freshman Venky Jois, an Australian forward whose 6-foot-7-inch frame will be a necessity around the basket. Eastern will also need some production out of the few standouts remaining from last year's lineup, including injury-plagued forward Collin Chiverton, a senior who played only 6 minutes on Saturday and 16 on Monday.
Eastern will be looking to regroup from these two losses, but that will be tough to do when they head down to Saint Mary's on Sunday.
— MIKE BOOKEY
---
WHITWORTH UNIVERSITY
2011-12: 26-4, (15-1 Northwest Conference)
Preseason Northwest Conference Ranking: 1st
Relatively speaking, Spokane's most dominant basketball team does not call itself the Zags, is not on ESPN and you could be a perfectly honorable basketball fan in this city and not even know about them. They are the Whitworth Pirates, and they win a lot of games.
Last season, Division III Whitworth won 26 games under first-year head coach Matt Logie and made it — for the third straight year — to the Division III Sweet 16. This year, the Pirates are ranked 13
th
in a preseason Division III poll and are showing no signs of stopping.
How good are the Pirates? Well, they went to Idaho State University for an exhibition game last week and lost 68-65 when junior guard Dustin McConnell's three-pointer at the buzzer clanked off the back of the rim. That's right, this Division III team damn near knocked off a Division I school. Yeah, Idaho State is picked to finish near the bottom of the Big Sky, but that's still impressive.
In that exhibition, freshman guard George Valle dropped in 15 points, as did McConnell. Transfer junior post player Taylor Farnsworth, a Mead High School grad, had 12 points. The Pirates struggled on rebounds in that exhibition, but let's not look too much into that, considering they were up against much bigger competition.
We'll know pretty quickly how good this Whitworth squad really is in the next few weeks. They host two traditionally strong D-III teams in the coming weeks with 11th-ranked St. Thomas coming to Spokane on Saturday and then Mary Hardin-Baylor arriving on Nov. 23.
Think of these guys as the indie-rock band of Northwest college basketball — they're really good, you just haven't heard of them.
— MIKE BOOKEY
---
WASHINGTON STATE
2011-2012: 19-18 (7-11, Pac-12)
Preseason Pac-12 Coaches Poll: 9th
As Washington State began to pull away from Eastern Washington in the second half of Saturday's home opener down in Pullman, the crowd had begun to thin. That's likely because across campus, the school's football team was about to take on UCLA on a cold night that had turned even colder with the news that a scandal might be brewing in just the first year of the Mike Leach era.
Then junior D.J. Shelton stormed down the lane and slammed down a vicious dunk. Those still in attendance went nuts, as did the Cougars bench and it seemed, just then, that perhaps all was well in Pullman. WSU went on to win the game convincingly, 88-69.
The Cougars, although expected to finish near the bottom of an increasingly competitive Pac-12, showed some signs of life, suggesting they could finish higher than the ninth place spot they earned in the preseason poll. A lot of that will have to do with Aussie big man Brock Motum, the poster child of Ken Bone's work-in-progress squad. Motum finished Saturday's game with an impressive 23 points and even more impressive 10 rebounds. He'll need to keep up those sort of numbers this season.
WSU's basketball program hasn't been without its own drama as senior point guard Reggie Moore (good for more than five assists a game last season) was dismissed from the team for a violation of team rules back in September. It looks like Royce Woolridge, who transferred from Kansas and is now eligible after sitting out a requisite season, will in part fill Moore's void. Woolridge was aggressive on Saturday, but also careful with the ball. Thankfully, he'll get some help from returning starter DaVonte Lacy, whose shooting was dialed in on Saturday, with 15 points on five-of-seven from the field.
For a program that was dealt a bit of a blow just months before the season, the Cougars seem to be coming together. Now, they've got their work cut out for them — they face seventh-ranked Kansas on Monday, Nov. 19.
— MIKE BOOKEY
---
UNIVERSITY OF IDAHO
2011-12: 19-14, (9-5 WAC)
Preseason WAC poll: 4th
Things are in a state of flux over at the University of Idaho, so we'll take a moment to bring you up to speed. We won't even start on the fate of their impossibly horrible football team, which has no conference to call home, no head coach and no finalized schedule for next season.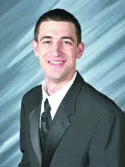 But there are also some changes on the hardwood, and most of that has to do with the rotating door that is the WAC, the basketball version of which will now include Denver, Seattle, UT-Arlington, UT-San Antonio and Texas State. Essentially, this is a brand new conference, and the Vandals may take some time adjusting to this new slate of contenders after they proved successful against the old-look WAC with a 9-5 conference record last year.
Idaho's season got off to a less-than-ideal start last Friday night when they hosted Wright State University, a Horizon League contender, and ultimately suffered a 80-70 loss inside the shoe-box sized Memorial Gym (it seats just 1,500), their home until they shift to the Cowan Spectrum (a converted Kibbie Dome) after football season.
Leading the way on Friday night — and expected to do so throughout the season — was senior Kyle Barone, who scored 18 points off of an impressive seven of eight from the field and hauled in nine rebounds. The bruising 6-foot-10-inch senior will be the offensive anchor, but guards Mike McChristian and Post Falls native Connor Hill will also need to provide on-the-court leadership that the Vandals lost to graduation last year. Additional scoring will also come from small forward Stephen Madison, who dropped in 11 points, almost all from the free-throw line, on Friday night.
Coach Don Verlin, now in his fifth year, seems to be getting comfortable at Idaho, and once he gets this year's team solidified, the Vandals could make a run in the WAC, because, really, no one knows how this conference is going to shake out.
— MIKE BOOKEY